BRASILIA—Brazil's President Michel Temer on Thursday defiantly said he would not resign from office despite a Supreme Court decision authorizing an investigation into allegations he condoned bribery of a potential witness in a major corruption probe.
In a terse five-minute speech broadcast nationwide, Temer said he had done nothing wrong, that his presidency was helping turn around Brazil's stalled economy and that he welcomed an investigation so that he could prove his innocence.
"I did not buy the silence of anyone," Temer said, referring to the allegations made against him. "I will not resign."
The investigation into a sitting president sent Brazilian financial markets tumbling and raised doubts that Congress would pass Temer's ambitious austerity agenda.
Temer's situation grew more perilous after the Supreme Court approved an investigation into allegations against him, according to a source with direct knowledge of the decision.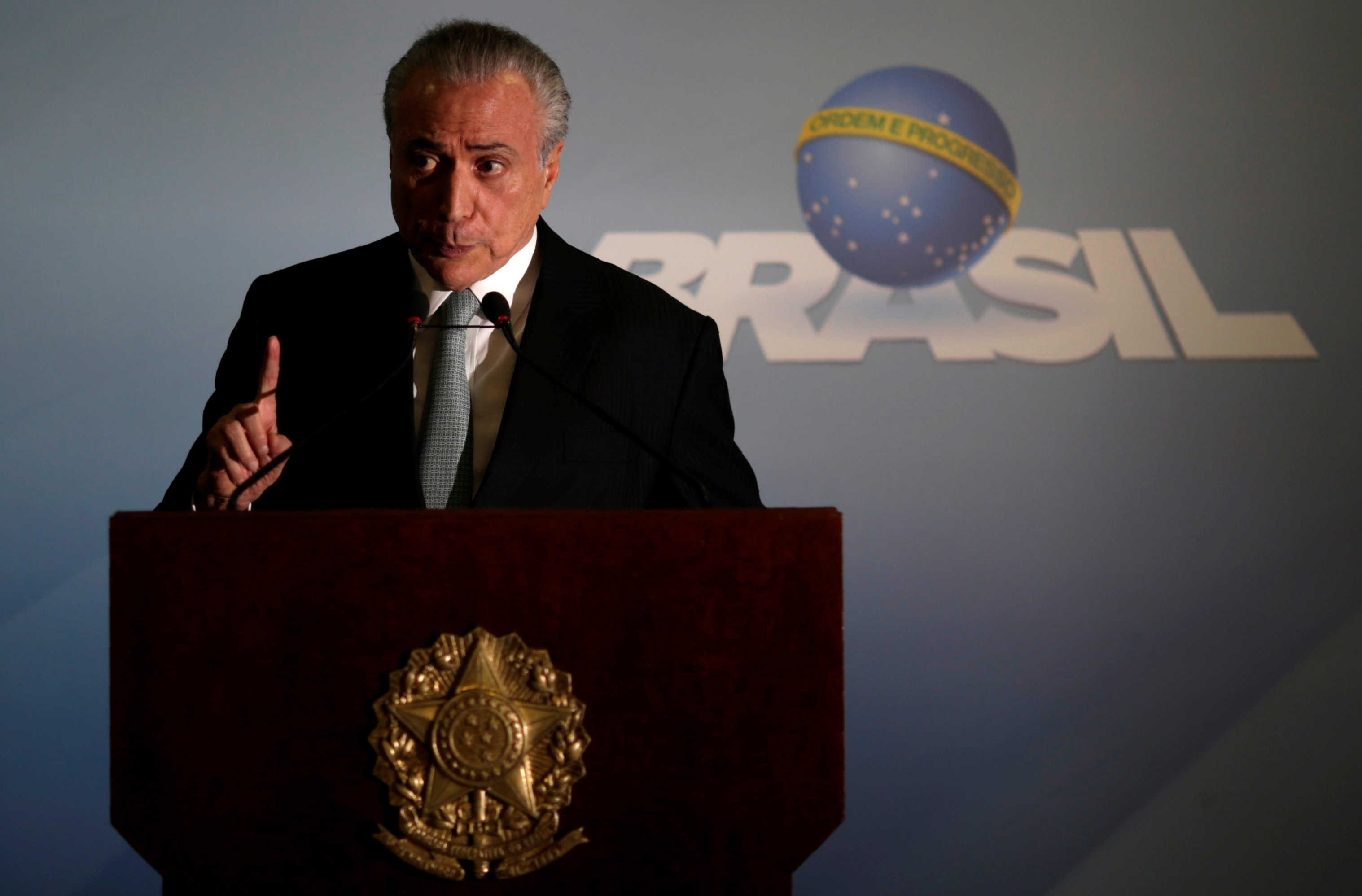 A Supreme Court justice also approved plea-bargain testimony and an audio recording that allegedly captured him conspiring to obstruct justice with Joesley Batista, chairman of the world's largest meatpacker, JBS SA. That approval allows the court to quickly make both the testimony and audio public.
Leaders of Temer's biggest allied party in Congress, the PSDB, said that if the allegations proved true, they would demand the resignation of three of their members who are in the president's cabinet.
"The president is absolutely convinced he committed no crime, but that has to be made clear to the eyes of everyone," a top presidential aide told Reuters.
Brazilian markets plunged on concerns the investigation could derail Temer's sweeping fiscal reforms.
Shares of state-controlled companies, such as Banco do Brasil SA and Centrais Elétricas Brasileiras SA, or Eletrobras, lost about a fifth of their value, and the nation's currency fell 7.5 percent, wiping out its gains for the year.
Brazil's Treasury and central bank said they stood ready to keep markets liquid before acting to smooth volatility in local currency and bond markets.