Brazilian President Jair Bolsonaro announced on Thursday that his health minister Luiz Henrique Mandetta would leave his position following disagreements between the two over how to address the CCP virus situation in the country.
In televised remarks, Bolsonaro said that Mandetta did not fully appreciate the need to protect jobs. Bolsonaro also called for business to resume in Brazil, Latin America's most populous country, and also its largest economy.
Bolsonaro said that shutting down the country's economy would cause more damage than quarantining only high-risk Brazilians.
"Life is priceless, but the economy and employment need to return to normality," Bolsonaro said at a press conference on Thursday, reported The Associated Press. He added that he would not condemn or criticize Mandetta.
"It was a consensual divorce because more important than me and more important than him as a minister is the health of the Brazilian people," Bolsonaro said.
"We need to return to normal, not as fast as possible, but we need to start having some flexibility," he also said, adding that the government cannot afford emergency aid to the poor for much longer, Reuters reported.
In an interview with CNN Brasil, Bolsonaro warned that Brazil risked going broke and ending up "the same as Venezuela," and appealed to the country's governors to reconsider their quarantine restrictions.
At his press conference, Mandetta, an orthopedist, thanked his colleagues and Bolsonaro.
"I leave the health ministry with a lot of gratitude to the president for having nominated me and allowing me to nominate each of you," Mandetta said, according to The Associated Press. "I know I am leaving the best team. Work for the next minister like you worked for me. Don't spare any effort."
Brazil saw its first case of the CCP (Chinese Communist Party) virus, also known as the novel coronavirus, on Feb. 26. The country now has at least 30,683 confirmed cases and 1,947 CCP virus deaths.
"You should have absolute certainty that we fought a good fight until here," Mandetta told fellow ministry workers. "But we're at the start of the battle."
"Do not think we are past a peak in growth of the virus," Mandetta warned, Reuters reported. "The health system is still not prepared for an acceleration."
Incoming health minister Nelson Teich, when asked about the ministry's position now that he was in charge, said there would not be any sudden changes in policy, and that "health and the economy are complementary."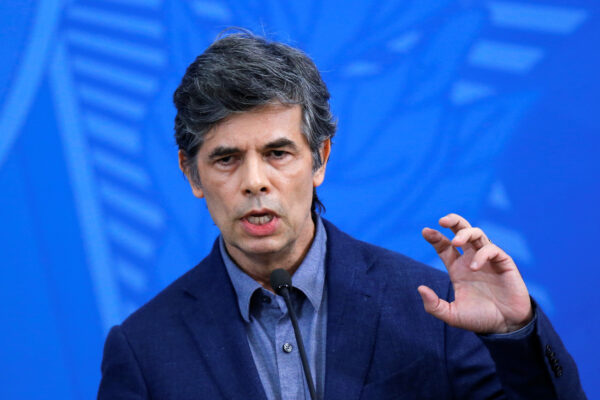 "In regards to keeping distance and isolation, what is to happen, you will not see a radical and dramatic shift [in policy] on what is to happen," Teich said at a news conference. "What is important today is the information about what happens to people and the corresponding action to take."
He added that there is "complete alignment" between his and the president's position on the CCP virus crisis.
Teich is an oncologist and senior consultant at Teich Health Care, a medical services company. He also has a Master's in Business Administration, according to his LinkedIn page.
Senator Major Olimpio, Bolsonaro's former right-hand man in Congress, urged Teich to continue with the current restrictions.
"Teich has defended social distancing. If he persists in this, he will have serious problems with President Bolsonaro and won't last 30 days in office, or he will have to tear up his degree and contradict the entire global scientific community," the senator said in a video posted on social media.
Reuters and The Associated Press contributed to this report.