Brazilian soccer team members appeared in American brand Nike shirts at the Tokyo Olympics' award ceremony instead of Chinese-sponsored tracksuits, causing a stir in Chinese state-run media. The Brazilian Olympic Committee (COB) vowed to take action against Brazilian soccer authorities in response.
Brazil beat Spain in extra time on Aug. 7, winning gold for men's soccer for the second time. The Brazilian players all stepped on the podium in their Nike shirts during the gold medal ceremony with their tracksuit tops made by the Chinese company Peak Sport Products (Peak) wrapped around their waists.
Nike sponsors the Brazilian soccer team, while Peak sponsors the Brazilian Olympic Committee.
State-run Chinese media reported a statement released by Peak on Aug. 8, accusing the Brazilian men's soccer team of violating the agreement between Peak and the COB that all athletes must uniformly receive the prize wearing Peak's outfit and no other brands may appear. The statement also said that it is regrettable that the Brazilian team made this move at the award ceremony, which also violated the IOC's (International Olympic Committee) guidelines for wearing approved uniforms to receive awards—and that the team did not communicate with Peak before the game. Peak has already brought this issue up with the COB, according to the statement.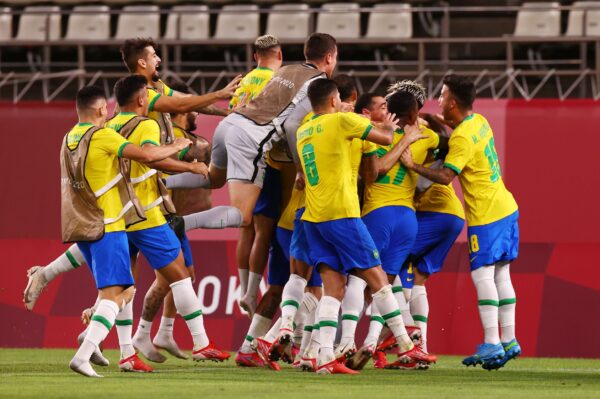 The COB issued a statement regarding the dispute later on Aug. 8, saying "The COB repudiates the attitude of the Brazilian Football Confederation (CBF) and the players of the national team during the awards ceremony."
It also vowed to take action, "Only after the Games have finished will the COB make public the measures that will be taken to preserve the rights of the Olympic Movement, the other athletes, and of our sponsors."
Brazilian soccer team captain Dani Alves posted on Instagram on Aug. 9 in response to the incident, but did not apologize for the team's action. "As captain of this team, I respect all the opinions of athletes from other sports, but there are things that we also do not accept within the field of sports. We don't want to be different from anyone else, but we don't accept some impositions. Please, when you are going to demand something for your sports, respect ours … we want to have an equality within the modalities or at least a balance."
View this post on Instagram
On Aug. 10, Chinese state-run media reported that Lin Xiaoxiong, the head of Peak, responded to Alves' Instagram post, criticizing him, "We can't enjoy the glory of the Olympics while at the same time not respecting the Olympic rules."