CURITIBA, Brazil—Thousands of supporters of former Brazilian president Luiz Inacio Lula da Silva gathered on Wednesday in the southern city of Curitiba hours before he was to appear before a crusading, anti-corruption judge on graft charges he dismisses as a political witch hunt.
Lula is accused of receiving a beach apartment in return for helping the OAS construction firm win government contracts. His testimony before Judge Sergio Moro, who has spearheaded Brazil's biggest-ever corruption probe, begins at 2 p.m. local time. A ruling by Moro is not expected until July.
Lula, who is charged in four other corruption cases, is the highest-profile defendant in a sprawling corruption probe known as "Operation Car Wash." The investigation centers on construction firms who have already admitted to paying billions in kickbacks in return for lucrative contracts at state-run oil company Petrobras.
The former president has repeatedly said he is innocent of all charges.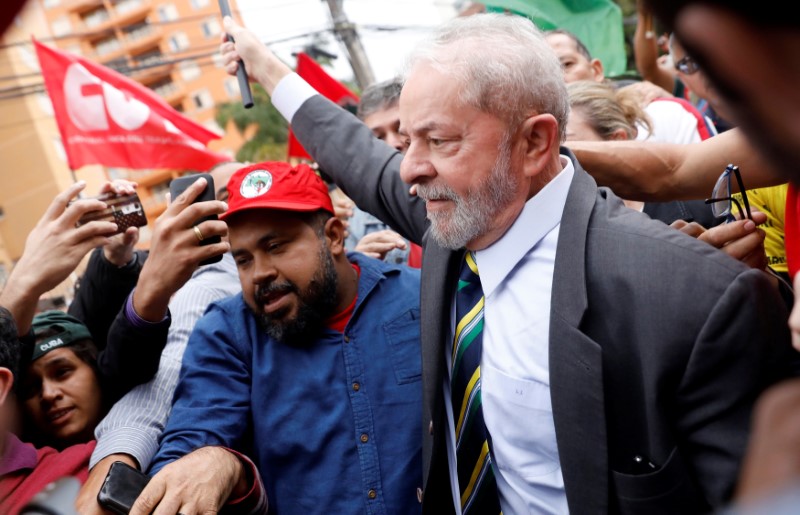 The investigation has greatly expanded since it began three years ag and now encompasses several state-run companies. More than 90 powerful businessmen and politicians have been convicted, and scores of sitting federal congressmen and one-third of President Michel Temer's cabinet are being probed.
Thousands of Lula supporters descended on Curitiba overnight, mostly members of activists groups and unions, arriving in chartered buses from across the country.
They set up makeshift tents along railroad tracks a few kilometers from the federal courthouse.
"Even if they were to prove that everything he has done was wrong, I would still vote for him," said Gabriel Marshall, an 18-year-old member of the Landless Workers Movement who made a 10-hour bus trip from his cooperative farm in Parana state. "He was the only one in power who has not robbed from the poor."
During two terms in office, Lula, Brazil's first working class president, greatly expanded the nation's social safety net.
Helped by a booming economy and an innovative cash-transfer program, his administration yanked tens of millions of people out of poverty into the middle class, and Lula left office in 2010 with an 83 percent approval rating.
Lula has said he wants to run for president again in 2018, but if convicted in any of the trials and if the ruling is upheld by a second court, he would be legally disqualified from running and likely go to prison.
Lula was deeply involved in the graft scheme, according to federal prosecutors and former Petrobras executives who negotiated plea deals or are seeking them. Millions in bribes allegedly were funneled into the campaign coffers of his Workers Party as well as nearly every major political party, they say.