A hidden danger is set to dampen the enjoyment of boating, swimming, and other aquatic sports in freshwater lakes and rivers during America's summer months. It's Naegleria fowleri—better known as a brain-eating amoeba—that lives within many of the nation's waterways.
Hot summer temperatures and encounters with this organism tend to go hand in hand.
Historically, the amoeba has been found primarily in the southern United States, but research points to an expanding territory within the Midwest.
The good news: It's pretty easy to avoid while swimming or enjoying other water activities.
On July 7, the Missouri Department of Health and Senior Services reported its first case of Naegleria fowleri in 35 years. Officials declined to release details about the adult male resident who contracted the amoeba while swimming at the Lake of Three Fires in Iowa.
The health department later confirmed that the patient died after exposure to primary amebic meningoencephalitis (PAM) on July 15. PAM is the infection that induces fatal brain swelling and is caused by contact with the organism through the nasal cavity.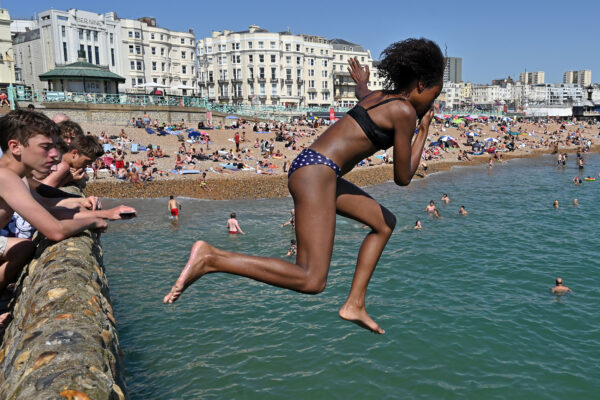 Of the 154 documented cases of PAM reported in the United States between 1962 and 2021, only four people have survived, according to data from the Centers for Disease Control and Prevention (CDC).
"We're talking about a unicellular organism, an amoeba, and it lives in water, usually freshwater, that is rather brackish," Dr. William Schaffner, a professor of infectious diseases at Vanderbilt University School of Medicine. told The Epoch Times.
He explained that the warmer water in the summer provides an ideal environment for the amoeba to reproduce, which is why reports of contact with swimmers and other water enthusiasts generally happen during the hottest times of the year.
However, the presence of the amoeba isn't limited to backcountry swimming holes and lakes. Naegleria fowleri has been detected in soil, tap water, heating units, and air conditioning units.
In September 2020, Texas Gov. Greg Abbott declared a disaster in Brazoria County after the  organism, which caused the death of a 6-year-old boy, was detected in the county's tap water. Abbott called the amoeba "an imminent threat to public health and safety, including loss of life," in a statement.
Additional research has established a "statistically significant northward trend" in the geographic range of the amoeba within the United States since 2010, according to the CDC.
Research published in the journal Emerging Infectious Diseases analyzed data from 85 cases of the brain-eating amoeba from 1978 to 2018 and discovered that while the majority were reported in southern states, six cases occurred in the Midwest.
These included Minnesota, Kansas, and Indiana. All but one of the cases have occurred since 2010. Iowa now can be added to the list.
Additionally, researchers noted the maximum latitude had shifted by about 8.2 miles northward per year during the period studied.
Naegleria fowleri is a common environmental protozoan parasite with worldwide distribution in warmer climates. Yet, the vast majority of encounters between humans and this amoeba are benign.
"They don't normally bother us," Schaffner said.
"However, if they are driven into the upper reaches of our nose, it can get stuck there and then kind of eat their way into those membranes that surround our brain, and then they can cause meningitis."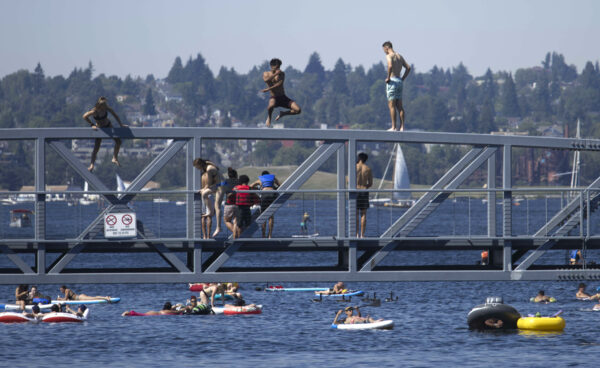 Schaffner says the best way to keep the amoeba from becoming lodged in your nasal cavity is to avoid jumping feet first into bodies of water. Alternatively, holding your nose or using a swimmer's nose clip can help keep the parasite outside the "danger zone."
When asked if some people are at greater risk of developing the deadly PAM infection, Schaffner said, "It's behavioral. It's the folks who jump in and let the water get up their nose.
"Those are the folks at risk. Not enough of these cases have occurred to see whether people with diabetes, or are obese, or immune compromised are at greater risk."
The CDC affirms that while the territory of the amoeba appears to be expanding northward, it doesn't automatically equate to a higher risk of infections in the general population.
However, early detection and diagnosis are key to improving survival rates along with reducing exposure risks.
"These situations are extremely rare in the United States … but it's important for people to know that the infection is a possibility so they can seek medical care in a timely manner if related symptoms present," Dr. George Turabelidze, Missouri's state epidemiologist, stated in a July 7 report.
Early symptoms of a possible PAM infection include an intense headache, fever, nausea, and vomiting within hours of exposure to an infected water source. That quickly progresses to a stiff neck, confusion, loss of balance, seizures, and hallucinations as the brain is increasingly affected.
Schaffner agrees that infections are hard to diagnose and even harder to treat.
"So many of these rare infections, when they occur, are fatal."
He added it isn't a bad idea to avoid jumping into the water altogether when it's really warm outside.
"You may say, 'Gee, Dr. Schaffner, it's summer time and people like to do that,' but it's time to be a little cautious."