Former Vice President Joe Biden was targeted on Sept. 12 by a number of rivals vying for the Democratic presidential nomination, including Sen. Cory Booker (D-N.J.) and Julian Castro, who was secretary of Housing and Urban Development for three years while Biden was vice president.
Castro took aim at Biden early in Thursday's debate, accusing him of forgetting something he'd just said moments before amid a tense exchange involving multiple contenders over healthcare.
Speaking about healthcare, Biden said that "anyone who can't afford it gets automatically enrolled in the Medicare-type option we have."
"You can automatically buy into this," he said.
Castro tried to differentiate his healthcare plan from Biden's, saying Biden's requires Americans to opt in. "And I would not require them to opt-in—they would automatically be enrolled," he said.
"They do not have to buy in. They do not have to buy in," Biden responded.
Castro launched his attack, claiming: "You just said that two minutes ago. You just [said] two minutes ago they would have to buy in."
"Are you forgetting what you said two minutes ago?" he wondered. "Are you forgetting already what you said just two minutes ago?"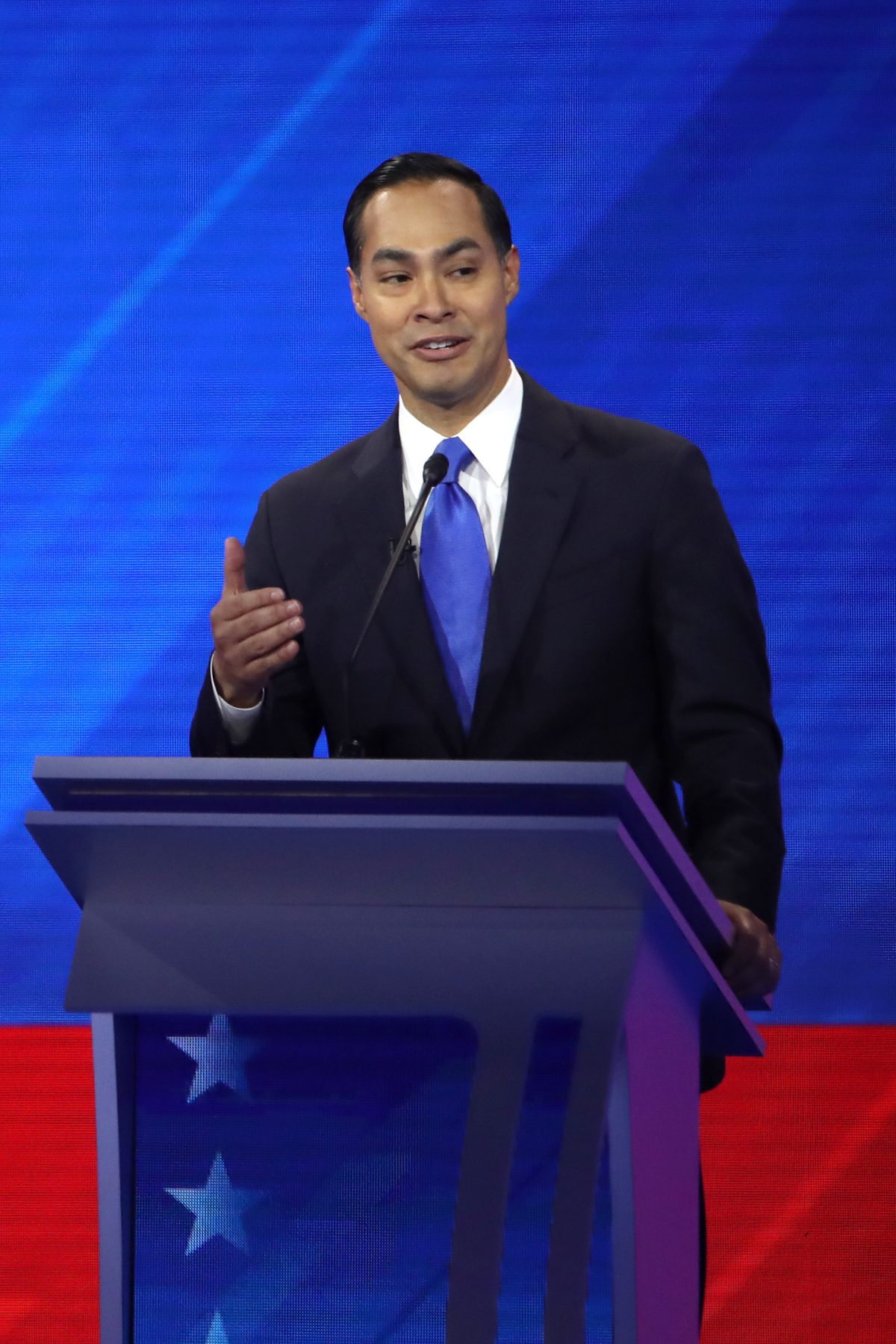 The questions were a clear shot at Biden's age and memory lapses he's suffered throughout the campaign, getting dates, places, and names wrong.
The crowd reacted vocally to the questions as Castro paused. "I can't believe that you said two minutes ago that they had to buy in and now you're saying they don't have to buy in," Castro continued. "You're forgetting that?"
Biden didn't answer as Castro kept going, saying he'd fulfill president Barack Obama's legacy and Biden wouldn't.
"That will be a surprise to him," Biden said.
Booker was among the candidates reacting to what happened, saying after the debate: "There's a lot of people concerned about Joe Biden's ability to carry the ball all the way across the end line without fumbling, and I think that Castro had some really legitimate concerns about, can he be someone in a long, grueling campaign that can get the ball over the line, and he has every right to call that out."
"He's talking about people in communities like mine listening to record players. … There are definitely moments when you listen to Joe Biden and you just wonder," Booker said.
Fuller Booker exchange on CNN talking Castro-Biden pic.twitter.com/jWFgX4TMHh

— Tal Kopan (@TalKopan) September 13, 2019
Asked if he was saying Biden, 76, is too old, Booker said he wasn't saying that. He said Biden has a tendency to ramble in his speeches. "I want someone that can excite and energize," he said.
Sen. Amy Klobuchar (D-Minn.) said Castro's attack on Biden was "so personal and so unnecessary" while speaking after the debate, a theme echoed by several others.
Castro, though, defended the attack on Friday.
"I wouldn't do it differently. That was not a personal attack," he said during an appearance on CNN. "This was about a disagreement over what the vice president said regarding health care policy."
"It didn't matter that it was Joe Biden," he added. "If it had been another candidate that tried to deny what they just said two minutes ago, I would have asked them the same thing."