Former vice president Joe Biden clashed with the other top Democratic presidential contenders on Sept. 12 over Medicare for All, a socialist proposal that would have the government take over the entire health industry.
Biden says his plan, which keeps Obamacare and builds on it, cost a lot of money—$734 million—but nowhere near the projected cost of Medicare for All.
"How we gonna pay for it? I wanna hear tonight," he said, accusing Sen. Elizabeth Warren (D-Mass.) of not saying clearly how she would pay for the plan.
Medicare for All is projected to cost $32.6 trillion over 10 years.
When the moderator asked Warren if she could clearly state that higher taxes for the middle class would be required to fund Medicare for All, Warren said she would tax "those at the very top, the richest individuals, the richest corporations."
"They are going to pay more. Middle-class families are going to pay less," she claimed.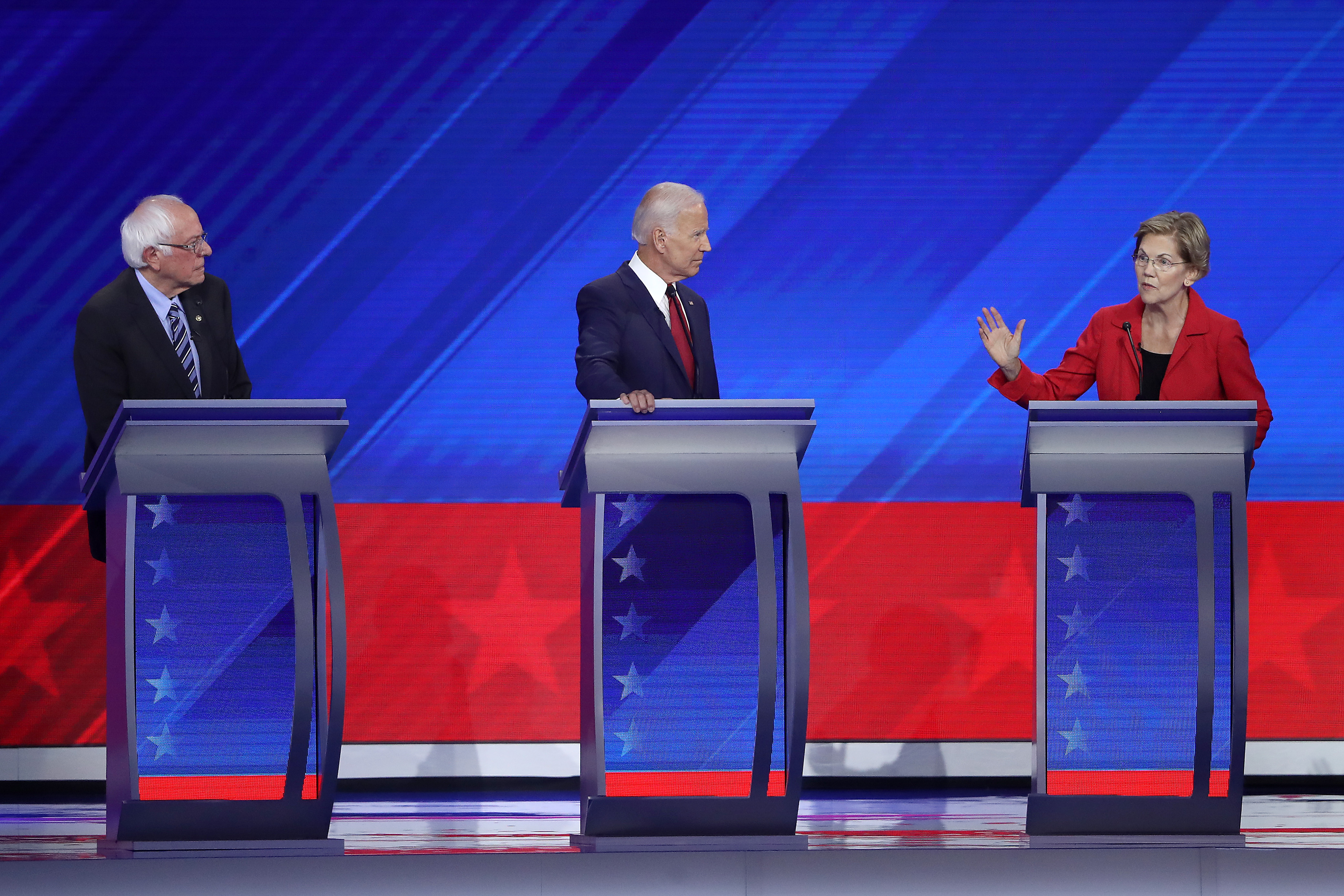 Pressed on whether taxes would go up and whether private insurance would be eliminated, Warren said families "have to deal with total cost."
"Families are paying every time they don't get a prescription filled because they can't pay for it," she said. "What we're talking about here is what's going to happen in family's pockets, what's going to happen for family's budgets.
"For hardworking families, costs are gonna go down and that's how it should work for Medicare for All," she said.
She never answered whether higher taxes would be required.
Sen. Bernie Sanders (I-Vt.) claimed that multiple studies show that Medicare for All is "the most cost-effective plan" to get healthcare to every person in the country. Sanders said at the last debate that his plan would even cover illegal immigrants.
"Nobody in America will pay more than $200 a year for prescription drugs," he said, because his administration would "stand up" to healthcare corporations.
He said the healthcare industry is advertising against Medicare for All because companies don't want to see profits drop.
Moderators asked Biden to respond to the senators.
"My healthcare plan does significantly cut the out-of-pocket cost by thousands of dollars," Biden said. "Out of the 160 million people who like their healthcare now, they can keep it. If not, they can leave."
Biden said Warren's tax she was discussing would be nowhere near enough money to fund it, noting Sanders has stated that higher taxes will be required.
"That's the reality. It's not a bad idea if you like it. I don't like it," he said.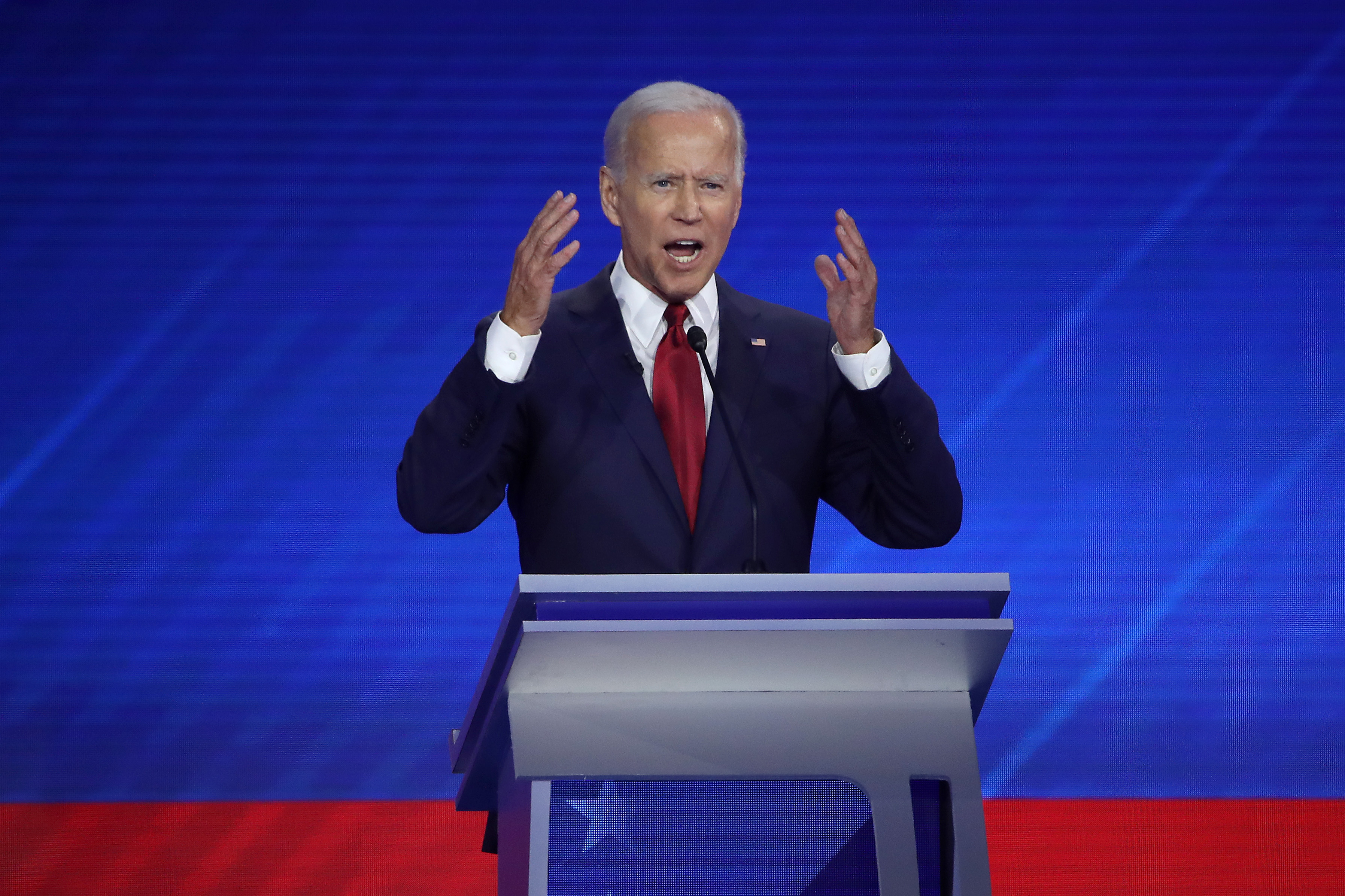 Warren responded by saying, "I've never met anybody who actually likes their healthcare company."
Medicare for All, she said, will not have people pay premiums to insurance companies and have the companies decline to cover some costs. Instead, she said, everyone will be covered. "The only question here in terms of difference is where to send the bill," she said.
Sanders addressed Biden directly, saying Americans have paid twice as much as people in other countries like Canada.
"When you don't pay out-of-pocket, you don't pay premiums. What people want is cost-effective healthcare. Medicare for all will save the average American substantial sums of money on his or her healthcare bill," Sanders said.
Sen. Amy Klobuchar (D-Minn.) said she'd worked with Sanders to cut the costs of healthcare, including trying to negotiate better prices for seniors under Medicare.
But, she said, she doesn't favor the Medicare for All proposal.
"While Bernie wrote the bill, I read the bill. On page 8 of the bill, it says we will no longer have private insurance as we know it. That means that 149 million Americans will no longer be able to have their insurance.
"I don't think it's a bold idea, I think it's a bad idea," she added, noting she supports a public option. "That is a bold idea," she said.
Sen. Kamala Harris (D-Calif.), who co-sponsored Sanders's bill but recently turned against it, said she supports Medicare for All but does not want to eliminate private insurance.
"Under my Medicare for All, people have the choice for a private plan or a public plan," she said.
The moderators eventually circled back to Biden, who groused, "Nobody has yet said how much it's gonna cost!"