Several Bombs Detonate in Xinjiang
August 11, 2008 10:42 pm Last Updated: October 1, 2015 10:56 pm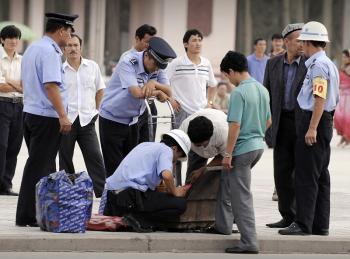 Several explosions broke out in supermarkets, government buildings, hotels in Aksu Prefecture, Kuqa County in China's northwest Xinjiang Uighur Autonomous Region in early August 10. At least 11 people were killed, all but one were reported to be the attackers responsible for the blasts.
According to BBCChinese.com, the major explosion occurred at about 2:30 am local time on August 10 when one attacker drove a three-wheeled bike packed with explosives into the police building in Kuqa, killing one security official and injuring two civilians and two police officials.
Police killed an attacker, while another, strapped with explosives, detonated himself.
Hours later, while police were hunting for more suspects, several terrorists began to throw explosives at them. Police killed two, while three others who were strapped with explosives detonated themselves.
According to Chinese regime's mouth piece, Xinhua News, the violent attack was effectively controlled by the authorities, and that Kuqa County was back to normal as of 7 p.m., August 10.
After the explosions, police tightened security in different areas of Xinjiang.
No group has claimed responsibility for the blasts so far.
The incident follows an attack on border police in Kashi on August 4, resulting in the death of 16 police officers.
Dilshat Rishit, spokesman for the World Uyghur Congress (WUC) in Sweden criticized that the Chinese communist regime's heavy-handed repression of millions of Uighurs in Xinjiang had intensified the situation there.
According WUC's website, Chinese police have arrested tens of thousands of Uighurs in the several months before the Olympics, using the excuse that the Uighur separatists are the potential terrorist threat to the 2008 Olympics in Beijing
U.S. President Bush met with five Chinese dissidents in white house on July 29. One of the dissidents was the president of WUC, Rebiya Kadeer.
Refer to the following links to read the original articles in Chinese:
http://news.epochtimes.com/gb/8/8/11/n2223745.htm
http://news.epochtimes.com/gb/8/8/11/n2224004.htm