Jet maker Boeing saw its stock plummet by as much as almost 12 percent shortly after financial markets opened on March 11, following the news of a second deadly crash of its 737 MAX 8 airliner in less than five months.
However, as traders saw an opportunity to buy the shares at a discount, the stock recovered about half of the decline by the close of regular trading.
The 737 MAX 8 debuted less than two years ago, and airlines have ordered more than 5,000 of them. But on March 10, Ethiopian Airlines' 737 MAX 8 crashed about six minutes after takeoff from Addis Ababa, killing all 157 people aboard.
This was the second instance involving the aircraft, after Lion Air's 737 MAX 8 crashed off the coast of Indonesia on Oct. 29, 2018, killing 189 aboard. There, it appeared that the pilots struggled to cope with an automated system that erroneously kicked in and pointed the plane's nose down 26 times during its 13-minute flight, until the pilots finally lost control, based on a preliminary investigation.
It's not yet clear what caused the second crash, though both happened shortly after takeoff. Takeoffs and landings are the riskiest parts of a flight and are when most accidents occur.
Grounded Jetliners
Ethiopian Airlines, which has four other 737 MAX 8 jets, said it would ground them as a precaution.
China on March 11 ordered its airlines to suspend operations of their 737 MAX 8 jets by 6 p.m. local time. The Civil Aviation Administration of China (CAAC) said it would notify airlines when they could resume flying the jets, after contacting Boeing and the U.S. Federal Aviation Administration (FAA).
Indonesia said it would temporarily ground its new Boeing aircraft for inspection.
Cayman Airways grounded both of its new jets temporarily, while India announced a safety review with new instructions later on March 11 or 12 for local carriers.
A senior U.S. official said it was too early to tell if there was any direct connection between the two accidents but that assessing it was a priority for investigators.
Experienced Pilot
Ethiopian Airlines said its pilot, Yared Getachew, who was a dual Ethiopian-Kenyan national, had a "commendable record" and more than 8,000 hours of flying experience.
The airplane, which was delivered in November 2018, had flown more than 1,200 hours, and had returned from Johannesburg earlier on March 10, CEO Tewolde GebreMariam said. Nevertheless, Getachew had mentioned difficulties and wanted to return.
It crashed near the town of Bishoftu, 38 miles southeast of Addis Ababa, with 149 passengers and eight crew aboard.
Trailing Debris
"The plane was very close to the ground and it made a turn. We looked and saw papers falling off the plane," Malka Galato, the farmer whose land the plane crashed on, told Reuters.
"Cows that were grazing in the fields ran in panic. … There was smoke and sparks coming from the back of the plane."
Farmer Tamirat Abera told Reuters the plane tried to climb but failed, then swerved sharply, trailing white smoke and objects, including clothes, before crashing.
The victims came from more than 30 countries, including 21 staff members of the United Nations. The U.N. had earlier said 22 of its staff were on board.
The flight had unstable vertical speed after takeoff, the flight tracking website Flightradar24 wrote on Twitter. Data released by the Sweden-based service suggested the aircraft had climbed almost 1,000 feet after taking off from the hot and high-altitude airport, with thinner air that requires extra effort from an aircraft's engines.
It dipped about 450 feet before rapidly climbing another 900 feet to a point where satellite tracking data was lost.
Boeing Surge
Boeing stock has done extraordinarily well during the past 30 months, nearly tripling in value, despite the latest setback. After the Oct. 29, 2018, crash, its stock dropped some 6.5 percent, yet more than recovered in three days.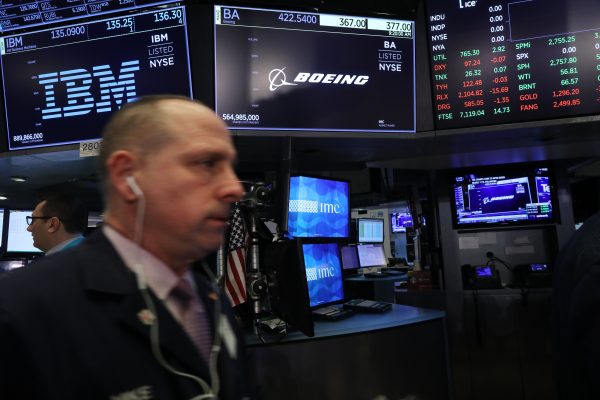 Boeing delivered 806 aircraft last year, missing its target by four jets, but still retained the title of the world's biggest aircraft maker for the seventh straight year. European rival Airbus delivered 800 planes in 2018.
Southwest and American airlines said they remain fully confident in the 737 MAX 8 aircraft and are closely monitoring the investigation.
Reuters contributed to this report.
Update: The article has been updated with more recent stock market data.