A bodyguard for April Ryan, a political analyst for CNN, has been charged with harassment, assault, and theft after he was caught on camera taking a journalist's equipment and appearing to strike the journalist.
Charlie Kratovil with New Brunswick Today was at an event in New Jersey on Aug. 3 where Ryan was speaking. He has shown emails that indicate he was approved to cover the event.
Kratovil said that a man approached him as Ryan was being introduced and asked: "Who are you with?" Video footage showed the man, later identified as Ryan's bodyguard, Joel Morris, approach Ryan and then come back and take Kratovil's camera. Another video appeared to show him assault Kratovil.
According to a criminal complaint obtained by The Epoch Times, police found probable cause to issue a summons for Morris for harassment, assault, and theft.
The complaint said that Morris grabbed Kratovil's camera and removed it from his possession before "causing bodily injury … by chasing complaint, grabbing him from his left arm and twisting his arm behind his back causing injury to his forearm and shoulder."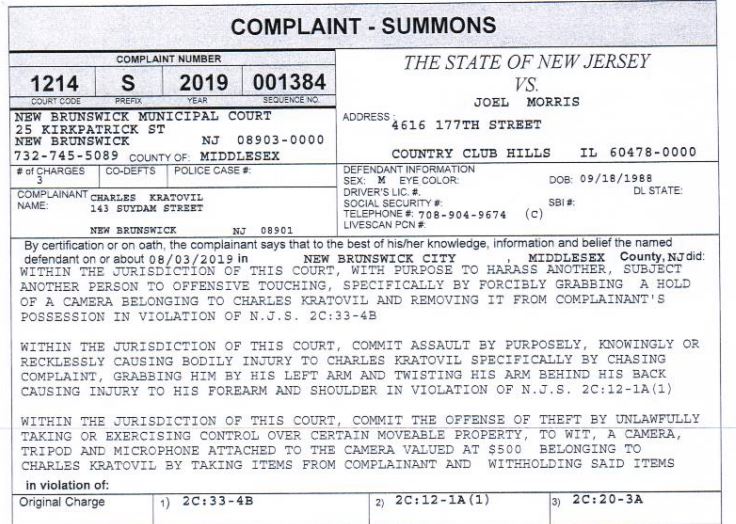 This was more than just an assault on me.

This was an assault on freedom of the press, and @AprilDRyan should have immediately condemned the use of violence against a journalist. pic.twitter.com/botpX50uN2

— Charlie Kratovil (@Charlie4Change) August 19, 2019
Kratovil said in a statement sent on Monday:  "This was more than just an assault on me. This was an assault on freedom of the press, and @AprilDRyan should have immediately condemned the use of violence against a journalist."
"Because Ms. Ryan has failed to publicly address or apologize for her role in this ugly incident, I am now seeking legal counsel to initiate proceedings that will hold her accountable for the unacceptable and illegal behavior of her employee," he added.
According to the complaint, Morris's home address is in New Jersey. Kratovil noted the bodyguard will have to travel back to New Brunswick to appear in court.
Ryan has not commented on the situation, nor have CNN, Morris, or Shennell McCloud, the executive director of Project Ready, which was hosting the event.
Ryan is a high-profile reporter who in July appeared on stage to interview a number of Democratic presidential candidates at the NAACP's National Convention. She has been a vocal critic of President Donald Trump, claiming at times that he is unfairly restricting the press. In addition to CNN, she works for American Urban Radio Networks.
In a statement, the New Jersey chapter of the Society of Professional Journalists said what happened prompted the group "to remind the organizers of public events about the importance of observing legal and professional protocols on which all journalists depend for their safety and livelihood."
"Kratovil had been invited to cover the event by a public-relations firm working with the organizers, had gone through the registration system and RSVP'd his attendance, did not conceal his video-recording activity, and had no outward indication that videography was prohibited in the venue. (Journalists had been freely admitted to cover other events during the Summit, including shooting video)," the group wrote.
"Details of the specific event are disputed, and may be sorted out in the coming weeks by the legal system, as Kratovil has stated that he will press assault charges. Nevertheless, the larger issue of journalists' ability to safely cover events of public interest and importance is a recurring one of great importance to the SPJ and its members."
The group said that "it is never under any circumstances permissible for a person aggrieved at being photographed or videotaped to lay hands on the journalist, or attempt to take away the journalist's equipment," calling it "a bright-line rule from which all journalists benefit, and which must be observed, and enforced rigorously"
The group said event hosts should make clear rules they want in place and that such rules need to be uniformly enforced, regardless of their media affiliation, noting journalists "no not have fewer rights than others."
"Nor should the perceived viewpoint of a news organization be regarded as grounds to deny admittance to a member of the media; people who make news do not have a license to dictate how and by whom they are covered. Those who believe they have been unfairly portrayed have the remedy of counter-speech, or if warranted, resort to civil legal remedies. When an event is made accessible to public registrants, attendees inevitably will have, and will wish to use, personal recording devices," the group added.
"The SPJ of New Jersey encourages event organizers and speakers, wherever possible, to accommodate the journalistic recording of presentations of public interest, mindful that a verbatim recording is the most accurate representation of what was said, and that the lack of a verbatim recording will in no way prevent amateur 'tweeters' from publishing after-the-fact recollections of varying trustworthiness."