President Donald Trump's blocking of a Chinese bid to purchase an American chipmaker last year stalled Beijing's technology grab, but only briefly. Chinese companies have reportedly achieved certain breakthroughs in a semiconductor chip it originally sought from the United States, a component that has extensive military applications, such as in cruise missiles and advanced radars for fighter jets.
In September 2017, Trump blocked the Chinese state-owned Tsinghua Holdings from acquiring Oregon-based Lattice Semiconductor Corp., one of the world's top manufacturers of certain high-performance semiconductor components. The blocking was made on national security grounds. U.S. regulators have been increasingly alarmed by Beijing's aggressive moves to grab technology from abroad, which would allow it to gain a critical military edge to the detriment of the United States and its allies.
Among Lattice's top products is a semiconductor component called a "field-programmable gate array" (FPGA), a microchip that could be freely programmed by the user after it's already manufactured to use in a variety of applications, hence the name.
Despite Trump's blocking, Chinese state-owned companies have now reportedly made a breakthrough in producing FPGA prototypes with specifications indicating that they could be closing the gap with Lattice and other top FPGA makers in the world.
A FPGA unit capable of 35-million-gate capacity made by the state-owned China Electronics Technology Group (CETGC) was publicly displayed in May during a technology expo in China, according to the Chinese online tech observer publication "Science and Industry," which also published an image showing the alleged prototype.
China Electronics Corporation (CEC), another state-owned company, also announced in May that it had successfully developed a 70-million-gate capacity FPGA.
Catching Up, Not Getting Ahead
The alleged Chinese breakthroughs were made possible, according to the same publication, through domestic research and development in China. Instead of buying U.S. companies such as Lattice, Chinese tech giants like Tsinghua Holdings have turned to Taiwan, South Korea, and Japan to recruit talented engineers to work in China, so as to acquire their critical know-how for Chinese projects, the report said.
The report could not be independently verified, and experts said that the use of "gate count" is a subjective one. Western FPGA companies such as Xilinx and Intel are well above the number of 70-million-gate capacity, though they typically do not use gate as a measurement of capacity.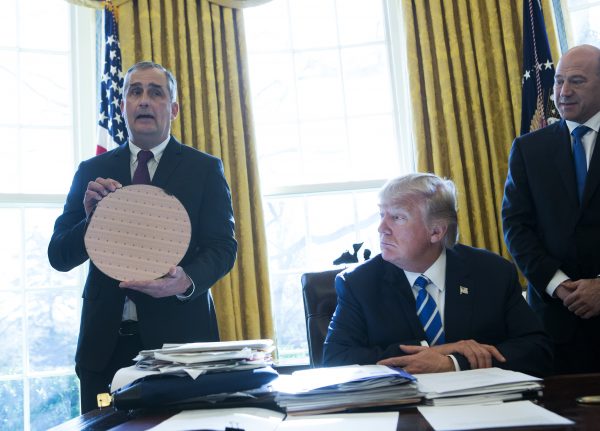 "If the Chinese stated something in the number of transistors or some other better-defined metric, it would be much easier to assess the significance of the breakthrough," said Ryan Kastner, a professor of computer science and engineering at the University of California, San Diego.
Nevertheless, a 30-million or 70-million gate count is still a significant achievement for a country that is just starting to enter the market, according to Zafar Iqbal, a computer engineering research professor at Michigan Technological University.
Iqbal, who is a FPGA expert previously worked for the Chinese state-owned company ZTE Corporation's research center in Shanghai, said that the alleged Chinese breakthrough, if true, gives China independence from U.S. companies in the future, when FPGAs will be more widely used in the military.
FPGAs are already used in many significant military applications, particularly those involving wireless communications, according to Kastner. U.S. Tomahawk cruise missiles, for example, are known to contain FPGA chips.
The same Chinese "Science and Industry" report also revealed that "a domestically-produced FPGA" has been recently fitted to be part of the active electronically scanned array (AESA) radar on "an unnamed type of advanced fighter jet," likely a reference to China's secretive J-20 stealth fighter.
Among the FPGA scholars and researchers across United States that The Epoch Times reached out to for comment, many declined to be interviewed, citing their ongoing projects and nondisclosure agreements with the U.S. Department of Defense.
Trump's Blocking Vindicated
Despite the alleged Chinese breakthrough, experts said that Trump's decision to block the Chinese attempt at acquiring Lattice Semiconductor has now been proven to be a correct one.
"The blocking has undoubtedly delayed the ability of the Chinese to successfully manufacture high-yielding commercial volumes of FPGAs," said Richard L. Thurston, an intellectual property lawyer with Duane Morris LLP.
Thurston, who previously served as the general counsel of Taiwan Semiconductor Manufacturing Company (TSMC), the world's largest semiconductor manufacturer, also confirmed the Chinese report that China has been mass hiring tech talents from Taiwan and other U.S. allies as a way to circumvent heightened scrutiny by the United States.
"What engineers from Taiwan, South Korea, and Japan have added to China's capabilities is a very crucial manufacturing know-how," Thurston said, citing TSMC's high profile legal case against China's Semiconductor Manufacturing International Corporation (SMIC), which allegedly stole technology and engineers with critical know-how from TSMC in the 2000s.
Tsinghua Unigroup—a subsidiary of Tsinghua Holdings that was blocked by Trump from acquiring Lattice in 2017—has become notorious in Taiwan in recent years as investigative reports by Taiwanese media revealed that the tech giant and other Chinese state-owned companies have an aggressive strategy to recruit top-notch engineers from Taiwan, often offering three times the salary to entice the Taiwanese.
In a 2017 report by Taiwan's Wealth Magazine, it was alleged that Tsinghua Holdings maintains a "roster" of top engineers across Taiwan's semiconductor companies that it seeks to recruit. It even registered a shell company in Taipei with the sole purpose of approaching and snatching Taiwanese talents who would defect to the other side of the strait with their critical know-how, the report said.