A late-winter storm this week could dump up to two feet of snow in the U.S. central Plains states, potentially snarling travel and bringing flooding to the Upper Midwest, U.S. forecasters said on Tuesday, March 12.
There is high confidence that a major winter storm will affect a large part of the central U.S. Wednesday into Thursday. Severe blizzard conditions are expected in some areas. You risk becoming stranded if you attempt to travel through these conditions. pic.twitter.com/kxOyf0WE0I

— NWS WPC (@NWSWPC) March 11, 2019
The storm, now brewing as a low-pressure center in the southwest, will quickly move into the Rocky Mountains and deliver one to two feet of snow with blizzard conditions in much of Colorado and parts of Wyoming, Nebraska, and South Dakota, the National Weather Service predicted.
Central U.S. storm to be real deal

* Severe t'storms NM and Texas today
* Blizzard w/ 10-20″ of snow, 60+ mph winds in western and northern Plains Wed
* Flooding Kansas to Wisc, ice jams on northern rivers
* Record low pressure may be set in Kansas

More: https://t.co/0NxiBOhlZt pic.twitter.com/34Bw8Vbmor

— Capital Weather Gang (@capitalweather) March 12, 2019
The biggest air travel hub likely to be affected by the snow is Denver International Airport, but cross-continental air travel lanes could be disrupted as well as the system brings a line of rain squalls eastward, forecasters said.
"The snow will really start picking up by later tonight into the day on Wednesday," meteorologist Mark Chenard said in a Tuesday phone interview from the NWS Weather Prediction Center in College Park, Maryland.
WEATHER: Massive storm expected to head into central U.S., creating blizzard conditions, flooding and severe storms that may produce tornadoes. https://t.co/KDaOFXima1 pic.twitter.com/HT3422yXed

— ABC News (@ABC) March 12, 2019
The storm will also bring heavy rain to areas of eastern Nebraska, Iowa, Wisconsin and Minnesota that already have a good deal of snow on the ground, the NWS said.
"We could have the potential for major river flooding, given the rain and the snow melt," Chenard said.
An earlier round of heavy, wet snow caused several roofs to collapse in the Upper Midwest last weekend, including those of a church and a hotel.
By Thursday, the storm system will weaken as it moves over the Tennessee River Valley, bringing mostly rain from Michigan southward to the Gulf Coast and some remaining snow only in the far northern parts of the country, he added.
By Peter Szekely
Man Dug Out by Police After Spending Winter Snowed Into Home
Ottawa Police helped dig an elderly man out of his home Thursday, March 7, after the city's excessively snowy winter left him housebound for weeks.
The man in his 70s had heat and electricity and access to a phone, but decided he would ration his food and wait for spring rather than call for help.
"He just was going to wait winter out," said police spokeswoman Const. Amy Gagnon.
The officers went to the home in the city's east end Thursday night after concerned neighbors called asking for a wellness check. They hadn't seen their neighbor in quite some time and were concerned for his well-being.
When police arrived, they found a driveway covered by several feet of snow and a car completely buried. There were no signs that anyone had been in or out for some time.
They made their way to the front door and a man answered their knock.
"He was alive, he was well, but he was alone," said Gagnon.
Police don't know exactly when he became trapped in his house.
Elderly Ottawa man dug out by police after spending winter snowed into homehttps://t.co/6TxjhoI1Fi pic.twitter.com/FyLyIwKLYK

— CP24 (@CP24) March 8, 2019
Ottawa has had more than 260 cm of snowfall since November, including a record-setting 97 cm in January and a winter storm in mid-February that convinced the city's schools to close for the first time in years.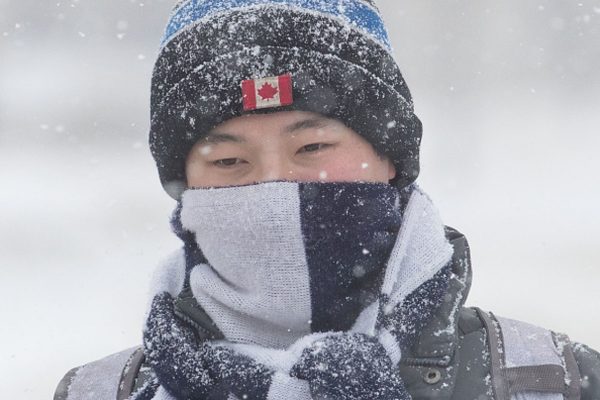 The man was willing to continue his winter-bound lifestyle, but Gagnon said that was "unacceptable" to the officers so three of them joined forces to clear his entire driveway of snow. They also called in municipal workers to help remove large amounts of ice built up at the end of his driveway.
The officers are also bringing him groceries and asking other city services to continue to check on his well-being.
The man doesn't want to be identified.
"He's very thankful for the help, but would like to keep his privacy," said Gagnon.
By Mia Rabson