U.S. Secretary of State Anthony Blinken signed a bilateral agreement with Panama on April 19 to create more "humane migration" as part of a joint focus on illegal immigration.
"Good partnerships are crucial if we are to promote safe, orderly, and humane migration," Blinken said.
Blinken flew to Panama on April 19 to co-host an international conference to address the migration crisis emerging from the Darien Gap, a remote stretch of jungle wilderness that joins Panama and Colombia. From this area, thousands of migrants cross into Panama illegally as part of their journey toward the United States.
Blinken met with Panama's President Laurentino Cortizo Cohen and Foreign Minister Erika Mouynes along with 20 other representatives from countries in the Western Hemisphere.
The conference discussed initiatives to address "irregular migration and its root causes and provide protection for refugees and asylum-seekers."

Blinken's visit comes at a critical time for the United States. Law enforcement agents at the U.S. southern border are struggling to avoid being overwhelmed by a tidal wave of illegal immigrants, many of whom have passed through the Darien Gap.
While the U.S. delegation visited Panama, the president of the U.S. National Border Patrol Council, Brandon Judd, called the surge of illegal immigrants in the United States an "invasion."
He said that more than 200,000 illegal migrants are entering the country every month along miles of unpatrolled U.S.–Mexico land border.
In October 2021, an improvised migrant camp that housed upward of 20,000 Haitian, Venezuelan, and Cuban refugees sat on the outskirts of the Darien Gap in Necocoli, Colombia.
Multiple refugees confessed their intentions to cross the treacherous jungle into Panama in hopes of making it to the next stage of the long overland journey with a singular, final destination: the United States.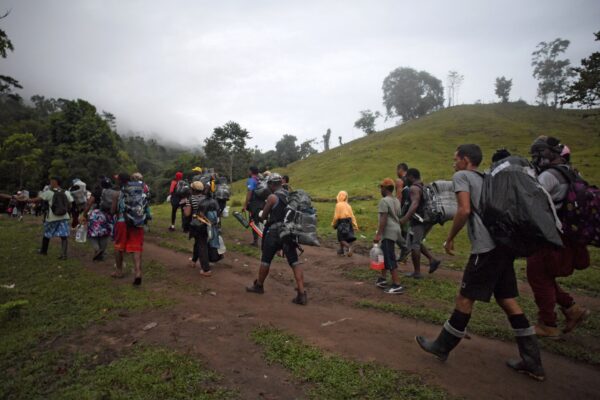 "It's the dream. To live in America is a dream," said a Haitian immigrant named Cherimont.
Blinken also met with Panamanian civic leaders on April 19 to host a roundtable discussion targeting corruption, which presents a growing challenge to the region's economic stability.
"We must work together to fight corruption at all levels. Only then can we build a society of integrity and transparency for future generations," Blinken said.
The day before Blinken's arrival, Department of Homeland Security Secretary Alejandro Mayorkas took a helicopter tour of the area near the Darien Gap.
The total number of migrants crossing the remote jungle into Panama has nearly tripled this year, according to the United Nations. Figures soared to 8,456 in the first two months of the year from 2,928 in the year-earlier period.