Blind China Activist Missing for 40 Days
April 22, 2006 12:00 am Last Updated: April 22, 2006 12:00 am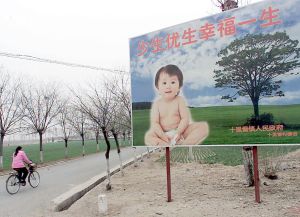 BEIJING – A blind rural activist whose campaign against China's coercive family planning stirred international concern has been missing since March, his wife, who is under house arrest, said by telephone on Saturday.
Chen Guangcheng, a self-taught legal expert in his mid-30s, drew international attention last year to accusations that officials in Linyi city in the eastern coastal province of Shandong had been enforcing late-term abortions and other coercive family planning measures.
"It has been 40 days" since Chen was apparently taken into police custody, Chen's wife, Yuan Weijing, told Reuters.
There had been no news of his whereabouts and no official notification, she said.
Authorities have jammed signals to and from her cell phone but could not block calls on Saturday due to a power failure.
"I can only call when the electricity is cut," she said.
The wife said she had been placed under house arrest with police, hired guards and town officials guarding her home in the village of Dongshigu.
"Villagers feel very threatened and afraid," she said.
An officer at the local police station reached by telephone said he had no knowledge of the case.
Local officials forcibly brought back Chen to his home from a hiding place in Beijing last September.
His freedom was restricted after officials accused him of providing "intelligence" to foreigners about forced abortions and sterilisations as part of strict family planning rules.
Two villagers detained at the same time as Chen were subsequently released, his wife said.