Bindi Irwin at 14, Croc Hunter's Daughter All Grown Up
March 13, 2013 6:41 am Last Updated: March 15, 2013 1:11 pm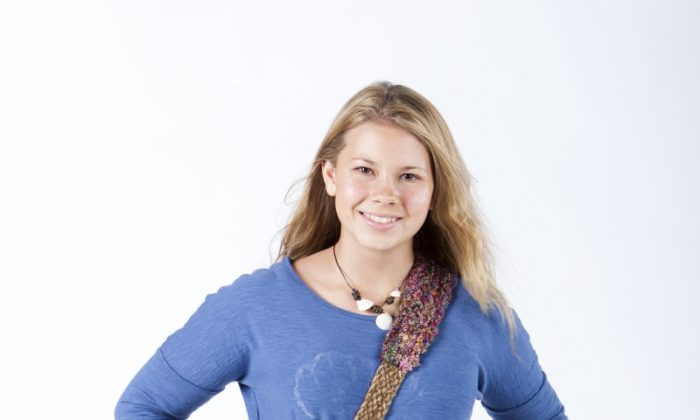 Bindi Irwin at 14, has been following in the footsteps of her late father, the "Crocodile Hunter," Steve Irwin since his death when she was 9 years old. The child star, now a more mature voice for conservation and gaining media attention for her grown-up appearance, will be the new host of the Hallmark Channel's family movie night, and is the star of "Return to Nim's Island," her first feature-length film premiering March 15 on the Hallmark Channel.

Bindi Irwin's sights are set on conservation—particularly the issue of human overpopulation—as she continues to walk in the limelight she inherited from her father.
"The older I get, the more I want to tackle the issues people don't want to talk about," she told the Australian Associated Press (AAP) in an interview published Feb. 18. "Our human population continues to expand at such a scary rate—it's unbelievable … With fewer resources to share around more people, how can the poor have improved lifestyles?"
By the age of nine, Irwin had already appeared on "The Late Show with David Letterman," "Oprah," "Larry King Live," and other American talk shows. She starred in a Discovery Kids television show running for two seasons starting in 2007 titled "Bindi: The Jungle Girl," which won an Emmy in 2008 and was nominated again in 2009.
Her show "Bindi's Bootcamp," is still running on Australian national broadcast station ABC. It is set at Irwin's home, Australia Zoo. Bootcampers take wildlife-based challenges, aiming to become "Bindi's Wildlife Warriors."
Her first feature-length film, "Return to Nim's Island," in which she plays the role that suits her best—that of a young conservationist—will premier on the Hallmark Channel on Friday, March 15.

Despite her stardom, the 14-year-old says there's no pressure.
"I don't really feel like there are any pressures because I'm able to help others, and that's what life is really all about," she told AAP.
She says she lives a relatively normal life for a teenager, with friends coming to visit her at the zoo.
She told AAP, "I'd like to continue to spread my message on conservation and make sure my dad's message—his legacy—lives on."