Ken Griffin, the founder of hedge fund Citadel, said the rescue of Silicon Valley Bank shows the U.S. economic system is "breaking down before our eyes."
"The U.S. is supposed to be a capitalist economy, and that's breaking down before our eyes," Griffin warned when speaking with the Financial Times on Monday after federal agencies said that they would protect SVB depositors, including ones that have $250,000, or above those above the federal insurance limit. Reports said that over 90 percent of SVB's deposits were uninsured.
"There's been a loss of financial discipline with the government bailing out depositors in full," the billionaire added.
Late last week, U.S. regulators shut down SVB after customers withdrew their deposits en masse.  Later, the Federal Deposit Insurance Corporation (FDIC) transferred all deposits of Silicon Valley Bank to a newly created entity and ensured that all depositors had access to their funds starting Monday.
Because of the relative strength of the U.S. economy, Griffin argued that the federal government did not need to take such dramatic action. Regulators said such moves were made to prevent broader contagion from afflicting the U.S. banking sector.
"It would have been a great lesson in moral hazard," he said. "Losses to depositors would have been immaterial, and it would have driven home the point that risk management is essential."
He continued, "We're at full employment, credit losses have been minimal, and bank balance sheets are at their strongest ever. We can address the issue of moral hazard from a position of strength."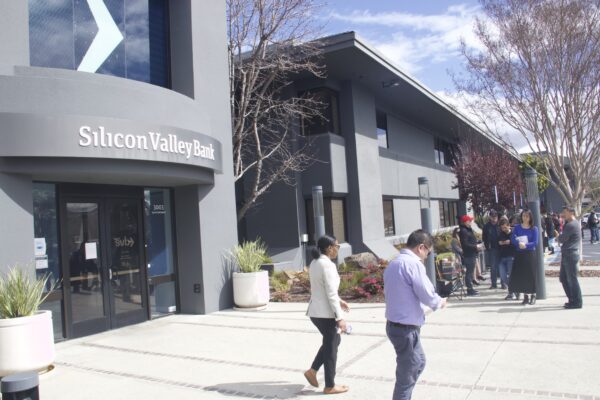 The billionaire's remarks echo others from high-profile Wall Street investors who criticized the rescue plan. "All deposits guaranteed? Big mistake. Fed and Treasury policy moving to backstop risk," billionaire Bill Gross wrote on Twitter.
However, other investors, including billionaire founder and CEO of Pershing Square Capital Management, Bill Ackman, wanted the FDIC and federal government to move quickly to prevent contagion from SVB from spreading to other banks. In a strongly worded Twitter thread over the past weekend, Ackman wrote that before the rescue package was unfolded, the federal government only had "48 hours" to fix an "irreversible mistake."
Ackman warned that "the destruction of these important institutions" will start once depositors withdraw their money from community and regional banks. At the same time, he accused the FDIC of not doing its job.
The Treasury Department, the FDIC, and the Federal Reserve took action later on Sunday to guarantee that depositors of SVB and Signature Bank of New York, another collapsed institution, would get their money. That includes amounts above the FDIC limit of $250,000.
Despite those measures, some regional bank stocks have plunged in the past several days, causing Americans to worry about whether their money is safe. As of Thursday (March 16), the Dow Jones dropped by about 200 points.
On Thursday, Treasury Secretary Janet Yellen told lawmakers that the U.S. banking system "remains sound" and that savings "remain safe." She said, "I can assure the members of this Committee that our banking system remains sound and that Americans can feel confident that their deposits will be there when they need them."
In 2022, Griffin moved Citadel from Chicago to Miami and publicly cited the rise in crime across the Windy City. Previously, Griffin said he wants Florida Gov. Ron DeSantis, a Republican, to run for president in 2024.
Griffin is worth approximately $32 billion, according to Forbes magazine. His firm, set up in 1990, manages some $57 billion in assets.
Notably, during the onset of the COVID-19 pandemic in 2020, Griffin reportedly funded the U.S. State Department's rescue of about 800 American citizens from Wuhan, China.