Democratic presidential nominee Joe Biden is promising to hold China accountable if he's elected president in November, saying that President Donald Trump has botched trade relations with the country and mishandled the CCP virus pandemic.
Speaking in Iowa on Friday, Biden said that Trump made policy choices that hurt the economy in the state. At one point, he said that a trade war between the United States and China allegedly adversely impacted the state's agricultural sector, which Trump has long denied.
"Look, I'll do what he's been unable to do," Biden said. "I'll mobilize a truly international effort to stop China's abuses. So we can strengthen manufacturing and farming in Iowa and across the country."
He added that he'll "hold China accountable, which [Trump] hasn't from the pandemic on."
Meanwhile, he said that he would not shut down the economy due to the CCP (Chinese Communist Party) virus, as Trump has alleged. Instead, the former vice president will "shut down the virus," he said, without elaborating on how.
During the two presidential debates over the past month, Biden accused Trump of praising China's Xi Jinping earlier this year when the virus was spreading throughout Mainland China. Trump, however, has sharply criticized the CCP in recent months over the spread of the virus, referring to it often as the "Chinese virus."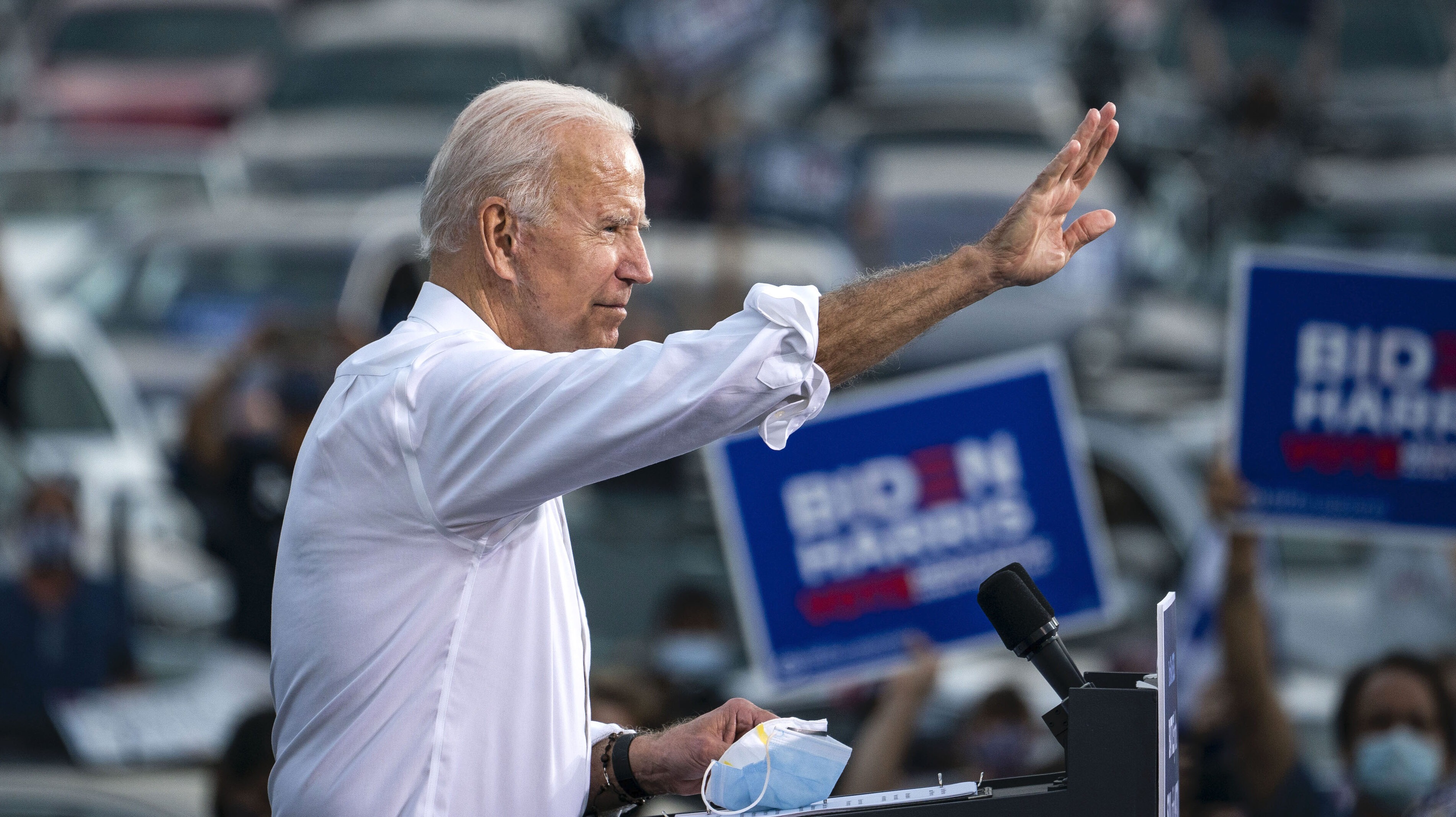 It comes about a week after Biden wrote an opinion piece, presumably translated from English to Mandarin, in the Chinese-language World Journal, a publication that formerly had an anti-CCP stance but became more open to the Chinese regime in recent years and reportedly got rid of an advertisement about Falun Gong, a persecuted spiritual practice in China, at the behest of the Chinese consulate.
Biden said in the piece that he would "collaborate" with the Chinese regime. "Our approach to China will focus on boosting American competitiveness, revitalizing our strengths at home, and renewing our alliances and leadership abroad," he wrote on Oct. 22. "I'm going to rejoin the Paris Accord and make China abide by what they agreed to," he said, adding that he would deepen the United States' ties with Taiwan.
The Biden campaign didn't immediately respond to a request by The Epoch Times for comment on the opinion piece.
At the same time, there have been serious questions raised about Biden's alleged ties to a Chinese energy company after a former business associated of son Hunter Biden came forward, telling Fox News' Tucker Carlson that the former vice president and his family are "compromised" by the CCP.
"I think that Joe Biden and the Biden family are compromised. Obviously, I've referenced I've held a Q-clearance—you're briefed on compromise and who you're able to talk with and deal and do business with—and I just don't see, given the history here and the facts, how Joe can't be influenced in some manner based on the history that they have with CEFC," Tony Bobulinski said.
CEFC China Energy was China's largest privately held oil company before it was caught in Beijing's crosshairs in 2018. The oil conglomerate made billions of dollars in Russia, Europe, and parts of Africa, while CCP-linked billionaire Ye Jianming fostered ties with high-level CCP officials.
Biden has denied any knowledge of his son's business dealings abroad, which Bobulinski denied several times. Bobulinski described two in-person meetings with Joe Biden, which he says were set up solely because Bobulinski was taking on the role of the CEO of SinoHawk LLC, the joint venture between the Bidens and Ye.
A review of nearly 1,800 pages of emails and more than 600 messages Bobulinski handed over to Congress suggests that Bobulinski's insistence on running SinoHawk by the book may have resulted in Hunter Biden abandoning his partners and accepting nearly $5 million from Ye via another route.
Ivan Pentchoukov contributed to this report.