Democratic presidential nominee Joe Biden condemned President Donald Trump's comments about his family's overseas business dealings that were revealed in several explosive new reports, saying that it's "crass" to go after his son Hunter.
"It's a specific decision. I just think it's crass," Biden told left-wing podcast Pod Save America over the weekend. "I'm running against Donald Trump, not his children, and the American people want to hear about their families, not about Trump's family or my family, although I'm very proud of my family. It's just not how I was raised. It's that basic. It's Donald Trump."
A trove of documents found on a laptop that purportedly belonged to Hunter Biden and statements by his former business partner Tony Bobulinski suggest that the former vice president's son leveraged his father's powerful position to strike deals with companies in China and Ukraine. Biden's campaign has repeatedly denied that he profited from the deals, although the campaign hasn't disputed the authenticity of the emails or photos found on the laptop, instead focusing on allegations they are part of a Russian disinformation campaign. Top U.S. intelligence officials have disputed those claims.
On Oct. 23, Vice President Mike Pence called on Biden to "come forward and come clean" on reports about his family's business ties. "Joe Biden ought to come forward, he ought to answer questions about the laptop, about Hunter Biden, about these foreign funds flowing in the direction of his family," Pence told Fox News, adding that the "American people have a right to know what Joe Biden and his family have been up to."
During the debate, Trump brought up the alleged Hunter Biden emails, which Biden again denied.
"Vice President Biden, there have been questions about the work your son has done in China and for Ukrainian energy company when you were vice president. In retrospect, was anything about those relationships inappropriate or unethical?" the debate moderator asked on Oct. 22.
"Nothing was unethical," Biden replied, adding that Trump officials who testified in last year's impeachment inquiry "said I did my job impeccably."
"Not one single, solitary thing was out of line, not a single thing," Biden claimed. "I have not taken a penny from any foreign source ever in my life."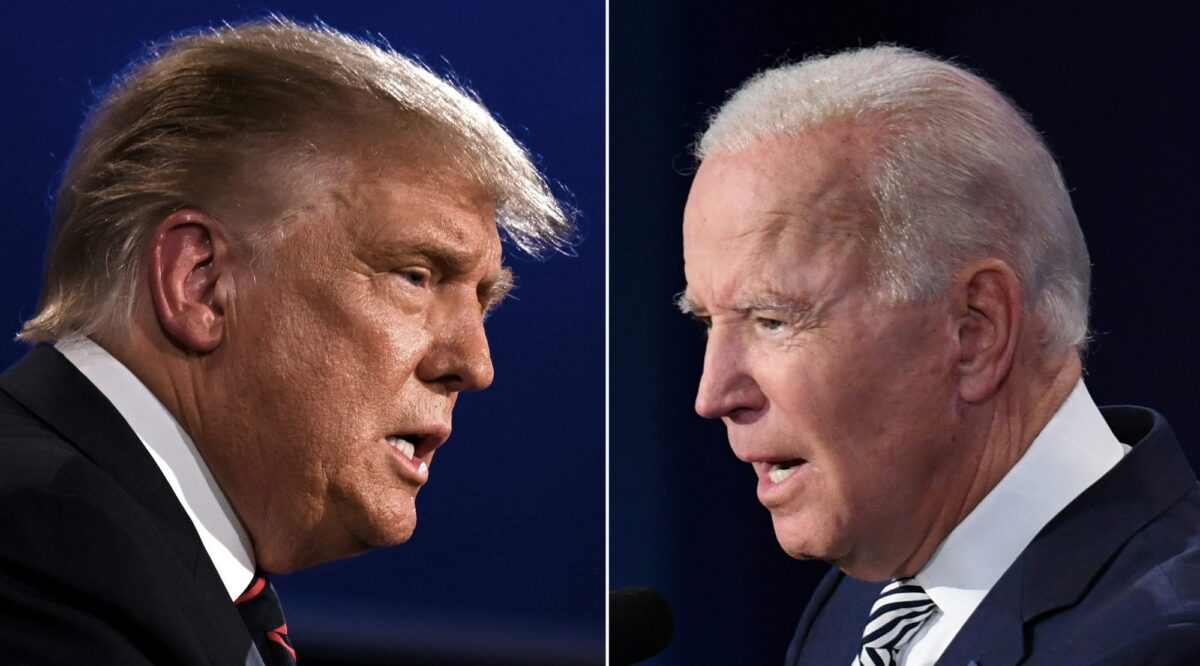 However, Bobulinski told reporters hours before the debate that he met with Joe Biden in May 2017 and discussed a deal with a Chinese energy firm. Bobulinski disputed Biden's claims that he never spoke with his son about business dealings overseas.
"I have heard Joe Biden say that he has never discussed business with Hunter. That is false. I have firsthand knowledge about this because I directly dealt with the Biden family, including Joe Biden," Bobulinski said at the press conference. "On May 2, 2017, the night before Joe Biden was to appear at the Milken conference, I was introduced to Joe Biden by Jim Biden and Hunter Biden. At my approximately hourlong meeting with Joe that night, we discussed the Bidens' history and the Biden family's business plans with the Chinese, with which he was plainly familiar, at least a high level.
"On numerous occasions, it was made clear to me that Joe Biden's involvement was not to be mentioned in writing but only face to face. In fact, I was advised by [James] Gilliar and [Rob] Walker that Hunter and Jim Biden were paranoid about keeping Joe Biden's involvement secret."
In a separate statement, Bobulinski said the partnership included Chinese energy firm CEFC and the Biden family.
"The reference to 'the Big Guy' in the much publicized May 13, 2017 email is in fact a reference to Joe Biden. The other 'Jim' referenced in that email is Jim Biden, Joe's brother," Bobulinski wrote. Trump, during the debate, made a reference to the "big guy" claim.
Biden's campaign told news outlets that Bobulinski's assertions are inaccurate.
"As Chris Wallace said on the air about this very smear, 'Vice President Biden has actually released his tax returns—unlike President Trump—and there is no indication he ever got any money from anybody in these business deals,'" Biden campaign spokesman Andrew Bates said in a statement.
The former vice president "has never even considered being involved in business with his family, nor in any overseas business whatsoever," Bates said. "He has never held stock in any such business arrangements nor has any family member or any other person ever held stock for him."
Tom Ozimek contributed to this report.