A senior adviser to Joe Biden's campaign wouldn't say whether Biden would take the CCP virus vaccine.
"Will Joe Biden get the vaccine if it's available?" Fox News anchor Bret Baier asked Symone Sanders on "Fox News Sunday."
"Well, look, Bret, again, as I just noted, first and foremost—I think folks have asked, we've had conversations about testing, right? And as folks know now, Vice President Biden and Senator Harris are being regularly tested, as are our campaign staff," she answered.
"But, first and foremost, at the top of the mind—a top-of-mind for Vice President Biden is, are the American people getting what their—what they need? You know, the White House has testing, Bret. You know, folks are tested very regularly coming in and out of the White House, anyone who's around the president.
"But that testing, that level of testing is not available to folks across the country. So, if a vaccine were to become available, again, it's about will working families benefit, will they be able to receive the vaccine?"
Biden for months refused to get tested for COVID-19, a disease caused by the CCP (Chinese Communist Party) virus. His campaign said in August that he would get tested.
Sanders said Biden and Harris are being regularly tested.
Sen. Kamala Harris (D-Calif.), Biden's running mate, suggested during an appearance on CNN's "State of the Union" that she wouldn't take a vaccine approved by the Trump administration.
"I think that's going to be an issue for all of us. I will say that I would not trust Donald Trump," she said, adding later, "I will not take his word for it."
Sanders was pressed on whether the Biden campaign was saying a vaccine shouldn't be trusted if it's approved before the presidential election.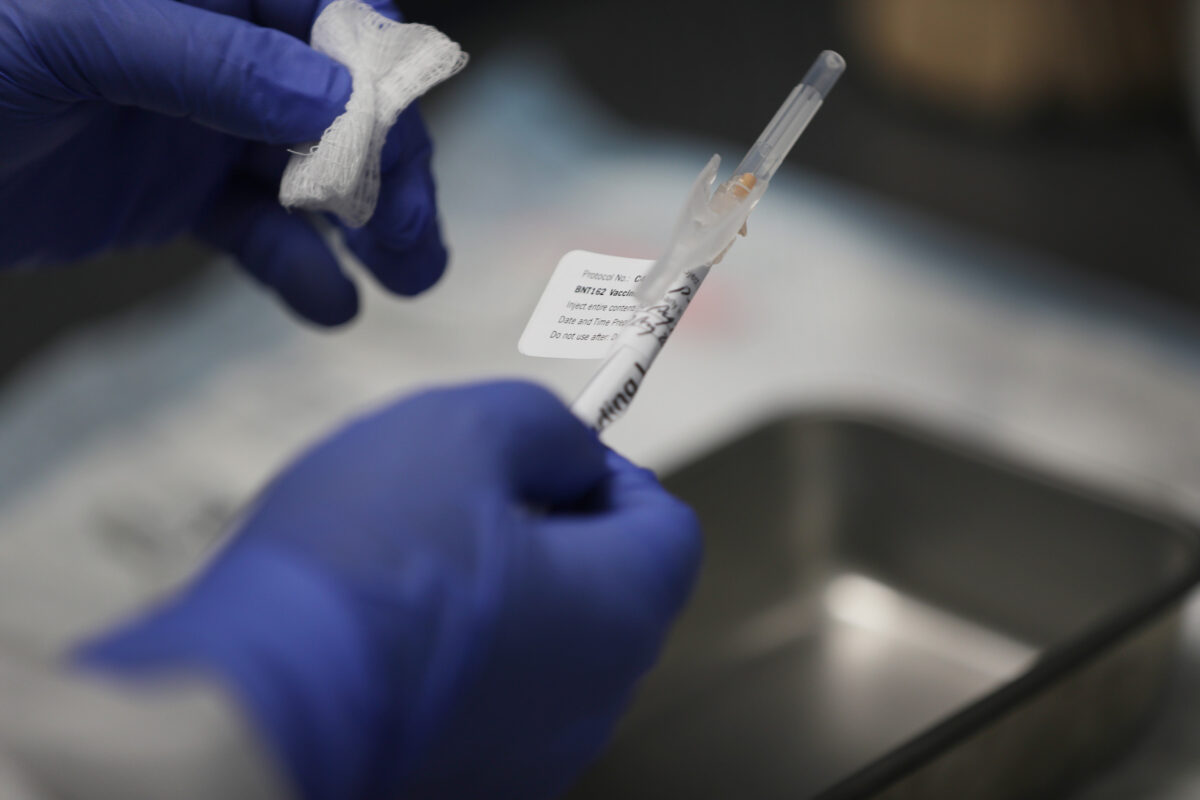 "The question really is, is how can Americans and folks across the country trust the president to be able to effectively and equitably distribute a vaccine when he's had issues getting personal protective equipment to front-line workers all across this country?" Sanders responded.
"So we all want a vaccine, Bret. We all want—but we wanted to be safe and we want to get folks across the country, in every community that needs it," she added.
Tim Murtaugh, director of communications for President Donald Trump's campaign, said in a social media statement that Harris was acting like an "anti-vaxxer."
"Both Joe Biden and Kamala Harris are using dangerous rhetoric to scare people away from a vaccine when it's ready. Their hatred of President Trump could actually kill people," he said.
A vaccine is expected to be ready by early 2021, if not earlier.
Trump told reporters in a recent briefing that "we remain on track to deliver a vaccine before the end of the year and maybe even before Nov. 1."
"We think we can probably have it some time during the month of October," he added.
Biden told a virtual fundraiser last week: "The American people have to trust the vaccine is safe, effective, and that it will be distributed fairly. Politics shouldn't play any role in that."
The Democratic nominee added that he believes Trump "is going to say it's going to be available around Election Day, he's going to hype it."
"We need a vaccine. We badly need it," he said. "And by the way, if the Lord almighty came down and said, 'Joe, we can have a vaccine tomorrow and guarantee it works, but it's not going to help you win the election,' I'd say, do it anyway."