President Joe Biden on Thursday said his new goal is to get 200 million COVID-19 shots administered by the end of his first 100 days in office.
"We will, by my 100th day in office, have administered 200 million shots in people's arms. That's right: 200 million shots in 100 days," Biden said during a press conference.
" I know it's ambitious, twice our original goal, but no other country in the world has even come close—not even close—to what we are doing. And I believe we can do it."
Biden before entering office said his goal was to get 100 million shots administered by the time he'd been in office for 100 days.
That goal was reached around day 60.
As of March 25, the United States has administered 133.3 million COVID-19 shots.
COVID-19 is the disease caused by the CCP (Chinese Communist Party) virus.
Two of the three authorized COVID-19 vaccines require two doses; the other, Johnson & Johnson's, is a single shot.
Approximately 47.4 million Americans have been fully vaccinated against the CCP virus. The others are still waiting for a second dose.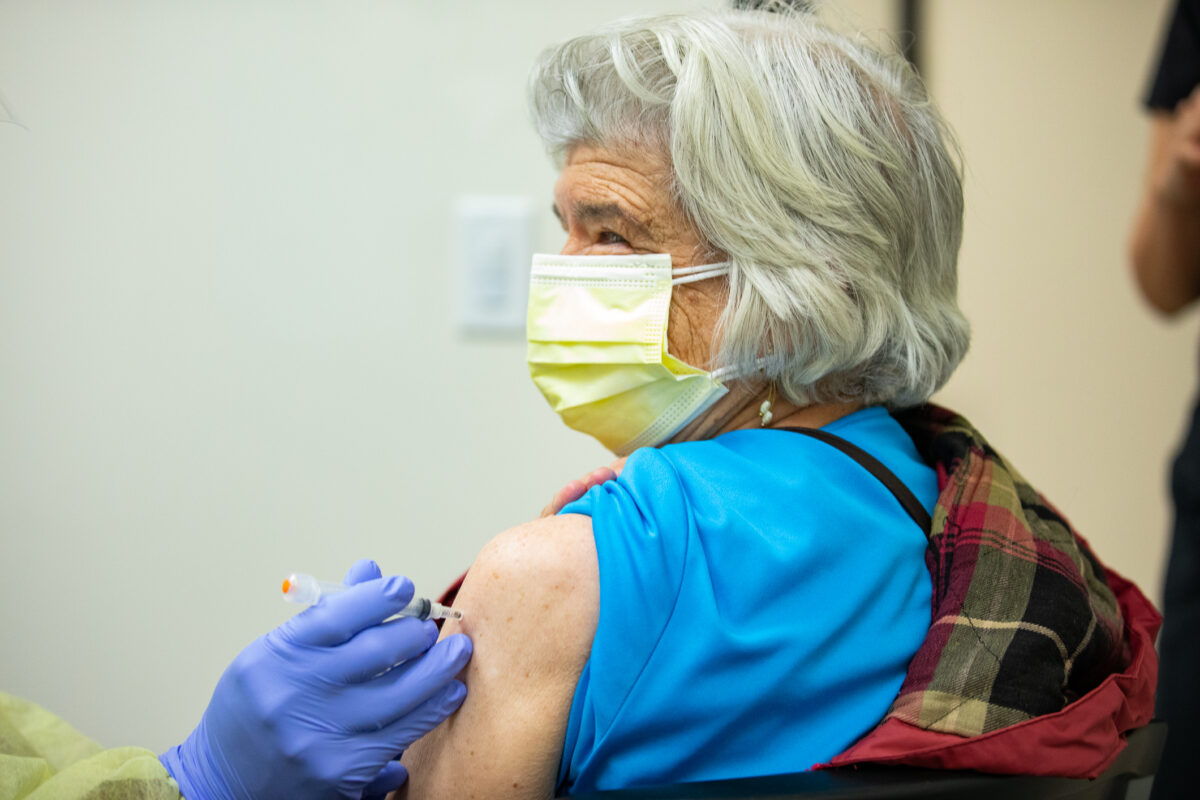 The pace of vaccinations has steadily risen since late last year, when drug regulators authorized vaccines from Moderna and Pfizer.
The United States is vaccinating between 16 and 20 million people a week, Centers for Disease Director Rochelle Walensky told reporters earlier this week.
"And this means that we are closer to resuming activities we love to do with those we care about the most," she said.
Dr. Anthony Fauci, a top medical adviser to Biden, has estimated that at least 70 percent of Americans need COVID-19 vaccines before herd immunity is reached.
Critics note that Fauci doesn't include people who have recovered from the disease. Recovered persons have antibodies that in the overwhelming majority of cases prevent reinfection.
With "no more than a handful of reports of people getting it again … there's every indication that having been infected with it provides strong, natural immunity," Sen. Rand Paul (R-Ky.), a doctor, recently told reporters.
Herd immunity can be reached through vaccination or naturally acquired immunity, according to a previous definition from the World Health Organization.
The vaccine supply could soon be bolstered by a fourth shot. AstraZeneca officials say they plan to file for emergency use authorization soon, using data from a phase 3 clinical trial.
The British company's shot has been approved in a slew of countries, though many suspended use this month after reports of post-vaccination blood clots and deaths.
The shot is "safe and effective," the European Union's drug regulator announced on March 18.
Biden's administration sent roughly 4 million AstraZeneca shots the government had purchased to Mexico and Canada last week.