Commentary
The Biden administration is taking steps to restrict China's investment and trade to slow Beijing's quest for dominance, but it is slow going with piecemeal and often uncoordinated legislation.
American money supports the Chinese Communist Party (CCP) juggernaut on both sides of the Pacific. China is buying up assets in the United States, while American investors and consumers are funding the CCP. Reshoring American factories can counter this because it would reduce U.S. exposure to CCP-controlled supply chains and cut off the funding the CCP needs for its global ambitions.
Global supply chains are still reeling from two years of COVID-19 restrictions inside and outside China. And the situation may worsen as the CCP claims sovereignty over the Taiwan Strait, which accounts for about one-third of global shipping. The United States maintains that the Taiwan Strait is an international waterway. If the CCP restricts access to the Strait, it will deal a heavy blow to international trade.
Relations between Washington and Beijing are tense, not only in the waters around Taiwan, but also in the Indo-Pacific, where the CCP is jockeying for influence and control. The security agreement signed between the CCP and the Solomon Islands may soon allow the People's Liberation Army (PLA) to construct its next overseas base. Countries such as the Federated States of Micronesia have long been U.S. allies. Now, they are being offered cash and other incentives to break their association with the United States and join the CCP camp.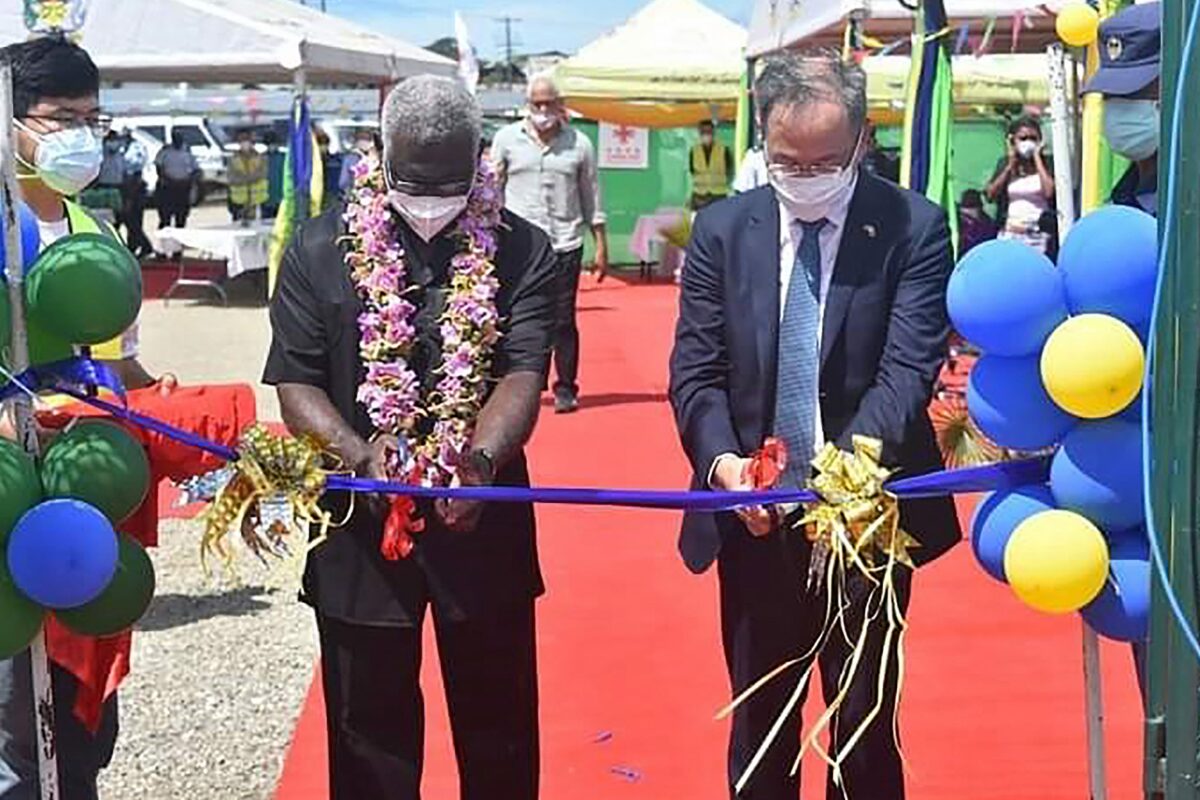 The CCP's overseas expansion is driven by a state-level campaign enlisting all of its assets: human capital, industrial production, propaganda, disinformation, soft power, military, trade, and investment. Cutting off the CCP's access to cash would hinder the country's military buildup and reduce the amount of influence it could buy in small developing countries through loans and investments.
CCP propaganda dissemination efforts have been reported by Renée DiResta, the research manager at the Stanford Internet Observatory. Diresta confirmed that CCP-backed disinformation campaigns have been active in the United States by utilizing fake social media accounts and paid wumao accounts to influence U.S. public opinion.
For this reason, the Trump administration applied restrictions to CCP soft power initiatives in America. Consequently, most of the Confucius Institutes in the United States have been shut down, and employees of CCP state media are required to register as agents.
The Committee on Foreign Investment in the United States (CFIUS) has the authority to review and block foreign investment on national security grounds. These restrictions apply to critical technology, personal data of U.S. citizens, or infrastructure. In 2018, then-President Donald Trump strengthened CFIUS' powers. Now, U.S. federal agencies are prohibited from using certain Chinese telecommunications equipment and purchasing certain products made in Xinjiang on the grounds of supporting human rights.
Lawmakers are working on a bipartisan bill to allow the government broader powers to investigate and restrict U.S. investments, which may threaten national security in China. The bill will be a huge blow to Beijing's Made in China 2025 plan and will encourage U.S. factories in China to exit. Meanwhile, more than 100 business leaders have asked Washington to pass a China competition bill to improve U.S. competitiveness.

The U.S. Export Control Reform Act of 2018 included provisions for evaluating and controlling exports of emerging and foundational technologies. This prevents the U.S. sale of fintech, batteries, and artificial intelligence to China. Export controls are expected to become more stringent in 2022. And since the United States has revoked Hong Kong's special status, the same rules that apply to China will largely apply to trade and investment in Hong Kong.
The U.S. Hong Kong Sanctions program prohibits Americans from doing business with multiple Chinese and Hong Kong officials. A law banning most imports from Xinjiang went into effect last month. In addition, there are prohibitions against investing in securities and derivatives related to the Chinese military-industrial companies. Furthermore, U.S. entities are prohibited from doing business with Chinese entities that undermine democracy or have been accused of human rights violations.
Despite the crackdown on investment and trade, the Biden administration is considering decreasing some of the China tariffs to bring down inflation caused by the administration's disastrous economic policies of the past 18 months. Removing tariffs will make some Chinese goods less expensive in the United States. Still, to combat inflation, the Federal Reserve must raise interest rates, as it has, and possibly increase bank reserve requirements. Meanwhile, the White House will need to stop spending and, above all, stop borrowing.
The Chinese regime is still a political and economic threat to the United States, so removing the tariffs would not be justified. U.S. Trade Representative Katherine Tai suggested on April 22 that the tariffs should be kept because they are "a significant piece of leverage" with the CCP.
Maintaining tariffs is one way of hitting the CCP in the wallet. Another is to encourage the reshoring of American companies. In 2020, reshoring exceeded foreign direct investment by nearly 100 percent. U.S. restrictions on China's trade and investment will accelerate the reshoring trend.
Views expressed in this article are the opinions of the author and do not necessarily reflect the views of The Epoch Times.