Improved surveillance capabilities allowed the U.S. administration to identify the Chinese spy balloon that traversed the country last week and detect similar flights during the Trump years, according to White House national security adviser Jake Sullivan.
Since President Joe Biden took office, the United States "enhanced our surveillance of our territorial airspace, we enhanced our capacity to be able to detect things that the Trump administration was unable to detect," he said at a Feb. 6 event hosted by the U.S. Global Leadership Coalition.
As a result, he said, "we were able to go back and look at the historical patterns" and uncover "multiple instances" during the Trump administration in which Chinese surveillance balloons traversed American airspace and territory.
Over the weekend, former President Donald Trump and multiple top U.S. officials during his administration have said that they were never briefed on Chinese balloons entering U.S. airspace.
At a press briefing on Monday, John Kirby, coordinator of the National Security Council, confirmed that similar balloons like the one shot down on Saturday near the South Carolina coast have transited U.S. airspace three times during the previous administration and once since Biden took office.
"We have reached out to key officials from the previous administration and offered them briefings on the forensics that we did and expressed our willingness to walk them through what we learned," Kirby said.
In a later press conference, Air Force Gen. Glen VanHerck, commander of North American Aerospace Defense Command, built on Sullivan's statements, admitting that the Pentagon had an "awareness gap" that allowed previous Chinese balloon incursions to go undetected.

'Program of Survival'
The intelligence value from the downed Chinese spy balloon "should not be underestimated," Kirby told reporters.
Kirby said that the officials have been able to recover some remnants from the surface of the sea, but the weather condition prevented undersea recovery efforts from the debris field, which is estimated to be about 15 football fields by 15 football fields square. On Saturday, an F-22 fighter jet fired a heat seeking missile, bringing down the balloon as it flew six miles off the South Carolina coast.
President Joe Biden had initially ordered a shootdown of the balloon immediately after intelligence officials briefed him about it on Jan. 31, but changed his mind at the strong recommendation of top military officials who cited public safety concerns from the large debris field such an operation would create.
The incident wasn't the first time Washington had protested with Beijing over Chinese military programs near U.S. airspace, Kirby said, without providing details on specific incidents.
"The PLA [People's Liberation Army] Air Force has done an air operation, often close to airspace that we're responsible for, and we've made it really clear on repeated occasions that we take that sovereignty seriously," Kirby said.
"So I don't want to suggest that we stayed mum on the issue of sovereign airspace. That's not true. We've been very clear, privately and publicly with the Chinese about that."
Kirby described the Chinese military program as a "program of survival" and "program of record" for Beijing.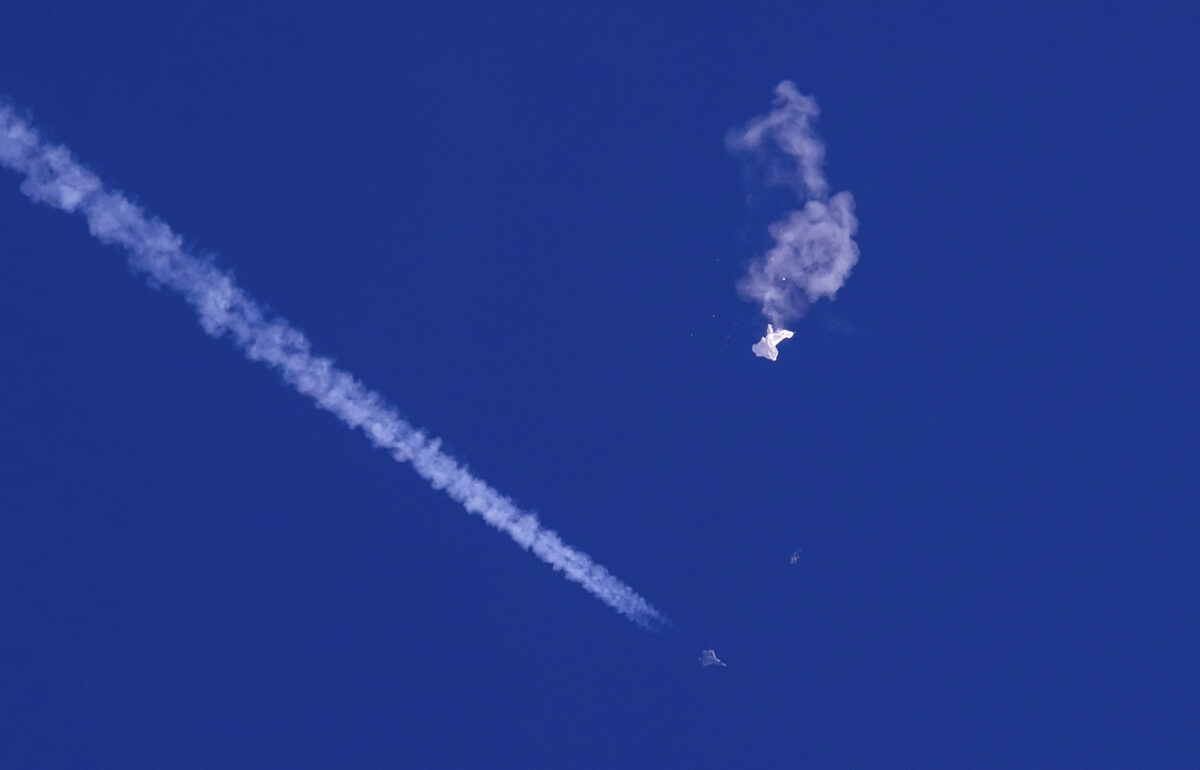 This whole program by China "is not a new program, it is something that they've been working on for many years, and that they have tried to improve, both in terms of capability range communication," he said. "This is a program of record for them that they obviously, given the fact that they're still flying, continue to believe that there is national security benefit to that."
"We certainly came into office aware that the Chinese were continuing this program of survival, and that they were continuing to try to improve this capability, this military capability."
Kirby declined to answer questions on what intelligence the balloon could provide Chinese authorities on top of satellite footage of sensitive military sites, and whether the balloon fed information to Beijing in real-time.
US–China Relations
The balloon has the ability to speed up and down, turn, and loiter, and is equipped with propellers and a rudder allowing it to change directions, according to the White House official. It mainly uses jet streams to travel, although it does have limited ability to maneuver within that.
The week-long window, from the discovery of the balloon on Jan. 28 through the shootdown, afforded officials "a terrific opportunity" to study the capabilities and limits of the balloon, an understanding that will only improve after authorities study pieces they recover from the sea, Kirby said.
"We believe we mitigated the intelligence capability of the balloon, at the same time increasing and improving our ability to collect intelligence and information from it."
He said they have no intention of returning whatever they recovered from the debris field to the Chinese authorities.
Kirby was unapologetic when asked whether Beijing asked them not to shoot down the balloon.
"We did exactly what they say they wanted us to do: we dealt with this in a calm and professional manner," he said.
The balloon incident caused Secretary of State Antony Blinken to postpone his meeting with Chinese counterparts in Beijing on Friday, which Kirby said was intended to restore some of the damage of the U.S.–China relations "as a result of them overreacting when Speaker [Nancy] Pelosi went to Taiwan" last August.
"This balloon incident has done nothing to help improve the U.S.-China bilateral relationship," he said, but reiterated that "nothing's changed" about the administration's view that "we don't see conflict with China."