Bezbatchenko Takes Spotlight at Toronto FC
GM fires Nelsen, promotes Vanney, helps keep Defoe at TFC in tumultuous weekend
September 1, 2014 9:35 pm Last Updated: September 3, 2014 9:36 pm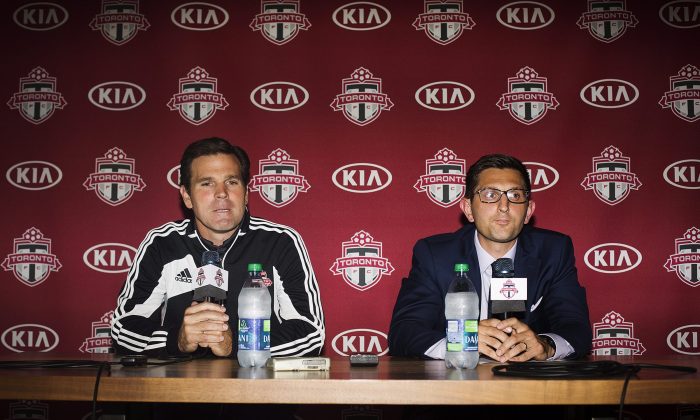 What's the opposite of a "bloody big deal?" Whatever it is that Toronto FC went through Labor Day weekend. But at least at the end of it, general manager Tim Bezbatchenko believes the club is heading in the right direction.
After their worst performance of the season—a 3–0 loss at BMO Field to the New England Revolution on Saturday—and being called out by head coach Ryan Nelsen for putting added pressure on the team, Bezbatchenko, 32, fired Nelsen and most of his staff Sunday. 
Bezbatchenko, then had to speak to rumors that star striker Jermain Defoe could be leaving the club prior to the European transfer window closing on Monday. But in his press conference Sunday at 4 p.m., the young GM wanted to talk about Toronto FC's new (not interim) head coach Greg Vanney.
While Toronto FC had received offers from English Premier League clubs for Defoe, Bezbatchenko was confident he'd stay.
"I believe he's going to stay," Bezbatchenko told reporters after the press conference. "I don't think he wants to leave."
And when Monday was all said and done, Toronto FC had turned down "a record transfer offer for Jermain Defoe." The Toronto Sun reported that outgoing Maple Leafs Sports & Entertainment CEO Tim Leiweke said, "We're not interested in him [Defoe] going anywhere."
Another New Beginning
A season of so much promise appeared to be unraveling for TFC. After the listless performance against New England, the Reds have won only 3 of their last 13 games. Three of the losses in their last six games have been by three goals. They have once again shown a frailty late in matches throwing away points by giving up late goals.
Bezbatchenko trotted out that infamous phrase "results-oriented business" as he announced Nelsen's dismissal. Clearly, Toronto FC had stopped getting results.
Nelsen was named TFC's head coach on Jan. 8, 2013 while still playing for Queens Park Rangers of the English Premier League. While Nelsen had plenty of experience as a player in MLS, the EPL, and internationally with New Zealand, he lacked coaching experience.
With a dramatically improved squad after the "Bloody Big Deal" of signing Jermain Defoe and Michael Bradley to multi-million dollar designated player contracts, the principal area of concern was if Nelsen was the right man to guide TFC to the upper echelon of MLS.
Nelsen's biggest contributions were helping land Defoe and securing a loan deal for Brazilian keeper Julio Cesar leading up to the World Cup. The latter is no longer with TFC.
Nelsen and Bezbatchenko were at odds with each other and it came down to a power struggle with the GM and head coach disagreeing on transfers and the approach to the New England game.
Bezbatchenko, a lawyer by profession, has been with TFC since September 2013. His familiarity with MLS's loan and transfer agreements, youth and player development have proved invaluable to Toronto FC. He is entitled to feel he knows how to build a team and put a vision in place for success.
"I know we can get more out of this group of guys," Bezbatchenko said. He described what he saw on the pitch under Nelsen as a lack of energy and commitment to a plan.
But Bezbatchenko now has his man, Vanney, running the team. "He brings a plan, purpose, a level of coaching acumen that hasn't been seen at TFC of late," he said in an interview with TSN. 
And apparently Defoe is "excited" about the changes according to Leiweke's interview with the Toronto Sun. That much is good news for the time being, as losing Defoe would have been a very bitter pill to swallow.
Vanney is the eighth "permanent" coach in Toronto FC's eighth season in MLS. He was formerly the assistant general manager and academy director. He doesn't have much time to prepare as Toronto FC face another crucial matchup at Philadelphia on Wednesday.
Follow Rahul on Twitter @RV_ETSports