Beware: NYC Speed Cameras Go Mobile
September 2, 2014 7:59 pm Last Updated: September 2, 2014 8:39 pm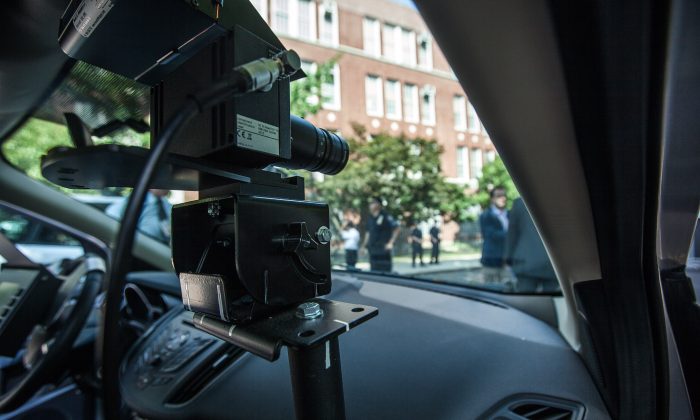 NEW YORK—Beware inpatient drivers: mobile speed traps have hit the city streets and more are on the way as part of Mayor Bill de Blasio's Vision Zero initiative with the goal of reducing some 200 yearly pedestrian deaths to zero.
Thanks to support from Albany, the initiative already hit a few milestones.
The city was allowed to lower its speed limit from 30 mph to 25 mph, starting in November, and a pilot program of 20 speed cameras in school slow zones will expand to 140. 
The city plans to deploy additional cameras by the end of 2015, Transportation Department Commissioner Polly Trottenberg said at a Tuesday press conference with the mayor.
Unsuspecting rule-breakers may not realize a speed camera has photographed them, as some cameras are inside mobile–unmarked cars with black prism radars mounted on their roofs, taking convictive pictures. 


A speed radar mounted on top of a Transportation Department vehicle also equipped with a camera, as shown at New York City Mayor Bill de Blasio's press conference in the Bronx, New York, on Tuesday, Sept. 2, 2014. (Petr Svab/Epoch Times)
"We move them around, trying to induce better behavior and safer driving in a larger number of locations," Trottenberg said.
She didn't say how many mobile cameras the city has, but suggested the numbers may be 40 mobile and 100 stationary, once all are deployed.
Her department didn't respond to a request for the number of mobile speed cameras currently deployed, but City Hall spokesman Wiley Norvell stated they have "a handful" of them.
Placement
The state law only allows the cameras within a quarter-mile radius of schools, where the speed limit is often 15 mph. Yet, with 1,800 public schools and hundreds more private, school traffic zones cover most of the city.
Some 87 percent of Manhattan streets, 82 percent of Brooklyn streets, and 74 percent of streets in the Bronx are within a quarter-mile of a school, WNYC found.
With 23 cameras currently on the streets, the city already cashed in over $9 million for 183,000 violations. Trottenberg said she expects the number to double by the end of the year, when 60–80 cameras are supposed to guard some of the many accident-prone school zones.
The cameras, costing about $100,000 each, don't register a violation until the speed limit is crossed by more than 10 mph. Also, they start to operate an hour before school starts and stop an hour after school is over. 
That would usually be 8 a.m. to 4 p.m., yet the time may extend if activities, like after-school programs, continue later.


New York City Mayor Bill de Blasio's discusses speed cameras at a press conference in the Bronx, New York, on Tuesday, Sept. 2, 2014. (Petr Svab/Epoch Times)
NYPD Transportation Bureau Chief Thomas Chan said his people will pay special attention to traffic violations in school zones around the first day of school on Thursday, including speeding, U-turns, and double parking.
However, De Blasio acknowledged there may be some leniency towards illegal parking in the morning and during dismissal times. 
"A parent who stops for a moment to drop off a kid or pick up a kid is not who we're trying to ticket," he said.