Former Rep. Beto O'Rourke (D-Texas) said American gun owners will turn over their legally-purchased firearms to the government if a law is passed banning those guns.
"If we're able to pass mandatory buybacks and I'm able to sign that into law, then I fully expect our fellow Americans to turn in their AR-15s and their AK-47s," O'Rourke told CBS on Oct. 24.
O'Rourke has repeatedly referred to his plan to ban so-called military-style weapons as buybacks, though gun owners don't purchase guns from the government.
O'Rourke said he'd get the money to pay people to surrender their firearms by imposing a new tax on gun manufacturers.
"I think that a mandatory buyback can be financed with a surcharge that would be paid by gun manufacturers," O'Rourke said. "Those who are making the AR-15s and AK-47s and continue to sell them into our communities despite the terror that they've inspired and the lives that they've taken. I think this is the right way to fund a mandatory buyback without imposing any new taxes on our fellow Americans."
Anyone who refused to follow the new law, O'Rourke warned, would be punished.
"For anyone who does not [turn in their weapon] and is caught in possession or seen in possession of one of these weapons of war, one of these instruments of terror, that weapon will be taken from them and they will be fined, and if they should persist in continuing to use and to buy these weapons, then there will be other consequences in the criminal code," he said.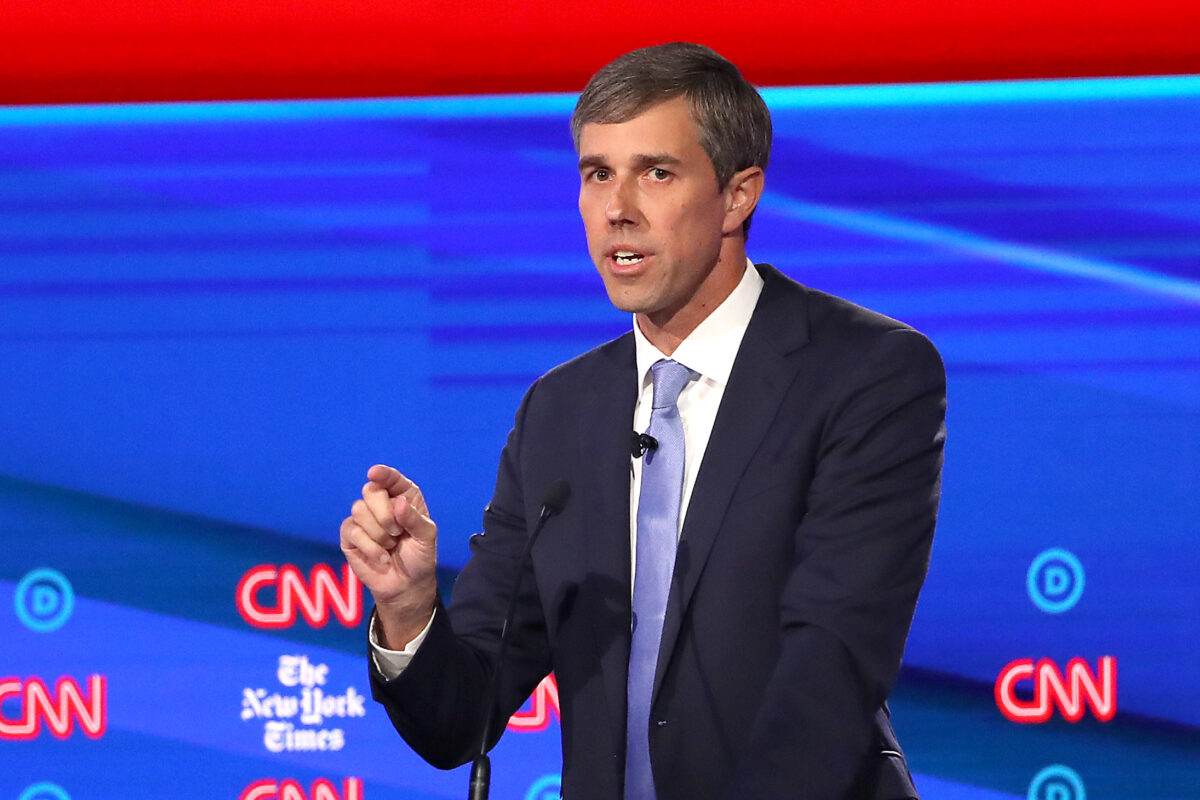 O'Rourke, who has low support in the Democratic presidential race, has ratcheted up his anti-gun proposals in recent months.
Pressed on stage during the September debate if he would force Americans to give up their guns, he said yes.
"Hell yes, we're gonna take your AR-15, your AK-47," he said. Fifteen months prior, he said AR-15 owners could keep their guns.
O'Rourke has struggled to clarify how he'd enforce the law he proposes.
He said that same month that police officers wouldn't have to enforce the plan, claiming: "Americans will comply." At the Oct. 15 debate, O'Rourke said guns would be seized from people who don't surrender them.
"If someone does not turn in an AR-15 or an AK-47, one of these weapons of war, or brings it out in public and brandishes it in an attempt to intimidate, as we saw when we were at Kent State recently, then that weapon will be taken from them," he said. "If they persist, they will be other consequences from law enforcement."
The next day, O'Rourke said police officers would seize guns from houses under the proposed law.
"I think just as in any law that is not followed or flagrantly abused, there have to be consequences or else there is no respect for the law," O'Rourke replied. "So you know, in that case, I think there would be a visit by law enforcement to recover that firearm and to make sure that it is purchased, bought back so that it cannot be potentially used against somebody else."