The daughter of Beth Chapman, Bonnie, posted a tribute to her mother, who passed away on June 26.
Duane "Dog the Bounty Hunter" Chapman issued a statement on Wednesday morning, saying she died.
"It's 5:32 in Hawaii, this is the time she would wake up to go hike Koko Head mountain. Only today, she hiked the stairway to heaven. We all love you, Beth. See you on the other side," he wrote.
Bonnie Chapman, meanwhile, posted on Instagram: "Thankful to call you my mother. Rest In Peace, mom. I love you so much."
The photo included her and her mother's hand.
In a statement to People magazine, a family representative said, "Beth died at 5:32 this morning, the same time she would wake up to go hiking Koko Head. The exact same time. She was surrounded by family and Dog was there, holding her hand."
Another statement also read, "We are deeply saddened by the tragic news that Beth Chapman lost her battle with cancer today. She was an exceptional woman, fiercely loyal and passionate about her family and she was a true joy to work with. All of us at WGN America will miss her tremendously. Our thoughts and prayers are with Duane, her family, loved ones and millions of fans," according to the magazine.
Beth, 51, was admitted to Hawaii's Queen's Medical Center on June 22, reported Hawaii News Now, which said she was placed in a medically induced coma. She had been battling cancer.
In 2017, Beth said she was determined to stay positive amid her cancer battle
"I knew I couldn't let it take me over," she told the publication. "I had to keep moving, every day, moving forward. That's all you can do when you get a diagnosis like this. So I take it each day at a time. And I'll fight it with all that I have."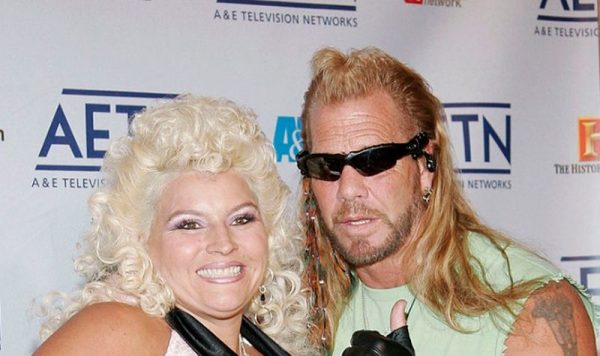 Following her initial cancer diagnosis, she wrote a note to her loved ones, which was obtained by Radar Online.
"As most of you know, I've spent a lifetime facing tests and challenges I didn't see coming and certainly never expected," she said. "I've been dealt my share of unexpected blows over the course of my almost 50 years but nothing as serious as the one I heard from my doctors two weeks ago when they uttered those dreaded three words, 'You have cancer.'"
Duane told Us Weekly in December 2018 that she wanted to explore alternative treatment methods and wasn't always cooperating with her doctors.
"Beth will not take anything the doctors want to give her. Even the doctor told me he doesn't want her to have seizures if the pain is that bad, but she won't do it," he told the news outlet. "She takes over-the-counter pain meds. She will not take anything prescription."
And in May, she said she wasn't opting to have chemotherapy.
"Chemotherapy is not my bag, people. Sorry, that's not for me," she said to Popculture.com in May. "So for me, this is the ultimate test of faith. This is my ultimate lesson. And it will either be taught to me or to you. And I am fine with taking the hit for everyone else. Because I think I know another guy who did the same thing."
Previously, the pair have spoken about faith.
"Faith is probably the number one thing in our lives, no matter what we're faced with. … Through this cancer episode, we had to drum up as much faith as we could. And the Bible talks about having faith as small as a mustard seed. And that's not much. … And I thank God that we had at least that much faith to get her through that," Duane said several years ago about her cancer during the first bout.
"When we made a pledge many years ago, I said I'd love her in sickness and in health until death do us part," he told People magazine of his marriage. "And that truth has really, really come alive in my mind. And I have to stand on that; I gave her an oath that I would love her forever. And thank God it's not till death do us part at this point."