Sen. Bernie Sanders (I-Vt.) got $25.3 million in donations in the third quarter of this year, the most by any Democratic candidate this election cycle.
Sanders, 78, a socialist who is running for the Democratic nomination, had raised $24 million in the second quarter.
His campaign said the average donation was $18 and the most common profession of the over 1 million donors was a teacher. There were 1.4 million donations.
"The billionaire class should be very, very nervous. The working people of this country are ready for a political revolution," Sanders said in a statement on Twitter.
The billionaire class should be very, very nervous. The working people of this country are ready for a political revolution. https://t.co/578Zdzr0uq

— Bernie Sanders (@BernieSanders) October 1, 2019
"Bernie is proud to be the only candidate running to defeat Donald Trump who is 100 percent funded by grassroots donations—both in the primary and in the general," Sanders's campaign manager Faiz Shakir said in a statement.
"Media elites and professional pundits have tried repeatedly to dismiss this campaign, and yet working-class Americans keep saying loudly and clearly that they want a political revolution."
South Bend, Indiana Mayor Pete Buttigieg, meanwhile, brought in $19.1 million in the third quarter, his campaign said.
Buttigieg released a video with highlights from his recent events on the campaign trail and said thanks to the over 580,000 people who donated to him this past quarter, writing in a short statement: "This is your campaign. Together, we will win."
Powered by more than 580,000 donors, our campaign will file an FEC report showing we raised over $19 million during Q3, bringing the total raised to more than $51 million since the beginning of this year. We're positioned to not just go the distance, but to win it all.

— Team Pete HQ (@PeteForAmerica) October 1, 2019
Buttigieg, 37, had the strongest second-quarter haul, bringing in $24.8 million.
"Pete's message is resonating with Americans, and it's proof that we are building an organization that can compete," Buttigieg's campaign manager, Mike Schmuhl, said in a statement at the time.
Sanders and Buttigieg are the only candidates to announce their third quarter fundraising hauls so far.
The Federal Election Commission filing deadline is Oct. 15.
The Democratic field remains crowded. No one has dropped out since Sept. 20, when New York City Mayor Bill de Blasio exited the race.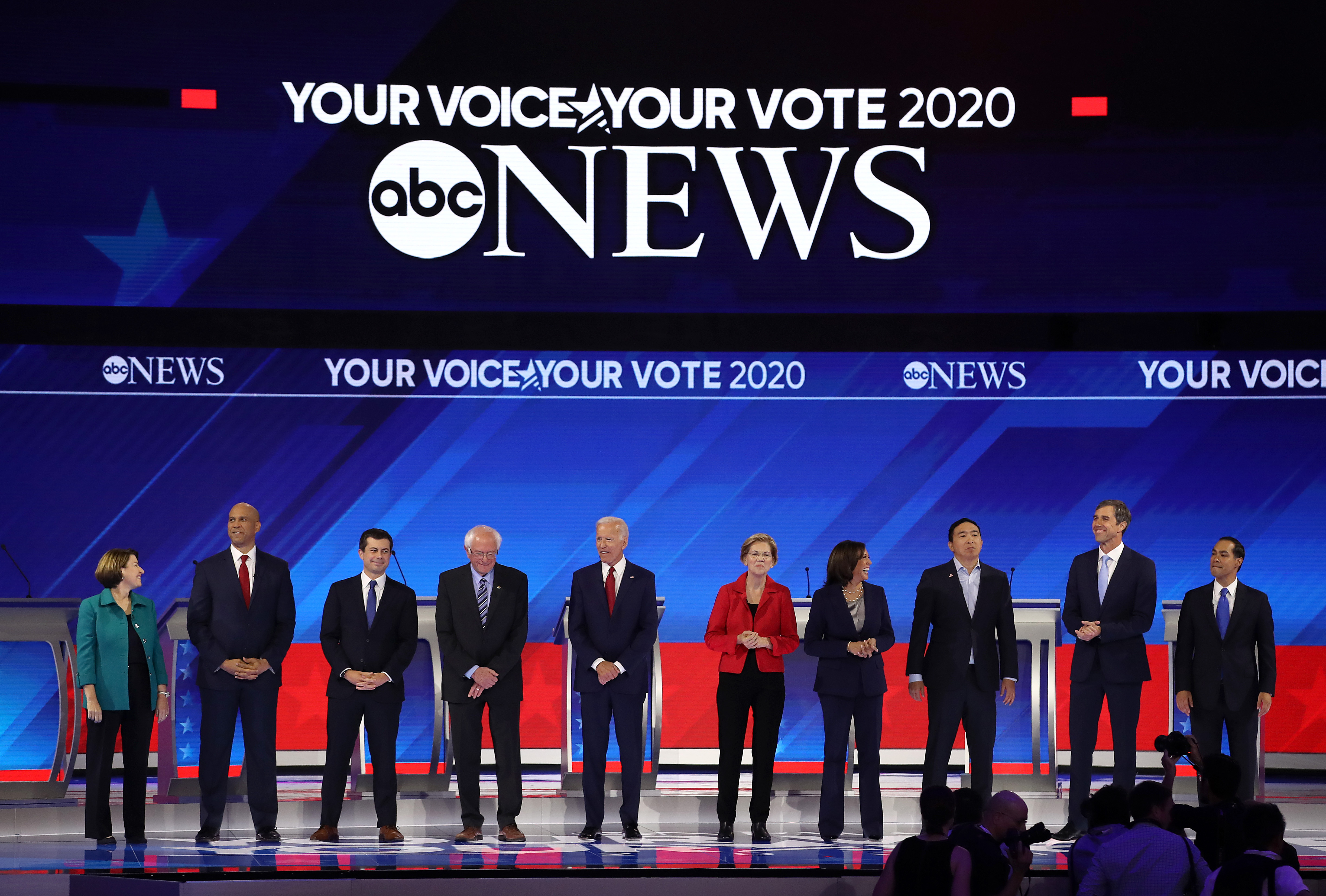 Twelve of the candidates will be featured in the next debate, which will take place on a single sage on Oct. 15.
The candidates are former Vice President Joe Biden, Sanders, Sen. Elizabeth Warren (D-Mass.), Rep. Tulsi Gabbard (D-Hawaii), billionaire Tom Steyer, Sen. Kamala Harris (D-Calif.), Buttigieg, Sen. Amy Klobuchar (D-Minn.), former Secretary for Housing and Urban Development Julian Castro, entrepreneur Andrew Yang, Sen. Cory Booker (D-N.J.), and former Texas Rep. Beto O'Rourke.
Other candidates still in the race include Rep. Michael Bennet (D-Colo.), former Rep. John Delaney (D-Md.), Montana Gov. Steve Bullock, Rep. Tim Ryan (D-Ohio), author Marianne Williamson, former Rep. Joe Sestak (D-Penn.), and Miramar, Florida Mayor Wayne Messam.
The requirements for the fifth debate are higher, with candidates needing 3 percent or more support in at least four different diverse polls or 5 percent or more in two early state polls either conducted by different pollsters or conducted in different states.
Spurred by fear of missing out on the November debate, Castro and Booker have both pleaded for donations recently, telling supporters they'll be forced to drop out if they don't get enough money. Booker later said he'd remain in the race and that his campaign hit the $1.7 million they were seeking.