A day after far-left Antifa extremists violently attacked Trump supporters and conservatives in Berkeley, the mayor called for designating the group as a gang.
"They come dressed in uniforms, they have weapons, they're almost a militia," Berkeley Mayor Jesse Arreguin told a local CBS affiliate on Aug. 28.
"I think we should classify them as a gang," he said.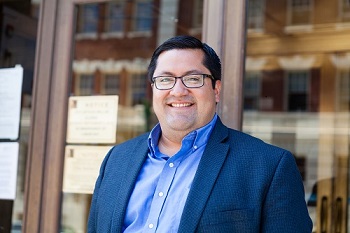 Hundreds of Antifas had shown up to the "Patriot Prayer" rally, alongside thousands of other left-wing protesters, far outnumbering small groups of individual Trump supporters and conservatives.
Antifa was supported by local communist and socialist organizations at the rally, with at least one of the groups chanting Antifa's slogan.
Numerous videos uploaded to social media show Antifas attacking counterprotesters with their fists, sticks, pepper-spray, and bottles filled with urine.
At least six people were injured, with two hospitalized, and 13 people arrested.
Antifa has its origins as a communist front-group for the Soviet Union in Germany in the 1920s. In pursuit of following Russia in creating a communist dictatorship in Germany, the group acted as the violent wing of Germany's communist party (KPD) attacking anyone opposed to its communist ideology.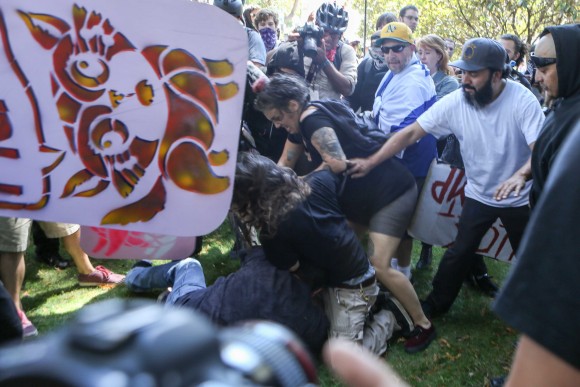 In the United States the group has been part of a number of violent protests this year. Earlier this year in Berkeley, Antifa extremists caused $150,000 in damage after setting fires and smashing windows to prevent controversial conservative speaker Milo Yiannopoulos from giving a speech.
"I think we're gonna have to think big picture about what's the strategy how we're going to deal with these violent elements on the left as well," Arreguin said.
Antifa gained national attention following violent clashes between far-right and far-left extremists in Charlottesville, Virginia.
Virginia Governor Terry McAuliffe on Aug. 28 condemned violence from both sides. "I denounce any individual who commits a crime, who commits violence on our citizens. We will get you, and we will arrest you, plain and simple. I don't care what the group is," McAuliffe, a Democrat, said, according to Independent Journal Review. 
However, McAauliffe had previously criticized President Donald Trump for making similar statements following the violence in Charlottesville in which Trump said both sides had blame for the violence.
Antifa frequently advocates violence against police, rejects any form of authority, and actively promotes violent tactics. A manual promoted on one of Antifa's websites teaches how to conduct guerrilla warfare, including: executions, kidnappings, and terrorism.
A local cell of the Antifa group in Philadelphia is holding anti-police workshops called "our enemies in blue," according to a report by the Daily Caller.
Police in Berkeley were ordered to stand down and they looked on as counterprotesters were violently beaten by Antifa.
In one such case, Joey Gibson, the organizer of the "Patriot Prayer," was attacked by Antifas.
Gibson had called off the rally organized by his conservative Patriot Prayer group over fears of attacks by far-left extremists.
Gibson still showed up to the rally with less than a handful of other protesters, but were quickly swarmed, beaten in the face with fists and sticks, and pepper sprayed while being chased for about a block.
"We walked in there, giving the peace sign with our hands up. We knew there was a potential that people would assault us, but that's why we had our hands up. We didn't want to be aggressive, we didn't want to go in there like we wanted to fight," Gibson told Fox News' Tucker Carlson on Aug. 28.
"We constantly preach love. It's our thing, that's what we want to do. We want to preach love, unity and peace. These things are really important, we have to have that in our country," said Gibson.
Gibson said that he was surprised that others in the area had not come to help them as they were being attacked.
"We were around a bunch of moderate liberals who were holding signs, saying love, peace, non-violence, and then they just sit there and watch Antifa just barge in there attacking all of us. I'm just wondering, moderate left, how long are you going to stay silent on Antifa," he said.
Berkeley's mayor Arreguin also called on the left to take a stronger stance against the Antifa extremists.
"We also need to hold accountable and encourage people not to associate with these extremists because it empowers them and gives them cover," Arreguin said.
The mayor said that police is evaluating video footage to identify the violent protesters. He called for the University of California at Berkeley to cancel a planned free speech week in September, fearing it will be the occasion for more violence.