School administrators at Beloit College, a private liberal arts schools in southern Wisconsin, canceled a lecture by a conservative speaker after student protesters disrupted the event last week.
Protestors banged drums and built a barricade of chairs on the stage where Erik Prince, a former Navy SEAL officer and founder of the security company Blackwater, was set to speak. Prince's appearance was to be hosted by Young Americans for Freedom (YAF), a conservative student organization.
On March 27, the day of the protest, the school announced in the evening that the event was canceled. The incident was the latest in a mounting list of conservative speakers who have had their events scrapped over protests, prompting concerns of free speech on college campuses.
Prince later spoke at a hotel and said that his free-speech rights had been violated, according to the Beloit Daily News.
"It's sad the administration of this college lacked the moral courage to enforce free speech and to defend free speech … Fortunately, President Trump will defend free speech and I think the college will be hearing from the court soon on this because enough is enough," he told a crowd of about 50 people at Hotel Goodwin.
Such concerns didn't go unnoticed by President Donald Trump, who on March 22 signed an executive order that instructed colleges across the nation to protect free speech on their campuses—or risk losing federal research funding. One recent high-profile incident that prompted the move involved Hayden Williams, a conservative activist who was assaulted at the University of California–Berkeley as he was recruiting for Turning Point USA.
Trump has said it would be "very costly" if universities don't comply with his order. The government awards universities more than $30 billion annually in research funds.
Public colleges and universities already are legally bound to uphold the First Amendment. Private colleges, meanwhile, will be required to "comply with their stated institutional policies regarding free inquiry," a senior Trump administration official told reporters previously.
Shortly after the event was shut down, Beloit College issued a statement in which it said that all dialogue is welcomed on campus, but it was forced to cancel to "ensure the safety of all participants."
"As an institution of higher learning, open dialogue on all topics is one of our core principles. Tonight's events fell unacceptably short of this core principle, and we condemn the behavior of those who disrupted the event," the statement said. "The college will begin an investigation immediately."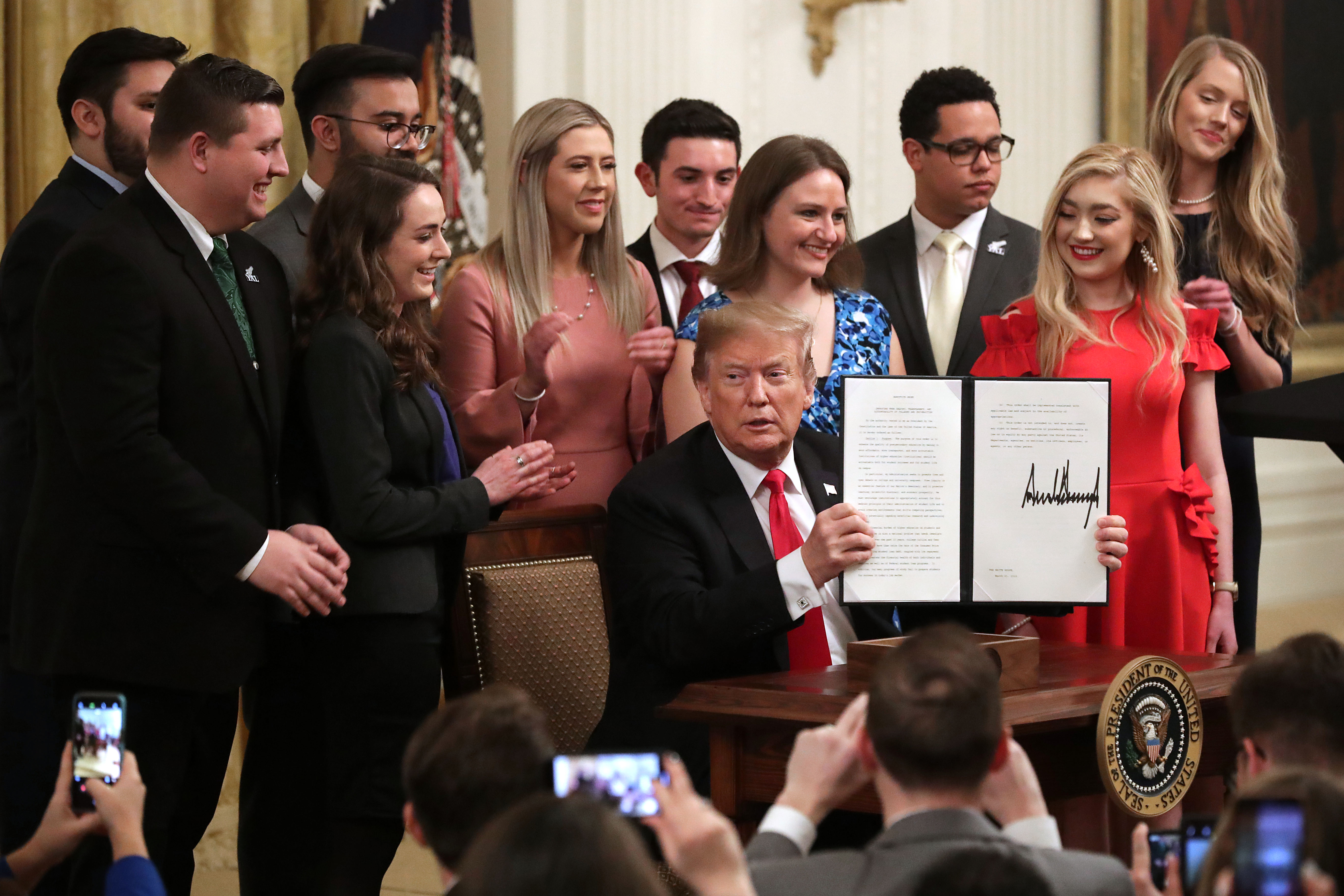 Chief Communications and Integrated Marketing Officer Tim Jones, noted that "the college will investigate to see if policies were violated," in particular, the "Demonstrations Policy" outlined in the student handbook, in an email to The Round Table.
Trump's executive order comes as the debate on the silencing of conservative voices has ramped up in recent years. Specifics on how the federal government will enforce Trump's order were not given by a senior official, who said the details would be figured out in the next few weeks and months.
Adam Steinbaugh, director of the Individual Rights Defense Program at FIRE told The Epoch Times on April 2, that it's unlikely Beloit would lose funding over the incident. FIRE is a nonprofit focusing on civil liberties in the education sector.
Steinbaugh also noted that YAF "has a right to invite and hear from speakers of their choice."
"Beloit can certainly punish intentional, sustained disruption of a speaking engagement, and it appears that some of the conduct here is not protected expression," he said via email. "Unfortunately, Beloit's recent track record on this front is not promising, given that the school reportedly put a student on disciplinary probation for speech critical of YAF's choice to host Prince."
He continued: "It is exceedingly unlikely that Beloit could lose its federal funding over this, as the executive order has not yet been implemented, and it's unclear whether, once implemented, the order would reach disruptive conduct over which the university has no control."