Being Bike-Friendly a Boon for NY Businesses
NY businesses discover the benefits of promoting bicycling
September 6, 2013 6:22 am Last Updated: September 6, 2013 5:05 pm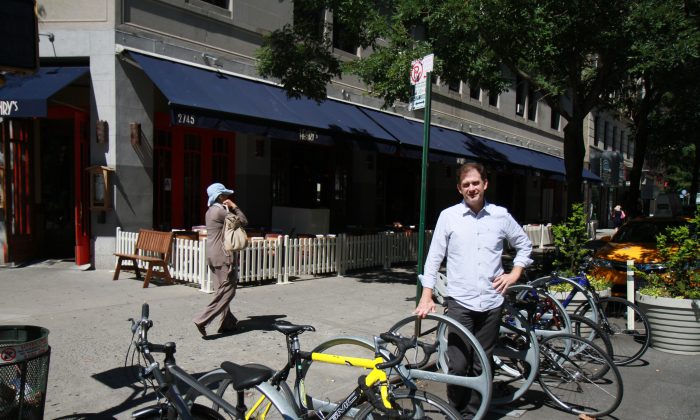 NEW YORK—Three planters and a row of elegant bicycle racks replaced a parking spot on the corner of 105th Street and Broadway a few months ago.
The city calls this street alteration a bike corral. When the owner of Henry's, the restaurant on that corner, was approached by the city for input he readily supported the bike-friendly change. Henry Rinehart is an avid cyclist, to him replacing a single car-parking spot with a space that can accommodate 16 bicycles made perfect sense.
On the other side of town, Tom Birchard, the owner of Veselka restaurant and another avid cyclist, counted out three parking spaces on East Ninth Street, where, once approved by the community board, another bike corral will be installed.
The bike corrals are one of several steps that Rinehart and Birchard have taken to make their businesses bike-friendly. They find it good for the individual, the community, and the planet. They also discovered it is great for business.
With the bike corral installed, the corner next to Henry's is greener and more spacious.
It is arguably the most beautiful among the many corners on a long stretch of Broadway, complementing the great open walls and open feel of the restaurant across the sidewalk.
Henry's employees park their bikes in the back of the restaurant, leaving the racks in front for the public to use—a prudent choice because bikes mean business. The bike racks are almost always full. A Transportation Alternatives (TA) study of shoppers in the East Village showed that consumers who used bikes to get to a business ranked third in terms of total spending. The subway was in second place by a small margin.
"When you're passing by here on a bicycle the business is much more visible," Birchard said from a table in his spacious corner restaurant with bike lanes on either side.
Birchard periodically offers discounts and freebies to anyone who travels to Veselka by bicycle. It promotes cycling and brings in business, Birchard said. And when the bike corral lands, Veselka will have even more customers, he believes.
Over at Henry's, cyclists get a free Brooklyn Lager (Steve Hindy, the owner of the brewery, is a supporter of cycling). Those not inclined to drink and drive can opt for a Guavade, a subtle, smooth and fruity guava lemonade.
"Bikes are the ultimate marketing tool right now," Rinehart said. "They are sort of the icon of this point in history."
Bike-friendly street features like the bike corral near Henry's aren't a boon only for bikers and businesses, they also increase safety for pedestrians With no cars parked on the corner, pedestrians with a low vision range, like children and people in wheelchairs, have a clear view of oncoming traffic. A complete street redesign of Ninth Avenue by the Department of Transportation involving a protected bike lane and pedestrian islands reduced injuries by 58 percent, according to a 2012 department study.
"We know that street improvements like bike lanes and pedestrian plazas increase foot traffic, they bring customers directly to business's doorsteps," Miller Nuttle, campaigns and organizing manager at TA, said. "They make streets safer, more vibrant destinations for people no matter how they get around."
Becoming Bike-Friendly
The practical benefits of becoming a bike friendly business are what TA offers to business owners who aren't necessarily bike enthusiasts.
More than 300 businesses have signed up for the program so far by supporting bike-friendly initiatives—like bike lanes and bike corrals, taking steps to promote safe riding by the staff, or giving away a free biking rulebook to customers.
Most of the initiatives have been concentrated in the East Village, where some 150 of the bike-friendly businesses are located. Now TA is taking the initiative to the Upper West Side. Epoch Times tagged along for what Thomas DeVito, an Upper West Side Streets Advocate for TA, called "the maiden voyage."
DeVito has been working on the Upper West Side since March, advocating for a bike lane on Amsterdam Avenue, which more than 200 businesses already support.
In about an hour's work by DeVito, a pharmacist at Valley Drug accepted a stack of biking rulebooks; La Toulousaine, a French bakery, agreed to fill out a bike rack request form; and a manager at the International Hostel said he would discuss the possibility of a bike corral with his boss. Some managers weren't present. None declined to join.
"It's an idea whose time has come," said DeVito. "From four or five years ago the tone is completely different now. People are so enthusiastic about it now."
Total Aggregate Spending of East Village Shoppers by Mode of Transportation
Walk—$20,335
Subway—$16,507.5
Bike—$16,485
Car—$2,145
Bus—$1,937.5
Taxi—$720
Select Bus Service—$457.5
Source: East Village Shopper Study, Transportation Alternatives, 2012
Total New Bike Racks Installed in New York City 2008–2013
Year—New Bike Racks Installed
2008—1,309
2009—2,642
2010—2,456
2011—1,977
2012—2,283
2013 (through August)—3,365
Source: New York City Department of Transportation