The Chinese Communist Party's (CCP's) propaganda mouthpiece has continued to pour millions of dollars into U.S. publications to spread its influence, a new document filed with the Department of Justice has shown.
China Daily, an English-language media outlet controlled by Beijing's propaganda department, spent roughly $3 million on major Western outlets and publishing agencies over the past six months, according to a filing (pdf) dated May 24.
Approximately $1.6 million in advertising dollars went to the Los Angeles Times, Foreign Policy, Financial Times, and Time Magazine. An additional sum of $329,898 went to The Globe and Mail, a Canadian newspaper.
China Daily also disbursed more than $1 million, a majority of which was spent in the United States, to have its newspaper printed. Notable recipients of the disbursements include the Los Angeles Times, The Boston Globe, The Seattle Times, Chicago Tribune, and The Houston Chronicle.
The overall spending for printing, advertising, and other expenses totaled $5.56 million between Nov. 1, 2020, and April 30, marking a jump of roughly $1.1 million compared to half a year earlier.
The Chinese newspaper registered as a foreign agent under the Foreign Agents Registration Act (FARA) in 1983. Under the law, it must submit a report twice a year to the Justice Department detailing its spending inside the United States.
China Daily was also one of more than a dozen Chinese state-run media entities that the State Department designated as foreign missions of the CCP last year, requiring them to register their employees and U.S. properties.
"China Daily continues to spread Chinese propaganda throughout the United States. This CCP-backed newspaper should be fully investigated by the DOJ for FARA violations," Sen. Marco Rubio (R-Fla.) told The Epoch Times.
Calculations by the Center for Responsive Politics, a Washington-based government transparency group, revealed that Chinese foreign-agent spending in the United States has soared six-fold over the past few years, from just over $10 million in 2016 to almost $64 million in 2020.
Rep. Jim Banks (R-Ind.), noting the Chinese outlet's activity, said "China Daily's sole purpose is to cover for the Chinese Communist Party's ongoing atrocities."
"Every U.S. outlet that supports China Daily has no right to talk about human rights or democracy. They should be ashamed of their complicity," he told The Epoch Times.
A number of major U.S. outlets have ceased running advertorials from the Chinese newspaper amid growing scrutiny of Chinese propaganda influence.
The New York Times deleted hundreds of paid content items from its website after ending its relationship with China Daily, according to The Washington Free Beacon, which first reported on the FARA disclosure.
China Daily, Los Angeles Times, Foreign Policy, Financial Times, Time, The Boston Globe, The Seattle Times, Chicago Tribune, and The Houston Chronicle didn't return a request from The Epoch Times for comment.
China Watch
For years, the Chinese regime has spent millions of dollars running supplements under the title of either "China Watch" or "China Focus" in major Western newspapers.
While China Watch supplements have disclaimers in small print showing that the content is produced by China Daily and not the host newspaper, it might still be misleading to average readers, international nonprofit Reporters Without Borders (RSF) said in its 2019 report, "China's Pursuit of a New World Media Order."
"The journalistic style and the tasteful layout can easily mislead the hurried or inattentive reader who trusts the overall quality of the newspaper he reads every day," RSF stated.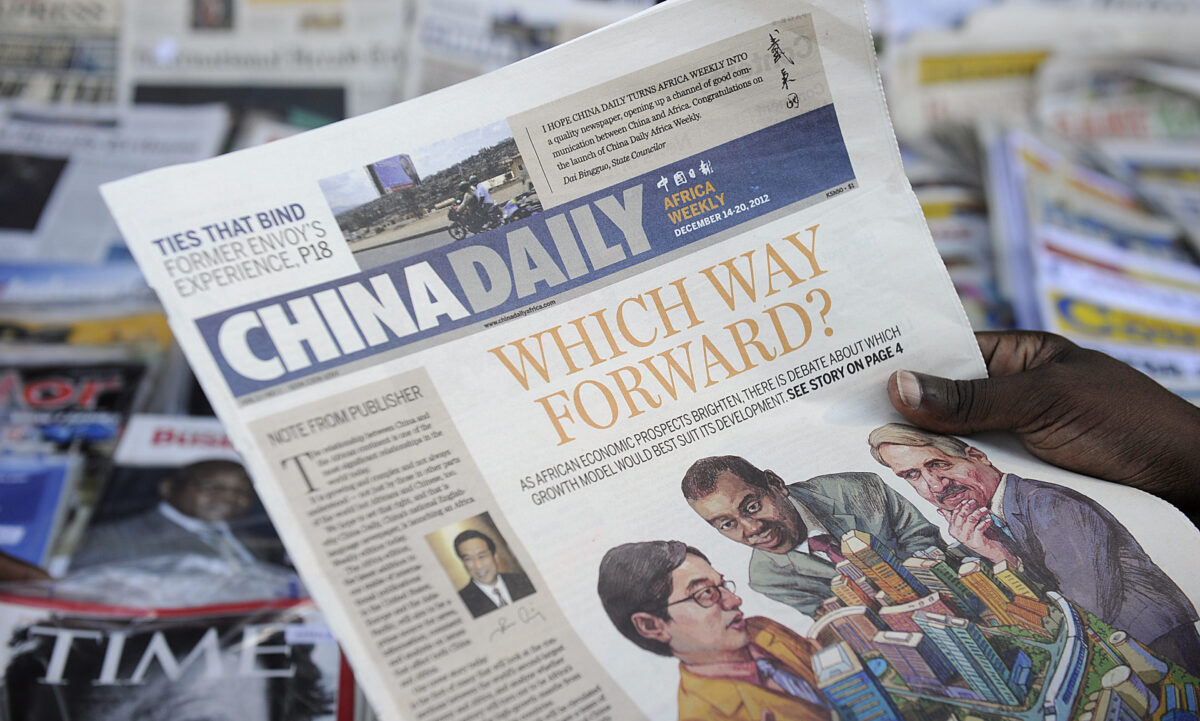 "Reasonably enjoyable reads and well presented, these China Watch supplements are nonetheless Trojan horses that enable Beijing to insinuate its propaganda into the living rooms of elites."
The Chinese inserts in prominent Western media have drawn concerns from international rights groups. London-based Free Tibet launched a campaign last year calling on a number of Western outlets to stop hosting such content.
Free Tibet raised concern when a Tibet special section within the Los Angeles Times's China Watch supplement in November last year hailed "opportunities" offered by "vocational training" in Tibet, painting a different picture from the mass surveillance China has deployed in the region since the 1950s and the military-style training centers that experts have described as forced labor camps.
"This appears to be a deliberate attempt to whitewash a report highlighting that over 500,000 Tibetans had undergone forced labor," Free Tibet said in response to the special section.
The CCP has also promoted its narratives on the country's voluntary organ donation system in China Watch, despite evidence that the state-sanctioned practice of harvesting organs from prisoners of conscience has continued to this day.
Such advertorial content has increasingly migrated into the digital realm after years of existing in hardcopy forms to reach a wider and more targeted audience.
A recent article on Foreign Policy's online China Watch criticizes the "U.S. system" for not being able to fix human rights violations in the United States. In another article, China's "Belt and Road Initiative" (BRI) was promoted as contributing to "Asia's development and global [economic] recovery." Critics have argued that BRI has put developing countries into "debt traps."
Sen. Roger Wicker (R-Miss.) attempted to tackle the issue of Chinese propaganda in U.S. news outlets in February with a new bill—S-319—which would require "foreign agents to disclose prominently the foreign principal as the source of paid inserts placed in American news outlets."
"It is an open secret that Beijing is waging a global propaganda war in the U.S., and American newspapers are complicit," Wicker said in a statement in February, noting that he hopes "stronger disclosure requirements for foreign agents will encourage all American publications to refuse to participate in the CCP's propaganda machine."