A number of U.S. government officials recently took part in a virtual agriculture event co-hosted by a Beijing-backed influence association that has ties to Bill Gates.
The U.S. Heartland China Association (USHCA), a 501(c)3 nonprofit founded in 2003, held the 2022 U.S.–China Agriculture Roundtable earlier this month. The online event was co-hosted by the Chinese People's Association for Friendship with Foreign Countries (CPAFFC).
The Trump administration warned about CPAFFC. In February 2020, then-Secretary of State Mike Pompeo called the association "the public face of the Chinese Communist Party's official foreign influence agency, the United Front Work Department."
The Chinese Communist Party (CCP) uses the United Front Work Department (UFWD) to run its foreign influence operations. In the United States, the CCP has also deployed grass-roots level "united front" groups as part of its effort to infiltrate U.S. civil and political institutions.
CPAFFC is "tasked with co-opting subnational governments" and "has sought to directly and malignly influence state and local leaders to promote the PRC's [People's Republic of China] global agenda," the U.S. State Department stated in October 2020, when it was designating another group, a Washington-based Chinese organization, as a foreign mission.
The roundtable featured a number of U.S. lawmakers and state officials, including Oklahoma Secretary of Agriculture Blayne Arthur, Kansas Secretary of Agriculture Mike Beam, Missouri Director of Agriculture Chris Chinn, Iowa Secretary of Agriculture Mike Naig, and Rep. Darin LaHood (R-Ill.)
The 2022 roundtable event was initially reported by the National Pulse. The inaugural roundtable was held in April 2021.
The state-run Chinese Academy of Social Science (CASS) was one of the partners of the event. Several CASS officials and scholars also took part in the roundtable, including Wang Wei, director-general of the academy's bureau of international cooperation.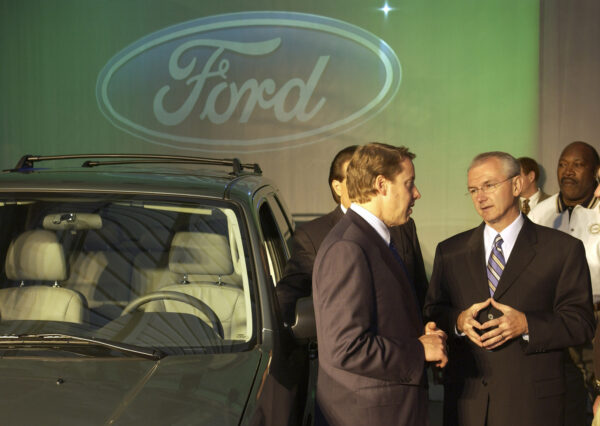 Bob Holden, former Democratic governor of Missouri and current USHCA chairman and CEO, said during the roundtable's opening ceremony that U.S.–Sino cooperation was "essential" to overcome global challenges, including "producing enough nutritious food to feed the growing population on the planet" and "preventing future pandemics of human, animal, and plant diseases."
The online event comes at a time when China has been increasing its purchases of U.S. farmland over the past decade, prompting concerns about U.S. national security.
Gates has also been a major buyer of agricultural land in the United States. Land Report reported that Gates was the largest U.S. private farmland owner in January 2021, saying his family had accumulated an estimated 242,000 acres of farmland.
Bill Gates
Microsoft founder Bill Gates has worked with CPAFFC over the years, in particular with the association's previous president, Li Xiaolin, who held the position from September 2011 to April 2020.
Li is no ordinary Chinese citizen. She was a former member of the Chinese regime's political advisory body, the Chinese People's Political Consultative Conference (CPPCC). She's also the daughter of former Chinese regime leader Li Xiannian, and her husband is Liu Yazhou, a retired general of the Chinese People's Liberation Army Air Force.
Gates and Li met face to face during the 2013 Global Vaccine Summit in Abu Dhabi, the capital of the United Arab Emirates. According to CPAFFC's website, the Bill & Melinda Gates Foundation invited Li to the summit, during which she took part in a panel speaking about China's immunization efforts to eradicate polio.
In August 2013, the foundation announced that it would invest $5 million to "support Chinese investigators to drive research, development, and production of the 'next generation toilet,'" as part of its global "Reinvent the Toilet Challenge." According to the University of Science and Technology Beijing, a launch event in China was attended by Li, a China-based representative of the foundation, the university's party secretary, and Chinese health officials.
Gates visited CPAFFC's headquarters in China in June 2014, during which he gave a speech, titled "Invent for the Poor." According to a video on CPAFFC's website, Gates praised the Chinese regime and the association in his speech.
"Here in China, it is fantastic to see the investment in engineering and medical technology, all sorts of things that China is assuming a very, very strong positioning," he said. "And so our hope for the Friendship Association is that together we can find these great ideas in China and that we can find the right partners in Africa and elsewhere, who can take these new tools and use them on behalf of the people."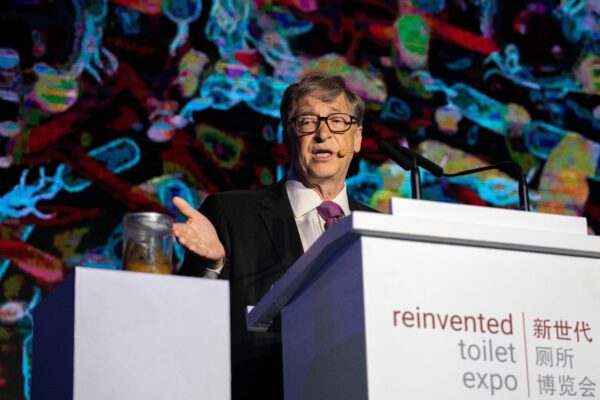 Mark Suzman, the foundation's CEO, and Li both attended the World Philanthropy Forum held at China's Tsinghua University in September 2016. According to China's state-run media, Suzman applauded China for its "potential" in philanthropy works and for its "unique role" in Africa's development.
Melinda French Gates, co-chair of the foundation, held a meeting with Li in China in July 2017. According to CPAFFC's website, French Gates praised CPAFFC for its philanthropic works. She also invited Li to join the End Malaria Council (EMC), which is an initiative launched in part by Gates in 2017.
Li subsequently participated in an EMC meeting held in Beijing in April 2019, according to CPAFFC.
Gates and Li also have connections through another United Front agency, the Hong Kong-based China–United States Exchange Foundation (CUSEF), which is managed by CPAFFC. CUSEF identifies Li as its vice chairman on its website and its 2013 report names Gates as a member of its steering committee.
CUSEF is headed by Chinese regime official Tung Chee-hwa, a former Hong Kong leader and current vice chairman of the CPPCC.
CPAFFC
CPAFFC, which was established in 1954, has more than 300 local branches throughout China. Outside the Chinese borders, there are regional-level branches, such as the Chinese–Arab Friendship Association, as well as country-level branches, such as the China–U.S. People's Friendship Association in the United States.
The current CPAFFC president is Lin Songtian, who began in the role in April 2020. Before then, he had been China's ambassador to South Africa since 2017.
When Lin was in South Africa, he was an outspoken critic of the United States on Twitter. In March 2020, he amplified an unfounded conspiracy theory that the COVID-19 pandemic had originated from the U.S. military when he shared a now-notorious Twitter post by Zhao Lijian, a Chinese foreign ministry spokesperson.
In response to Zhao's accusations, the U.S. State Department summoned China's then-Ambassador to the United States Cui Tiankai.
In June 2020, Rep. Michael McCaul (R-Texas) released an interim report (pdf) on the origins of COVID-19. The report criticized the Chinese regime, saying that the pandemic "could have been prevented" if Chinese officials had responded to the initial outbreaks in a "transparent and responsible manner."
A month later, Lin wrote on Twitter that the interim report was intended to "shift blames and cover the delinquency of #Trump Administration."
Lin also took to Twitter repeatedly to defend the communist regime's policies targeting ethnic minorities in the far-western region of Xinjiang. In a December 2019 Twitter post, he wrote that China's "vocational education and training centers," which Western officials have described as "concentration camps," were effective in ending "extremism" in Xinjiang.
China has used "combating extremism" as a pretext to lock up more than 1 million Uyghurs in Xinjiang while subjecting them to forced sterilization, forced labor, and other inhumane treatment. Both the Trump and Biden administrations have determined that China has committed "genocide" and "crimes against humanity" against the Uyghurs.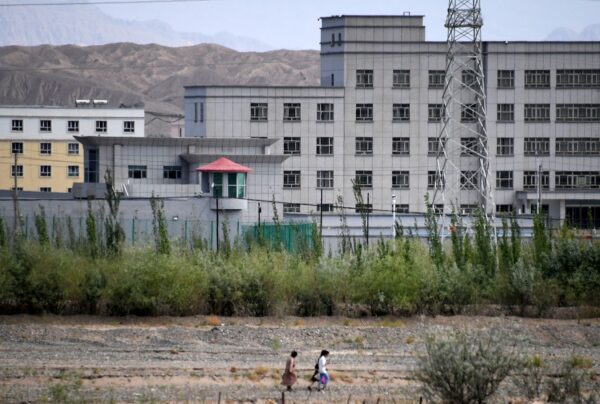 At the opening ceremony of the April roundtable, Lin said China and the United States should work together because the two sides "complement each other." According to Lin, the United States has the advantage of having advanced technology, finances, and talent, while China possesses a large market and high domestic demand.
Representatives for the USHCA and the Bill & Melinda Gates Foundation didn't respond to requests for comments by press time.
The activities of Chinese influence groups in Italy, including CPAFFC, were the focus of a 2021 report by researchers at Sinopsis, a project by nonprofit AcaMedia z.u., in collaboration with the Department of Sinology at Charles University in Prague.
The report told government bodies, politicians, and political parties to "avoid interactions" with CPAFFC and other CCP influence agencies.
"The activities of these agencies and their fronts by-pass norms that require accountability of state-to-state relationships, disguising the party-state's activities through 'people-to-people,' 'cultural,' 'non-government' or other labels," the report reads. "Legislators should understand the nature of cooption and propaganda events to which they are invited as influence tools, rather than 'dialogue' partners.
"Even attending them to express critical views allows the CCP to publicly present its interlocutors as endorsers of its platforms and narratives."