News Analysis
Beijing is set to implement a new law on July 1 that prohibits passengers from bringing certain items onboard a train. China observers believe the law will allow the Chinese regime to further tighten control over its population.
Under the new law, railway passengers are only allowed to bring a certain amount of personal belongings, and items that can be potentially used as weapons are prohibited.
Some experts say that the Chinese Communist Party (CCP) wants to use this regulation to ban citizens from carrying weapons on long-distance travel in order to prevent violence on trains.
"The social grievances [in China] can turn into turmoil at any time," Li Ang, a China affairs commentator, told Radio Free Asia (RFA) on June 24.
In China, state-owned companies operate railway stations.
Growing Social Unrest
In the past two years, many Chinese citizens suffered under pandemic lockdowns because the CCP's "zero-COVID" policy forced people to stay in their homes for months. Millions of residents grew restless, and many took out their anxieties and frustrations on fellow citizens.
For example, on June 24, six young adults beat an elderly man on a street in Taiyuan city in Shanxi Province. He was hospitalized with broken bones.
Another incident caught the attention of media around the world. On June 10, a group of men in Tangshan city in Hebei Province brutally assaulted a woman in a restaurant. According to various reports, the woman turned down unwanted attention from one of the men.
Li said social grievances in China are growing, and he thinks Beijing might roll out tighter social control measures in the future.
"At some point in the future, the regime might not allow villagers to leave their villages and residents to leave their residential compounds as the methods to control people," Li told RFA.

Banned Items Under New Railway Regulation
China has implemented strict rules on trains in the past five decades. For example, passengers can only bring up to two lighters, up to two small boxes of matches, and a knife no more than 2 inches long.
The new regulation is stricter than the previous ones. It doesn't allow people to carry self-defense pepper spray that is more than 50 ml (1.69 oz), but allows it in checked luggage.
The new law lays out a comprehensive list of banned products that are divided into three categories.
The first category covers items presently banned on public transport, including guns, bombs, firecrackers, long knives, martial arts knives, swords, gas products, chemical products, radioactive material, and infectious substances.
The second category includes "checked-in luggage." These are items that passengers can't bring onboard but can ship as registered packages. It isn't the same concept as the regular checked luggage on flights. The railway-registered packages in China aren't free and may be shipped by different trains, and passengers need to check with the station staff when their luggage will arrive at the destination station.
This section also lists specific tools and equipment prohibited on trains, including farming tools, different types of knives such as artists' tools, hunting bows, and sports equipment such as baseball bats, pool cues, hockey sticks, and golf clubs.
The third category lists products that people use daily. For example, passengers can carry up to 100 ml (3.38 fl oz) of perfume, cologne, or hair gel; up to 50 ml (1.69 fl oz) of nail polish or polish remover; and up to 150 ml (5.07 fl oz) of cold perm, hair dye, mousse, hair spray, insecticide, and air freshener.
In addition, a lithium battery of more than 100 watt hours is prohibited on a train.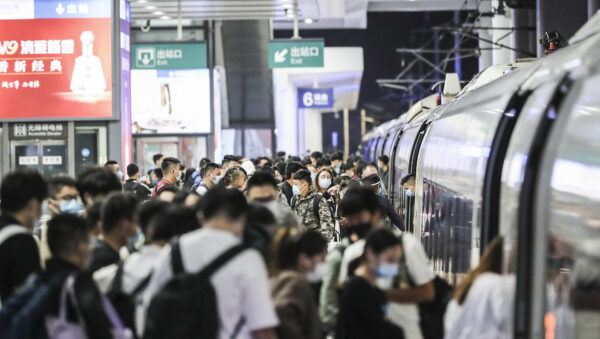 Punishment for Breaking the Law
The penalties for violating the new law are unclear.
The state-run South Daily, operated by the Guangdong provincial government, reported three related cases that recently occurred in the province.
The first case was a passenger who carried handcuffs in his luggage when he took a train to his hometown in Guangxi Province from Shenzhen. He was detained after the staff at the station inspected his luggage on June 16. Hours later, the police announced that this passenger would be detained for five days, and the handcuffs were confiscated.
One Chinese media report said the passenger's penalty was light because he cooperated with the police.
The second case was a passenger who carried a plastic toy gun and four bags of eight-shot plastic ring caps when he entered the railway station of Humen city on June 17. The passenger was returning to his hometown in Henan Province. The gun and caps were bought legally from a local shop.
Authorities detained him for several hours. Aside from missing his train, the passenger had to surrender his toy gun to the police.
The third case was a teenager who took a train to Beijing on June 17. This photography student used his drone to shoot a video in front of the station before the train arrived. He was detained by police and fined 500 yuan ($75) before being released.