Authorities in Beijing recently posted air raid posters on the streets, while one hawkish state-run media urged the Chinese regime to develop more nuclear missiles to target the United States.
The war-mongering atmosphere comes amid escalating tensions between the world's two most powerful countries, with both sides clashing on issues ranging from the South China Sea, Hong Kong's protests, to Beijing's pandemic coverup.
Air Raid
The last time air raid posters appeared in China was almost a half century ago during the late 1960s, when anti-American sentiment ran high amid the Cultural Revolution's political propaganda.
On July 25, workers were captured on video installing new posters in Haidian district, Beijing. The capital is home to roughly 21.54 million residents.
The posters contained information on how to protect themselves during air raids, including how to find and enter a dugout shelter.
"The government delivered this information and we are very nervous," Beijing resident Mr. Wu told Radio Free Asia on July 27.
Earlier this month on July 10, China's military, the People's Liberation Army (PLA), announced on its website that a central government office would send personnel to visit the families of soldiers who are guarding the frontier regions.
The Chinese Communist Party (CCP) does not typically engage in soldiers' private lives. The unusual gesture led some China observers to speculate that the regime had plans to mobilize soldiers for a dangerous mission.
Aggressive Words
Following the United States' and China's decision to close a consulate in their respective countries, Hu Xijin, chief editor of the state-run tabloid Global Times, wrote on Weibo, a Twitter-like social media platform, a message advocating for a war between the two countries.
Hu claimed that because the U.S.-China relationship was deteriorating, the Beijing regime should "hurry up to make enough nuclear missiles, enough to threaten the U.S. We should work day and night," he wrote in a July 26 post.
Du Wenlong, a military commentator under the Chinese regime's global propaganda campaign, and Song Zhongping, military commentator at state broadcaster CCTV, both made recent comments that it was highly possible that the United States and China would enter into a conflict over the South China Sea.
The United States on July 13 formally rejected Beijing's territorial claims in the South China Sea, where the regime claims almost all of the waterway.
Other countries, such as the Philippines, Vietnam, Malaysia, Brunei, and Taiwan have competing claims there. In recent years, Beijing has sought to bolster its claims in the strategic waterway by building military outposts on artificial islands and reefs.
Taiwanese pro-Beijing newspaper Economic Daily reported on July 23 that a think tank affiliated with the local Beijing-friendly Kuomintang political party, the National Policy Foundation, analyzed that tensions in the Taiwan strait had reached their highest levels in 25 years. The CCP's target is the United States, according to the report.
The CCP claims Taiwan as part of its territory, despite the self-ruled island having its own political system, military, and currency. U.S. officials have on several occasions called out Beijing's aggressive rhetoric and U.S. military forces have monitored China's military maneuvers near Taiwan.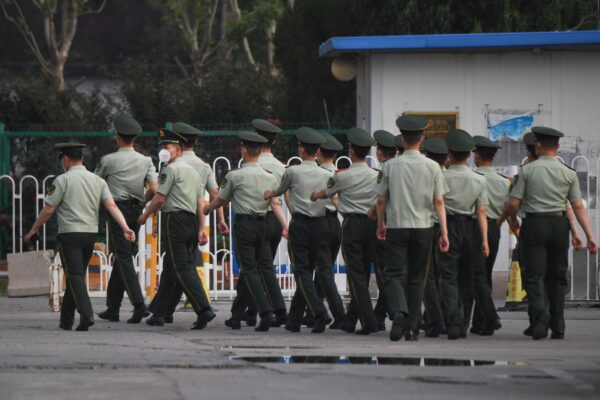 War-Themed TV Programs
On July 17, the Chinese central government ordered its television stations to play Korean War, Second Sino-Japanese War, and other war-themed movies and TV programs to foment anti-American sentiment among Chinese people.
Chinese National Radio and Television Administration, a ministry-level government organ that governs press, publication, radio, film, and television in China, announced new broadcasting rules, explaining that stations should air TV programs with themes about Chinese people fighting against the Japanese during the Second Sino-Japanese War; the Chinese army fighting alongside North Korean forces against the South Korean army aided by the United States during the Korean War; and positive stories promoting the idea that authorities were effective at containing the pandemic.
To achieve a better effect, the administration asked each TV channel to broadcast other short, non-war-themed programs, in order to attract people to tune in.
On July 23, the administration issued another mandate, telling TV stations not to air programs that "violate common sense, arbitrarily interpret or joke about history, or are excessively entertaining."
The Chinese regime has produced many war films and TV programs in recent years, often with violent, over-the-top histrionics. Some outrageous scenes include a steamed bun that suddenly turned into a bomb; Chinese soldiers using their bare hands to tear apart the body of a Japanese soldier; and Chinese soldiers using grenades to shoot down airplanes flying 2,500 feet above them.
The last time Beijing encouraged such programming was in May 2019, amid escalating trade war tensions. The central government's Propaganda Department ordered all national TV station movie channels and provincial satellite TV stations to broadcast one film every day during primetime about Chinese fighting with the United States in the Korean War.