Commentary
The U.S. military is breaching the Chinese Communist Party's (CCP's) "bottom line" about Taiwan and it's becoming a regular occurrence. More frequently we've heard China's spokesman say they have "no tolerance for U.S. challenges." 
In less than two months, U.S. military aircraft have landed in Taiwan three times, a frequency that has caused some concern and speculation on both sides of the Taiwan Strait.
On July 19, a U.S. military C-130 transport plane took off from Manila Airport in the Philippines and landed at Taoyuan Airport in Taiwan. There were no visible markings on the aircraft, and during the stopover, the ground crew could be seen loading and unloading wooden boxes with items, along with a red canvas bag. Then, the aircraft flew off after staying for about 1 hour and 15 minutes.
On July 15, a U.S. Army C-146 tactical transport aircraft took off from Okinawa and landed at Taipei Songshan Airport, staying there for less than an hour. Taiwan media reported that there were no passengers on board. But neither the U.S. nor Taiwan government explained the landing.
On June 6, three U.S. senators aboard a large U.S. C-17 military transport aircraft landed at Taipei's Songshan Airport for a three-hour visit to Taiwan. 
It is speculated that the C-17 was performing vaccine transport while the senators interacted with Taiwanese officials. Other speculation put forward the idea that the United States was familiarizing itself with landing of large transport aircraft at Taipei's Songshan Airport in preparation for military cooperation if necessary.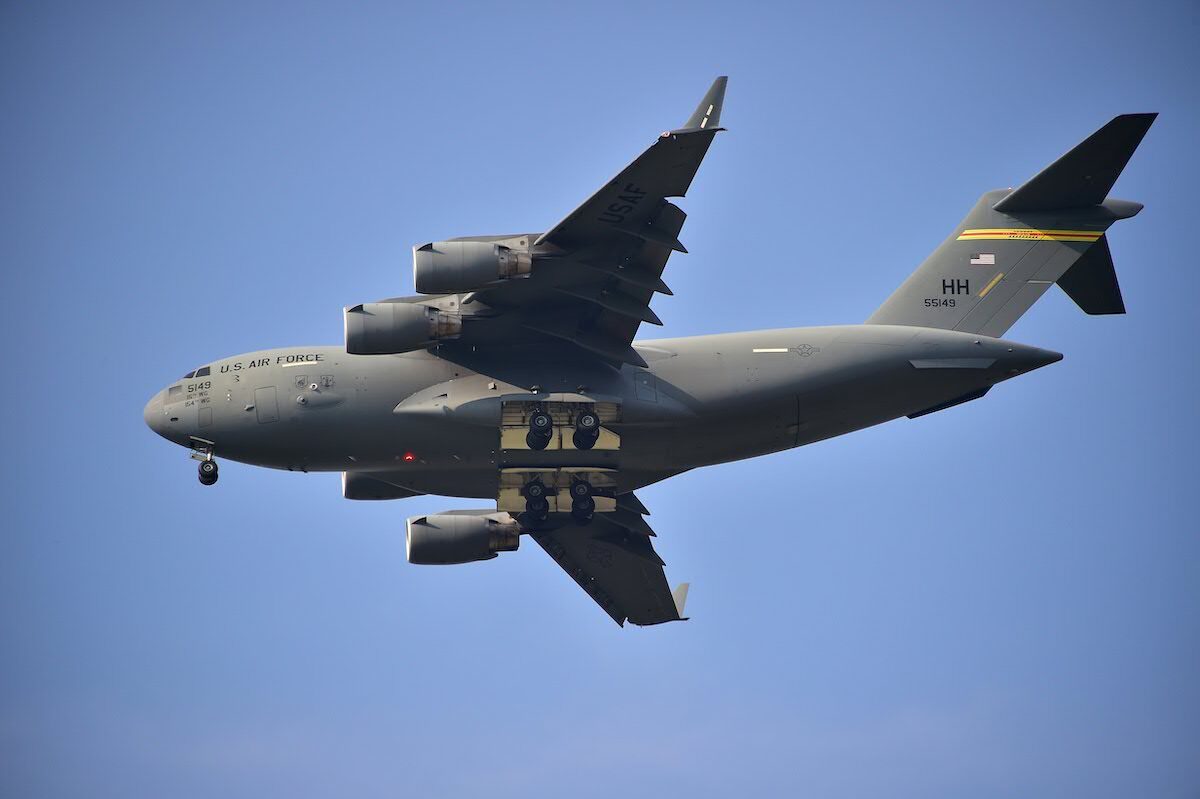 Since the formal establishment of diplomatic relations between the United States and China's ruling Communist Party in January 1979, landings and takeoffs of U.S. military aircraft in Taiwan have occurred only occasionally. However, since the beginning of the Trump administration, they have become increasingly frequent.
On Jan. 9, then-Secretary of State Mike Pompeo announced the lifting of restrictions on official U.S.-Taiwan ties. In April, Secretary of State Antony Blinken of the Biden administration approved a new admission for U.S. officials to receive Taiwanese officials at federal agencies and to visit Taiwan's representative in the United States.
Drew Thompson, a former U.S. Department of Defense official, said that the U.S. military transport plane visiting Taiwan has no political motivation behind it.
"This reflects a pragmatic approach by the U.S. to implement its interests in Taiwan, not a signal to China," said Thompson, who is now a visiting senior researcher at the Lee Kuan Yew Institute of Public Policy at the National University of Singapore.
Su Ziyun, president of the Center for Integrated Strategies at Tamkang University in Taiwan, said that U.S.-Taiwan relations are already normalized.
"The U.S. sending military and official aircraft to Taiwan is very normal and should be taken for granted, [there's] no need for it to be over-interpreted," he said.
However, these interactions between the United States and Taiwan have caused unease and anger in Beijing.
On July 15, Wu Qian, a spokesman for China's Ministry of Defense, warned the United States "not to play with fire" in response to the landing of a U.S. aircraft in Taipei that day.
Wu also demanded that the U.S. immediately stop this "risky provocation" and threatened Tsai Ing-wen's government "not to misjudge the situation and lead Taiwan into danger."
On July 16, Maritime Bureau in Zhejiang Province announced that a five-day live-fire training would be held in the East China Sea that day.
Hu Xijin, editor-in-chief of the mouthpiece Global Times, said on July 19 on Weibo that if any more new U.S. military transport planes land in Taiwan, the Chinese regime would respond "with actions."
But Thompson said that he was not surprised by Beijing's response.
"Everything is political in China, that's the nature of governance in China, that's the nature of the CCP," he said. 
"If you look at how the U.S. pursues its interests in Taiwan, (you know) they are pragmatic, goal-based, to strengthen bilateral relations, to stop Beijing from using force, so these planes are not for political declarations," he said.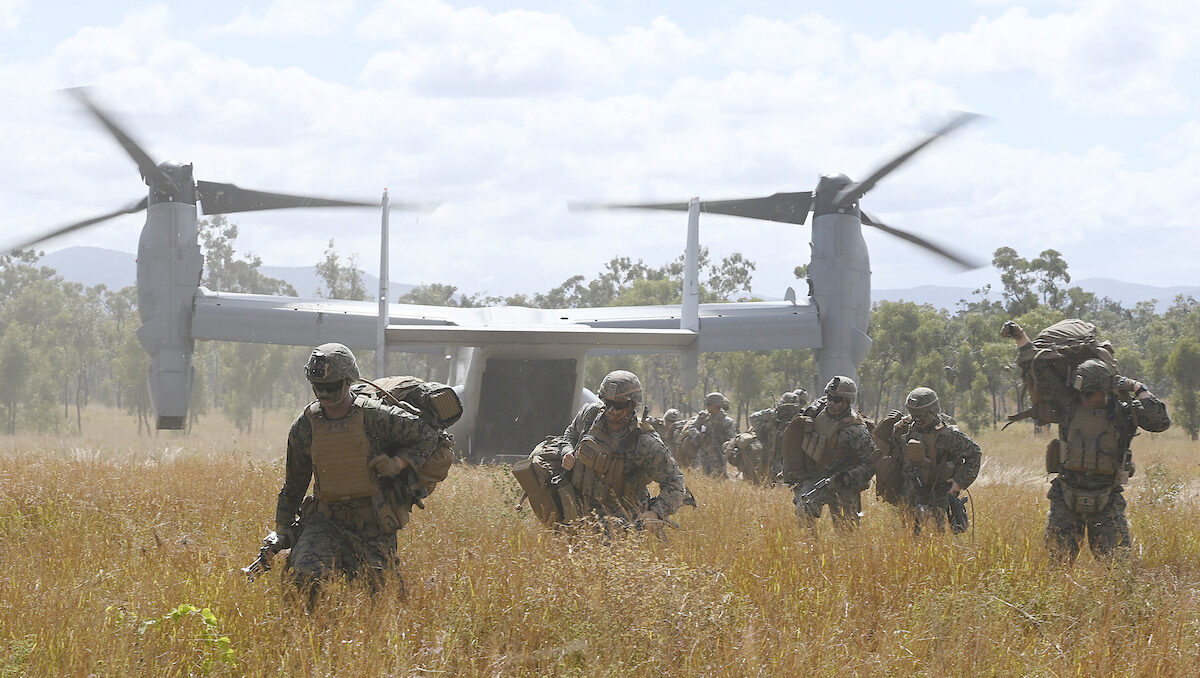 This comes as the United States led 11 countries in a joint military exercise that began last month.
On July 16, the United States and Australia hosted the start of the biennial "Talisman Sabre 21" military exercise. Approximately 17,000 troops from 11 countries, including the UK, Japan, Canada, South Korea, and New Zealand joined the 18-day joint military exercise held in Australia's eastern state of Queensland.
Meanwhile, Beijing dispatched two high-tech surveillance ships in nearby waters to spy on the exercises.
Four days before the start of "Talisman Sabre 21," the U.S. Pacific Air Forces and Air Combat Command announced that more than 35 fighter aircraft would be deployed from multiple locations to Guam and Tinian to participate in the "Operation Pacific Iron 2021" military exercise, which involves testing the air force's dispersed fighter aircraft and effective combat capabilities. Among the aircraft involved in the exercise were 10 F-15E Strike Eagles and some 25 F-22 Raptors.
Both exercises are reminders for Beijing that Washington has not forgotten the Indo-Pacific region.
Given the nature of either side, it is reasonable to likewise suggest that any escalation between the two sides depends entirely on the attitude of the CCP. The ever prickly tensions over the Taiwan Strait is solely driven by Beijing, while the United States is calmly showing its long standing presence as proof to its commitment to international order and the security of the region.
Stephen Xia, a former PLA engineer, specialized in aviation equipment and engineering technology management. After retiring from military service, he has been following the world's development of military equipment.
Views expressed in this article are the opinions of the author and do not necessarily reflect the views of The Epoch Times.