Beijing said it was "discontent" with Australia, Japan, and the United States for their condemnation of the launching of military ballistic missiles into the waters around Taiwan, calling it "finger-pointing" and "absolutely unacceptable."
In a joint statement, Australian Foreign Minister Penny Wong, Japanese Foreign Minister Hayashi Yoshimasa, and the U.S. Secretary of State Antony Blinken expressed their concern about Beijing's decision to conduct large-scale military exercises.
They also condemned Beijing's launch of military ballistic missiles into waters around Taiwan.
"The secretary and the foreign ministers urged [Beijing] to immediately cease the military exercises," the statement said.
"There is no change in the respective one-China policies, where applicable, and basic positions on Taiwan of Australia, Japan, or the United States."
In response, the spokesman for the Chinese Embassy in Australia accused the United States of being the "biggest saboteur" of peace in the Taiwan Strait and claimed that Beijing was the victim of its "political provocation."
Beijing also criticised Australia for standing with the United States in its condemnation of Beijing's actions rather than "expressing sympathy and support" for the island nation's biggest trading partner.
Keep the Status Quo
In a separate statement on Aug. 5, Wong said the launch of missiles was "disproportionate and destabilising" to the region and urged "restraint and de-escalation."
Wong also noted that there was "no change" to Australia's one-China policy.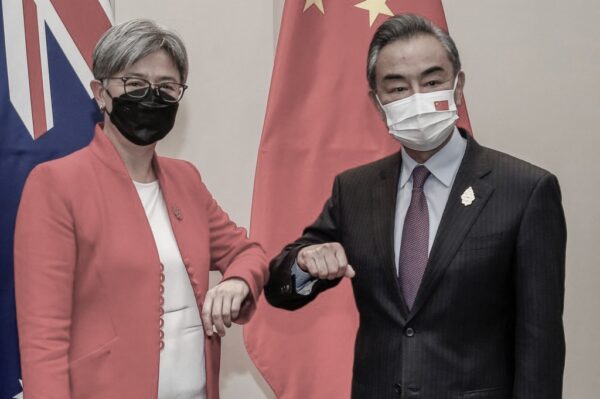 The embassy also issued a statement in response to Wong's statement, again accusing the United States of breaking the peace and stability in the Taiwan Strait.
It also warned that the United States would bear "all consequences" for continuing to "change the status quo" in the region.
However, Australian Prime Minister Anthony Albanese stated that he wanted "no change to the status quo."
"I want peace and security in the region, and Australia has said that we want no change to the status quo. That's also the position of the United States," he told ABC radio.
The prime minister made no comment on U.S. House Speaker Nancy Pelosi's decision to visit Taiwan, saying it was a "matter for them."
"We need to stay the course that we're on, which is to seek cooperation and positive relations with China where we can but stand up for Australian values and Australian national interests where we must," Albanese said.
"That includes the Law of the Sea, allowing for safe navigation and passage including through the South China Sea."
Australia maintains a One China policy that does not officially recognise Taiwan as an independent nation but rather as part of China that is ruled by a different system of government.
However, the Chinese Communist Party, which rules mainland China, has never ruled Taiwan.