Authorities in Beijing announced that the capital detected the country's first outbreak of the new UK variant of the CCP (Chinese Communist Party) virus.
Earlier this month, several locales said they detected singular travelers from overseas who tested positive for B.1.1.7, the new UK-derived virus strain that is more contagious.
But the recent outbreak in Beijing's Daxing district appeared to be the first cluster of infections. Due to the lack of transparent information from Chinese authorities, it is unclear whether there have been other outbreaks of the UK variant in the country, nor exactly how many people were detected with the mutated virus.
Meanwhile, several more regions in northern China went under lockdown in an attempt to curb the spread of COVID-19, the disease caused by the virus.
Beijing's Latest Outbreak
On Jan. 20, the Beijing government said all schools from daycare to high school level would be shut down beginning on Jan. 23.
Students who haven't completed their terms will continue their classes online. The others will start their winter break earlier. Normally, Chinese schools start winter break one week before the Lunar New Year, which falls on Feb. 12 this year.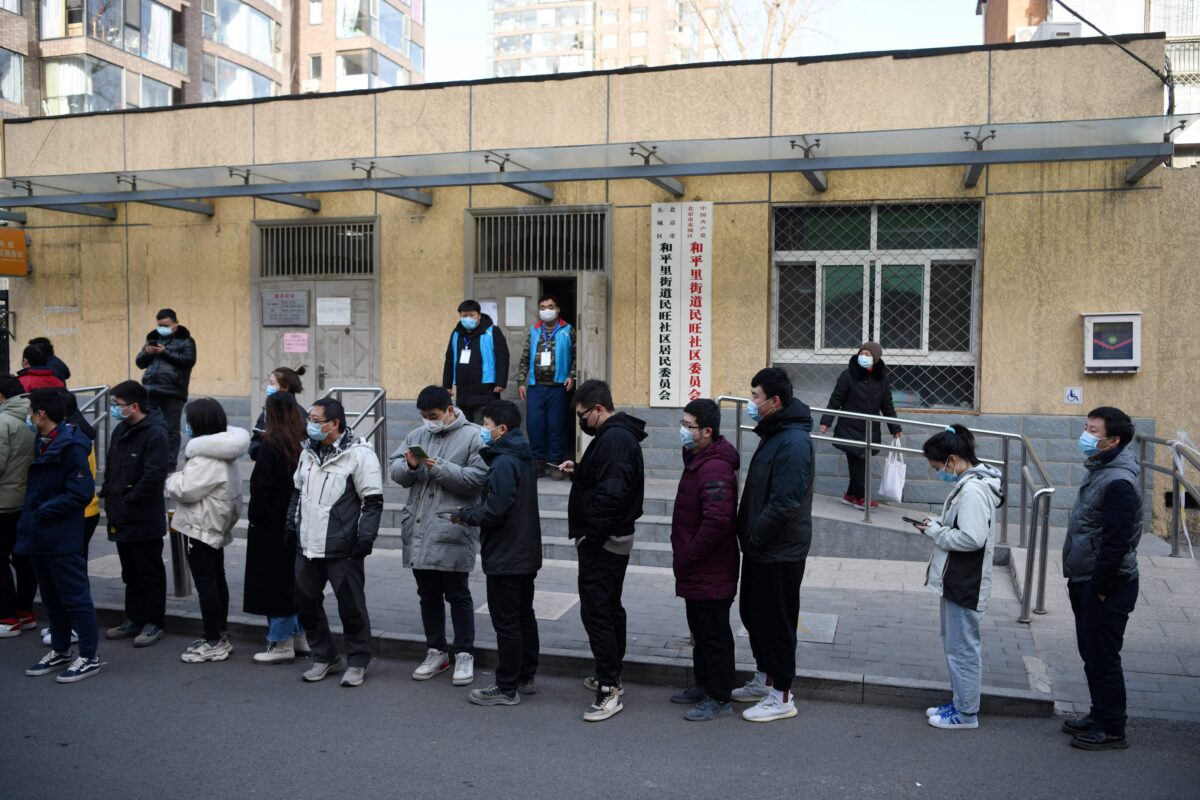 The capital has seen new cluster infections since at least Dec. 14 last year—when a 27-year-old man working in Hong Kong returned to Beijing and tested positive for COVID-19 after the mandatory 14-day quarantine. Authorities later said restaurant waitresses and guests who came into contact with him in Chaoyang district tested positive.
Then, in late December, a cluster outbreak occurred in Shunyi district.
The latest official announcement stated that nearly a dozen people contracted the disease through neighborhoods, colleagues, and relatives—including a 63-year-old female and her 46-year-old male family member who live in Daxing district.
The Beijing Center for Disease Control and Prevention said at a Wednesday press conference that the two had contracted the UK variant. They had no recent travel history. But officials did not explain how they could have contracted the new virus strain.
Also on Wednesday, authorities designated the Tiangongyuan community where they live as a high-risk region for contracting the virus, with no one allowed to leave the area. Meanwhile, all residents of Daxing district would be required to take nucleic acid tests.
Outbreaks in Other Regions
Wangkui county of Suihua city, Heilongjiang Province was designated as a high-risk region on Wednesday.
Nearby areas of Beilin district, Suiling county, Anda city, Hailun city, and Qinggang county said on Tuesday that they would ban their residents from leaving their homes. And on Monday, the provincial capital of Harbin stopped all public transportation in Hulan district.
A report by state-run media Health Times also hinted at severe outbreaks within hospitals in Hebei and Liaoning provinces.
It noted that a woman hired to take care of a patient at the Shijiazhuang Gaocheng People's Hospital began exhibiting COVID-like symptoms on Jan. 1. She took a test on Jan. 3, which came back positive the following day. The media report criticized the hospital for administering the test late, allowing the woman to spread the virus further.
The report also called out two other hospitals in Hebei, two in Shenyang city of Liaoning, and eight in Chaoyang city in Liaoning, for not taking protocols to contain the virus.