Dr. Brooke Miller is the president of the U.S. Cattlemen's Association (USCA), representing grassroots cattle producers, backgrounders, and feedlot operators, and works to ensure the profitability of cattle ranching and farming in the United States. Despite the organization's efforts, Miller points to the looming threat facing the U.S. cattle industry, mainly caused by the monopoly that large meat packing companies have.
Miller warns that more and more small ranchers are going to go out of business and a meat shortage in the future is likely because of our reliance on meat from foreign countries like Brazil and Canada, which are allowed to label foreign-produced meat as U.S.-grown.
Some of these large companies "import beef from foreign countries and label it as U.S. beef," said Miller. They are able to do this because "our government allows them," Miller said during an Aug. 24 interview with EpochTV's "Facts Matter" program.
The COOL
When the U.S. government tried to get labels requiring retailers to show the country of origin for the meat sold in the United States, "the Canadian government and the Mexican government sued the United States and the World Trade Organization saying that that was against the North American Free Trade Agreement," said Miller.
"[The U.S. government] repealed Country of Origin Labeling [COOL] in June 2015. Immediately, within one week, we saw a 40 percent drop in live cattle prices."
Since then, meat labeled and sold as a product of the USA in U.S. markets "doesn't have to be born here, doesn't have to be raised here, it doesn't have to be slaughtered here. It can just be repackaged and relabeled."

The U.S. cattle industry has "been losing thousands and thousands of cattle ranchers over the last several decades. And it's all based on the fact that we have four multinational corporations that dominate the food protein industry, and they have anti-competitive practices," said Miller.
The four largest meat packing companies, including for beef, are Cargill (U.S. based), Tyson's beef (China and Canada), and two Brazilian companies, Marfrig and JBS.
Miller blames the U.S. government for allowing this type of monopoly to hurt U.S. cattle ranchers and urges the government to support the local agriculture and meat industry.
A spokesperson for the Food Safety and Inspection Service said the voluntary "Product of USA" label is a priority for USDA.
"As Secretary Vilsack announced last year, we have begun a comprehensive review of the label to guide our planned rulemaking. FSIS awarded a contract to conduct a consumer survey so we can better understand what the label means to consumers. We want to ensure our rulemaking is informed and supported by data given its importance to a wide range of our stakeholders. FSIS intends to conduct rulemaking and estimates that it will publish a proposed rule in December 2022," the FSIS spokesperson said via an email statement.
"I think the COVID-19 crisis and the supply chain issues we had with that show that it's not the most efficient way to do it. We need a more regional, diverse food system," Miller said.
The U.S. cattle industry is in a tenuous state and it cannot withstand any major crises, including natural or economic, said Miller.
"When the pandemic initially happened, we saw shortages of meat in the beef counter and the meat counter. We saw prices go really high. And we saw a dramatic drop in what farmers and ranchers or feedlots were getting for their fat cattle, and that just trickled on down to the producers."
Control of Meat Production by the Big Four
Miller explained the meat production process: cattle ranchers breed cattle to sell; those cattle are then purchased by a buyer and sent to feedlots where they are fattened, normally on a low-cost diet; and packers then purchase the cattle from the feedlots, slaughter the cattle, and pack the meat to sell to wholesalers or retailers.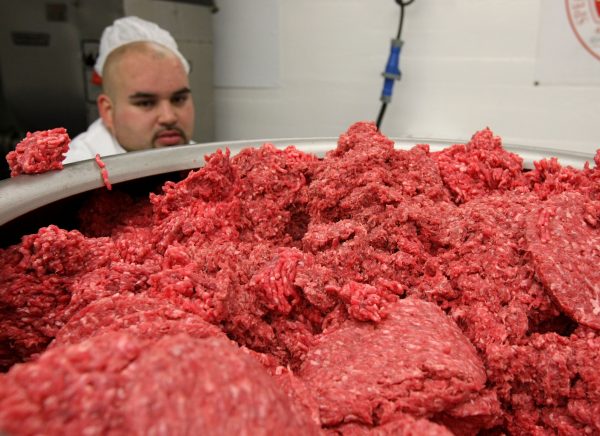 The market "breaks down" between the feedlot and the packer, said Miller, "and [the four large meat packing companies] have such a monopoly there is really no free market in the live fat cattle marketplace."
This has allowed a lot of meat to be sold to U.S. consumers under the guise of being domestically produced meat but is largely grown in Canada and Mexico, said Miller.
"They can control their supply and be able to force down the cash market. And the cash market has gotten so thin, meaning that not many cattle are sold on the cash market anymore—most of them are owned in advance or have these secret sweetheart deals with these large corporate feeders."
Miller said this has been damaging rural America, causing suffering, and contributing to the addiction to opioids.
"It's really hard in rural America because rural America is so dependent upon agriculture. And when agricultural prices are depressed, all of rural America suffers."
US Government Needs to Do More
Miller faults the U.S. government for not doing more to support U.S. cattle ranchers and farmers and said the Department of Justice should start holding the big companies accountable for anti-competitive practices.
Congress has a key piece of legislation working its way through the legislative process, called The Cattle Price Discovery and Transparency Act of 2020, which Miller said will begin to help U.S. cattle ranchers.
"What we're trying to do is set a mandatory minimum that each one of these packers must participate in a live cash market at a certain percentage each week," he said.
In June, the U.S. Senate Committee on Agriculture, Nutrition, and Forestry unanimously passed S. 4030, the Cattle Price Discovery and Transparency Act of 2022.

"This bill is one of the much-needed solutions to an increasingly consolidated meat industry. Studies have shown that, without government intervention, negotiated trade in the U.S. marketplace will fall to zero percent by 2026 in parts of the country. When producers don't have the ability to negotiate a fair price for their cattle based on current market conditions, it results in a vertically integrated, corporate-controlled beef supply chain. This threatens the livelihoods of producers and the security of our national food system," said Miller in a June press statement via USCA.
Miller wants the president and Congress to do more to secure the U.S. meat supply chain so we don't run into food shortages in the future.
"I will like to add one thing, and Congress has the power to do this, and the president has the power to do this—and that is to negotiate a trade agreement that will allow us to fairly and accurately label our beef," said Miller. But it will be an uphill battle because the big companies invest heavily into lobbying for control over the U.S. beef market, he added.
We Must Ask
Dependency on other countries for basic commodities, such as Europe needing Russian oil and gas, never works well in the long-term, Miller said.
"Why do we want to be dependent upon any foreign country for sustaining this country, whether it be computer chips, whether it be oil, or whether it be our food?"