Hong Kong's "wolf" just unsettled the city's residents by asking them to take after this Lunar New Year's zodiac animal.
In a Lunar New Year message Wednesday, hugely unpopular Chief Executive Leung Chun-ying told the southern Chinese city's people to be "mild and gentle" like sheep in the Year of the Sheep, which begins Thursday.
"Last year was no easy ride for Hong Kong," said Leung in a statement. "Our society was rife with differences and conflicts."
"I hope that all people in Hong Kong will take inspiration from the sheep's character and pull together in an accommodating manner to work for Hong Kong's future," added the Beijing-backed leader.
"'Wolf' Leung eats sheep. It wouldn't be good for Hong Kong people to become sheep this year."
When read in context, Leung's statement, which seems harmless at face value, is actually pretty ominous.
First, Leung is dubbed "the wolf" by Hongkongers because he's seen as a cunning and untrustworthy character. It doesn't help that his last name sounds similar to the carnivorous mammal in Chinese.
In 2013, "the wolf" tag stuck after a protester chucked an IKEA stuffed wolf at Leung. The toy was quickly snapped up by Hongkongers after that incident.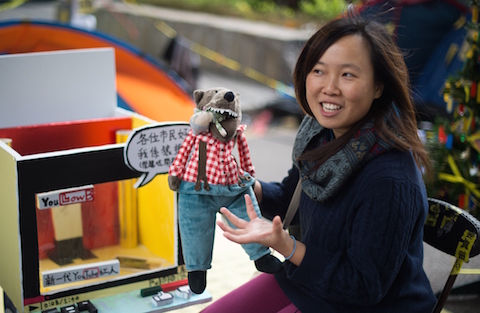 Leung is also making a not-too-subtle criticism in his Lunar New Year message of the 79-day long Occupy Central pro-democracy civil disobedience campaign last year by referencing "differences and conflicts" in Hong Kong society. 
Tens of thousands of Hongkongers joined peaceful, student-led street demonstrations to demand the right to vote Leung's replacement in 2017 by genuine universal suffrage as opposed to a very restrictive reform packaged proposed by Beijing and backed by Leung's government. 
While the three occupied areas were cleared in December, pro-democracy activism—known as the Umbrella Movement—has not abated. Campaigners are carrying out various low key events, such as giving talks, holding a rally march, and confronting mainland Chinese "tourists"—so-called parallel traders buying up goods in Hong Kong to sell in China—in shopping malls on weekends. 
But Leung has remained unmoved thus far despite increasing pro-democracy activism. The Hong Kong government offered no concessions after nearly three months of mass protests, and is now trying to sway residents to support Beijing's election plan in an on-going round of public consultations on political reform.
Further, Leung has been called out for making statements that embitter Hongkongers, with his Lunar New Year message being the very latest.
Democratic Party chairwoman Emily Lau told South China Morning Post that Leung's "sheep" speech is "very contradictory and duplicitous," and is an attempt to "provoke so much confrontation" that Hong Kong society is splintered.
"'Wolf' Leung eats sheep," said Joshua Wong, a prominent protest teenager and student leader, on his public Facebook account. "It wouldn't be good for Hong Kong people to become sheep this coming year."
The Associated Press contributed to this report.