The Chinese regime announced that it is pulling BBC World News off air in China, a week after the UK's broadcasting regulator revoked the licence of Chinese state broadcaster CGTN.
BBC World News, the BBC's international news channel, can't be seen by the vast majority of Chinese viewers and can only be watched in hotels and residential compounds catering mainly to foreigners.
Its broadcasts are subject to regular blackouts when covering sensitive news about China, in particular, stories relating to Tibet, Xinjiang, and human rights abuses.
China's broadcasting regulator, the National Radio and Television Administration (NRTA), said on Feb. 11 that BBC World News was found to have "seriously violated regulations on radio and television management and on overseas satellite television channel management in its China-related reports."
The BBC's China coverage "went against the requirements that news reporting must be true and impartial, and undermined China's national interests and ethnic solidarity," the official Xinhua news agency quoted the NRTA as saying.
"As the channel fails to meet the requirements to broadcast in China as an overseas channel, BBC World News is not allowed to continue its service within Chinese territory," the NRTA said.
China's decision to ban BBC World News in mainland China is an unacceptable curtailing of media freedom. China has some of the most severe restrictions on media & internet freedoms across the globe, & this latest step will only damage China's reputation in the eyes of the world.

— Dominic Raab (@DominicRaab) February 11, 2021
A BBC spokeswoman responded by saying: "We are disappointed that the Chinese authorities have decided to take this course of action. The BBC is the world's most trusted international news broadcaster and reports on stories from around the world fairly, impartially and without fear or favour."
UK Foreign Secretary Dominic Raab said Beijing's decision to ban BBC World News is "an unacceptable curtailing of media freedom."
"China has some of the most severe restrictions on media and internet freedoms across the globe, and this latest step will only damage China's reputation in the eyes of the world," he said in a statement.
It comes exactly a week after the UK broadcast regulator Ofcom revoked the licence of CGTN, or China Global Television Network, an international English-language satellite news channel owned by the Chinese regime and directly controlled by the Chinese Communist Party (CCP).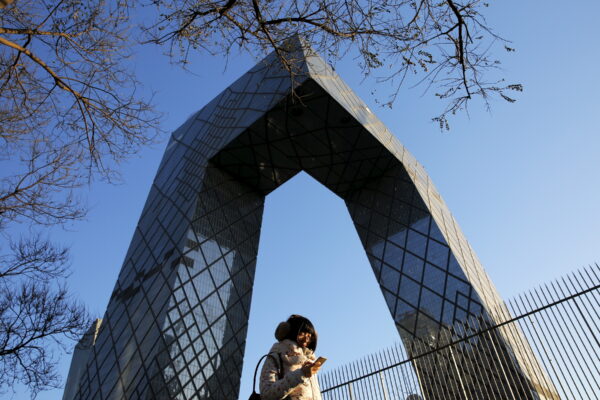 Ofcom banned CGTN on the grounds that the station is "controlled by a body which is ultimately controlled by the Chinese Communist Party." UK broadcasting laws do not allow licences for media controlled by political bodies.
Within hours, Beijing's officials lodged a complaint with the BBC, accusing it of "fake news" in its reporting on how the CCP had covered up the pandemic and the origins of the CCP virus.
A day later, Chinese foreign ministry spokesman Wang Wenbin criticised the Ofcom ruling as "politicising the issue on a technical point" and warned that Beijing reserves the right to make a "necessary response."
At the same press briefing, Wang said the BBC's coverage of the Chinese regime's human rights abuses against the Uyghur Muslim minority in Xinjiang was "unjust, subjective, and irresponsible."
According to human rights NGO Safeguard Defenders, CGTN and its Chinese-language counterpart CCTV have, on numerous occasions, aired recordings of "forced confessions" from individuals held by the state under duress. The NGO said that broadcasting these materials amounts to "known and intentional distortion of facts and clear lies," in violation of Ofcom's rules on impartiality and accuracy.
Concerns over CCP influence and espionage in the UK have been growing in recent years, in particular among some backbench Conservative MPs.
The Telegraph reported on Feb. 5 that the UK had expelled three Chinese spies who were posing as journalists.
According to the Telegraph report, a senior government source said the three spies worked for three different Chinese media agencies, which were not named.
They were forced to return to China after MI5 uncovered their true identities and that they were intelligence officers for Beijing's Ministry of State Security, according to the Telegraph.
Simon Veazey and John Smithies contributed to this report.