Bayern Munich vs Real Madrid UEFA Champions League Semi-Finals: Date, Time, Live Streaming, TV Channel, Preview
April 29, 2014 10:47 am Last Updated: April 28, 2014 5:07 am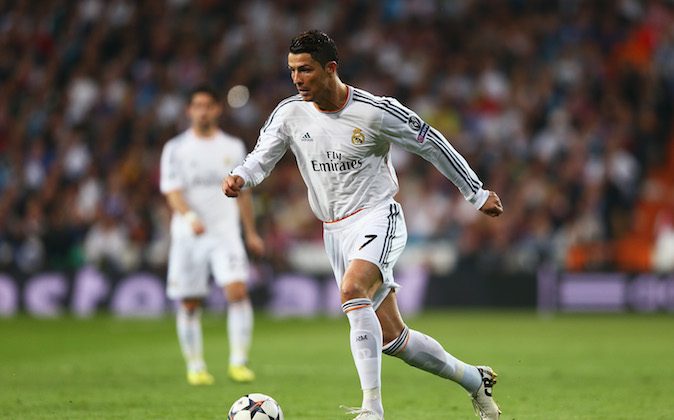 The Bayern Munich vs Real Madrid UEFA Champions League Semi-Finals second leg clash is set for Tuesday, April 29.
Kick-off time is 8:45 p.m. CET (2:45 p.m. ET) at the Allianz Arena.
The game will be broadcast on ZDF in Germany.
The game will also air on TVE in Spain.
The game will too be shown on Fox Sports GO, Fox Deportes, and Fox Sports 1 USA in the United States.
Live stream is available on TV3 and Fox Soccer 2Go.
Here is an AP preview of the match.
MUNICH— Bayern Munich seems to be going through a bumpy ride right in the crucial part of the season.
Dominant until a few weeks ago, Pep Guardiola's team has been less-than-convincing in some recent matches.
In the Champions League, Real Madrid takes a 1-0 lead into the second leg of the semifinals on Tuesday and will seek to use Bayern's recent weakness in defending against counterattacks to its advantage.
With 14 titles between them, nine of them Madrid's, these are two of the most successful Champions League teams. Bayern is hoping to become the first team to retain the title.
Here are five things to know about Tuesday's match:
___
THE RIBERY FACTOR
Franck Ribery adds an element of the unexpected to Bayern's game.
The mercurial France winger makes Bayern's game more difficult to figure out. His dribbling and goal scoring often make the difference. The problem is, Ribery has been far from stellar in recent weeks.
Ever since losing out in the Ballon d'Or vote (Real Madrid forward Cristiano Ronaldo won the title), Ribery appears to be in a sulking mood. The sensitive Frenchman has had little impact in recent matches, including the first leg in Madrid.
Ribery may have woken up just in time. In Saturday's 5-2 win over Werder Bremen, Ribery scored a goal and played a role in two in what was his best game in weeks. Coach Pep Guardiola was seen encouraging one of his key players on the touchline.
"I have to support him. Every day, every week I think what I can do to help Franck," Guardiola said before the game against Werder.
___
POSSESSION IS GOOD, GOALS ARE BETTER
Pep Guardiola's mantra about controlling possession is coming under scrutiny following a few unconvincing performances. Bayern dominated in Madrid, especially in the first half, but lost the game to a perfectly executed counterattack finished by Karim Benzema.
Werder used the same game plan: while Bayern spent most of the first half passing the ball around, Werder used the two chances in had off fast breaks to score two goals, a 100 percent efficiency. Bayern turned the game around in the second half, when some of its regulars came off the bench.
Bayern has conceded eight goals in its last three Bundesliga games at home and was ripped apart 3-0 by Borussia Dortmund's counter game. It is the only one of four semifinalists to have conceded in the first leg.
___
MADRID'S NEMESIS
Munich has not been good to Real Madrid before. Bayern has eight wins against Madrid at home, with one draw.
Madrid has a terrible record in Germany: two wins with 19 defeats and six draws. But Real Madrid eliminated two German sides in the two previous rounds this season, Schalke and Borussia Dortmund. Madrid won 6-1 at Schalke, but lost 2-0 in Dortmund and came close to being eliminated.
Madrid and Bayern have met in European Cup semifinals five times, with Madrid coming through only once, in 2000. In the most recent matchup, Bayern won on penalties in 2012.
The last two times Real Madrid won the title, it defeated Bayern — in the semifinals in 2000 and in the quarterfinals in 2002.
___
RAMOS' REDEMPTION
If there is one Real Madrid player more than any other who will be eager to play well at Bayern Munich it is defender Sergio Ramos.
Ramos, who has lifted several trophies with Madrid and the World Cup with Spain, suffered perhaps his lowest moment as a football player when he missed a spot kick in a penalty shootout against Bayern two years ago at the same stage in the Champions League.
Bayern went through to the final after goalkeeper Manuel Neuer saved Cristiano Ronaldo's and Kaka's spot kicks before Ramos launched his try well high over the bar at the Santiago Bernabeu.
"It was hard but you have to put it behind you, look forward and leave bad memories behind you," Ramos said. "These moments define your professional career. We hope everything goes well and that I can finally play in a Champions League final."
___
ELUSIVE 10th:
Real Madrid has been seeking that elusive 10th European Cup title since 2002, and missed out the last two seasons by falling in the penultimate stage.
Madrid coach Carlo Ancelotti oversaw Milan's home and away wins (both 2-1) over Bayern in the 2002-03 group stage, then overcame the German side 5-2 on aggregate in the round of 16 in 2006. In the following season, Ancelotti's Milan got past Bayern in the quarterfinals.
"At this stage in the competition the psychological aspect is more important than tactics," Ancelotti said. "We have to be strong mentally in order to do our best to reach the final."