Toyota sponsors the Bassmaster Texas Fest every year, a large bass fishing tournament that draws over 100 top anglers from afar. With a fishing boat to tow and all sorts of equipment to bring, a reliable truck is an absolute must. For Toyota's team, its own Tundra is the ideal truck for the task.
The Tundra is Toyota's do-it-all pickup and Tacoma's big brother. Its ability to handle heavy-duty workloads comes from the 5.7 L i-FORCE engine, capable of cranking out 381 horses and 401 lb.-ft. of torque.
Like in all previous years since 2007, the Bassmaster Texas Fest event this year focused on presenting the best in fishing conservation such as with its catch-weigh-release format. The competition continues to benefit the Texas Parks and Wildlife Department (TPWD), which has been instrumental in introducing guidelines that have influenced similar tournaments throughout the United States.
In a recent interview, Dave Terre, chief of fish management research for TPWD, discussed how the festival has now become a signature event.
The 2018 Toyota Bassmaster Texas Fest (May 17–20) featured 108 of the best bass fishermen in the world. When talking about the participants, you can't avoid mentioning the Bass Anglers Sportsman Society (B.A.S.S.) since they are all likely members of this 50-year old organization.
This year, the $1 million Elite Series of the festival moved to Lake Travis, an 18,931-acre lake near Austin, Texas. The winner received a first-place prize of $100,000 plus an automatic berth in the 2019 GEICO Bassmaster Classic presented by Dick's Sporting Goods.
Drew Benton, from Panama City, Florida, won the four-day tournament this year, with a five-bass limit that weighed in at 67 pounds and 15 ounces.
There is no doubt that financial support from Toyota is the reason the tournament has been so successful. Gulf States Toyota wanted to become involved in a conservation program that would permit family involvement in the great outdoors.
Each year, Gulf States Toyota has contributed $250,000 to promote the Bassmaster Texas Fest, cumulating in a grand total of $3 million to date.
The Toyota distributor sponsors different fishermen by providing transportation and resources as they make the journey to the bass-fishing circuit.
I spoke to the four bass fishermen who make up the Toyota team for comments on fishing and the trucks they drive.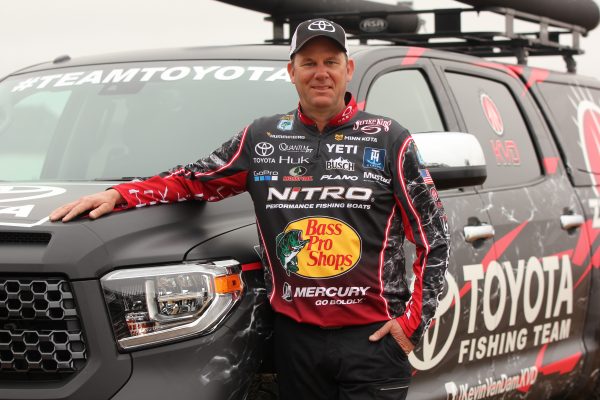 "I put about 50,000 miles a year on my truck. I drive it hard. But I still get better than 20 mpg," said Kevin VanDam, a full-time B.A.S.S. pro since 1990, about his Toyota Tundra.
"The truck is big (over 5,000 pounds), yet it is easy to back and maneuver. The gas engine is a hardy 5.7 V8 that delivers nearly 400 horsepower, but over 400 lb.-ft. of torque. It is only a half-ton but carries all my tackle and pulls my boat without any trouble."
During his career, VanDam qualified in 27 Bassmaster Classic tournaments and participated in over 300 tournaments, earning 24 B.A.S.S. wins. His earnings total $6,259,976 over his career.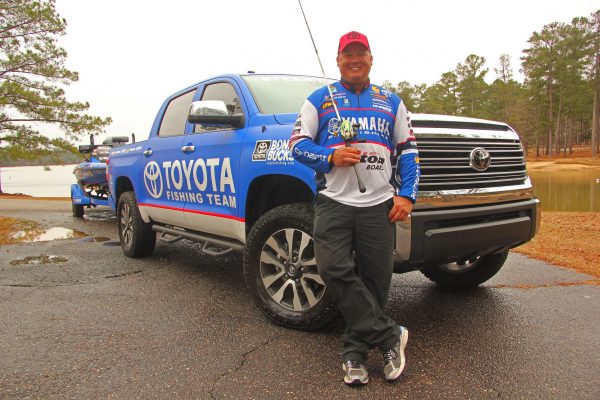 Terry Scroggins hails from San Mateo, Florida. His 17-year career features participation in 209 B.A.S.S. events while winning five. His B.A.S.S. winnings over his career total $1,828,250.
"Tundra has the best suspension in the world. It holds the road like it should and stops when it needs to, unlike some trucks that cannot stop quickly when towing or loaded," Scroggins said.
"It is only a half-ton, but the personality of a three-quarter ton. The crew cab is bold and comfortable. I have lots of stuff and the closed camper shell fits well on the bed while offering great storage and resting comfort."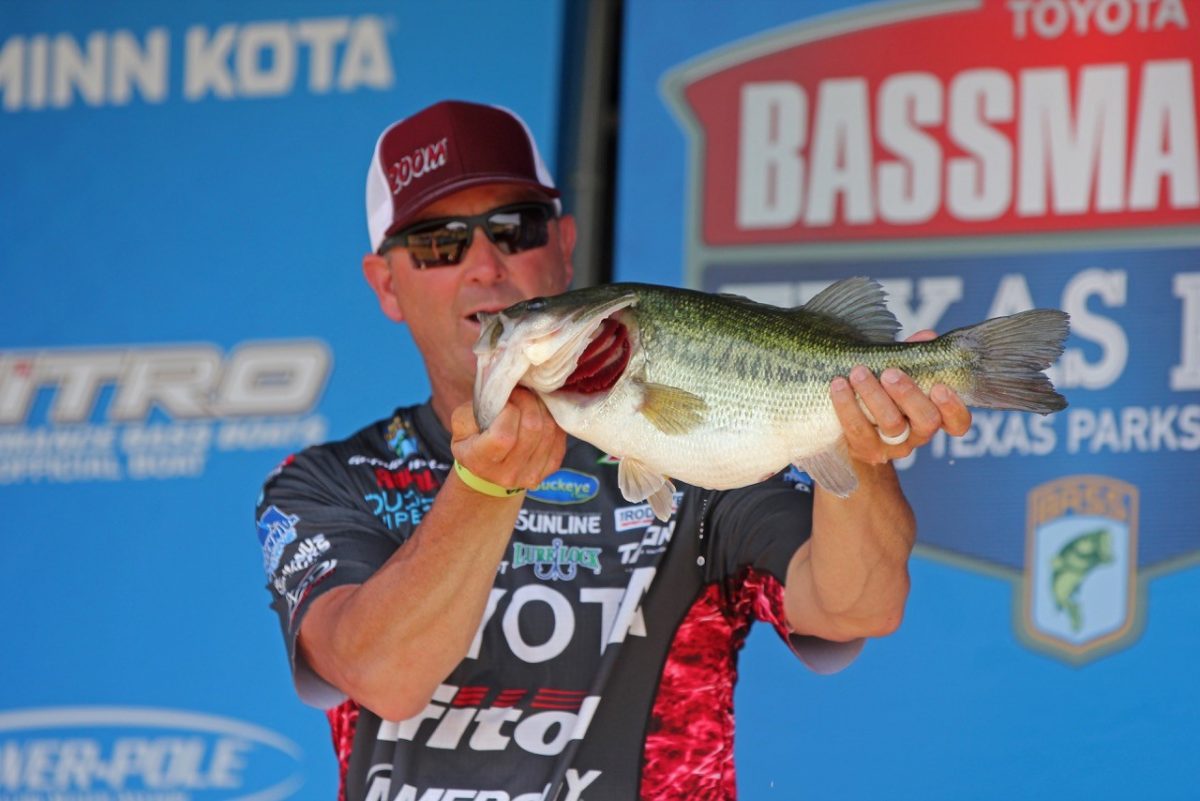 Gerald Swindle has participated in 258 B.A.S.S. events, winning one of them over his 24-year career.
"The thing I like about my Tundra is the great legroom and size of the seats," Swindle said.
He noted that other trucks were always too small and he always got sore when driving, "but even at 6 feet 4 inches, Tundra keeps me comfortable to the end of the trip."
"Torque is plentiful and the oversize brakes make stopping quicker and safer than most other trucks," he added. "The Leer fiberglass truck cap on the bed carries my tackle and provides a place to rest."
The Guntersville, Alabama, native has a total B.A.S.S. earnings of $1,983,587.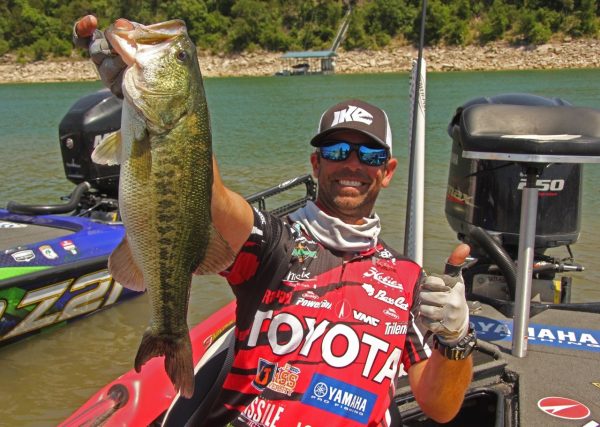 Mike Iaconelli from New Jersey loves to fish the Delaware River.
"I have great confidence driving my Tundra, whether it is through the big city or down small, narrow country roads," Iaconelli said. "The truck looks good and is the best towing truck in the country. I do about 40,000 miles a year, and I am tough on the truck."
He added that "the double cab is roomy and the 4WD with a Leer fiberglass truck cap on the bed makes for great comfort and storage, and drivability."
Iaconelli has earnings of $1,892,051 over his 23-year B.A.S.S. career, during which he participated in 271 B.A.S.S. events.
Durhl Caussey writes a column read around the world. He may be reached at this paper or at dcaussey@sbcglobal.net.