BART Strike 2013: No Strike on Friday, Possible Strike on Monday
October 10, 2013 11:35 pm Last Updated: October 11, 2013 3:11 am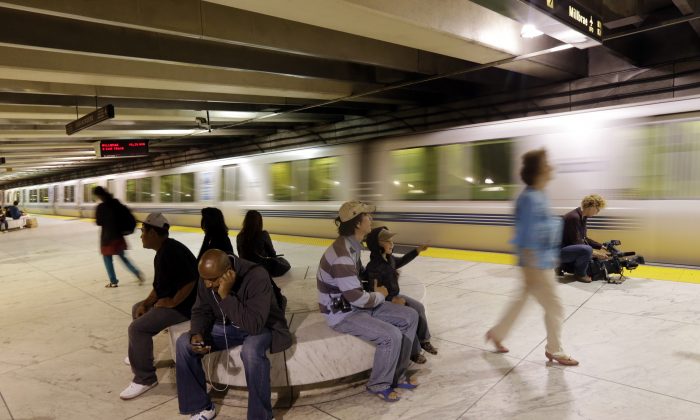 The head of the transit union said late Thursday night that there will not be a BART strike on Friday.
Two "significant changes" happened at the bargaining table–elected BART board members are now involved, as well as Bay Area legislative leaders, said the unions. The BART general manager is expected to re-start negotiations with workers at 10 a.m. PDT on Friday.
"We believe that these developments can only help bring a resolution to these drawn-out negotiations and for this reason, we will continue bargaining through the weekend," the unions said.
Negotiations will continue through the weekend, and if there is no deal reached by Sunday night, the workers will strike, Roxanne Sanchez, the president of SEIU Local 1021 told reporters just before midnight on Thursday.
"We feel we have to notify the public because the cooling-off period ends tonight at midnight. We are therefore giving notice that if there is no agreement by midnight on Sunday, October 13th, workers will be forced to strike," said the bargaining teams for the BART unions in a statement. 
The state mandated period between two unions representing Bay Area Rapid Transit system workers and management expired at midnight.
"We are prepared and willing to meet all weekend and as long as it takes," BART management said in a statement late Thursday.
An estimated 400,000 rail commuters would be stranded by a work stoppage on BART, which links far-flung suburbs to bigger Bay Area cities and provides a crucial link under the bay between San Francisco and Oakland.
In July, BART workers struck for 4 1/2 days, leading to jammed bridges and roadways, and crowded buses throughout the Bay Area before Gov. Jerry Brown mandated the 60 cooling-off period–the one that expired as Thursday turned to Friday.
Earlier in the week, union leaders thought they had a deal with  BART management but said the proposal presented late Tuesday was rescinded.
"We thought we were really close and they totally yanked it off the table," ATU President Antonette Bryant said. "We gave them a counteroffer, and the next day they said, 'Oh, you misunderstood what we proposed.' We said, 'No we didn't.'"
Hock said BART never made a formal offer and blamed a mediator for the confusion.
"The mediator misunderstood and miscommunicated what had been talked about because we had never put that offer out there in any way, shape or form," Hock said.
The two sides have reached agreement on pension contributions but are still at odds over compensation, health care and safety.
The unions want a raise of nearly 12 percent over three years while BART has proposed a 10 percent increase over four years. BART said workers from the two unions now average about $71,000 in base salary and $11,000 in overtime annually. The workers pay a flat $92 monthly fee for health insurance.
The Associated Press contributed to this report.