VOLCANO, Hawaii — "Ballistic blocks" the size of microwave ovens shot from Hawaii's Kilauea volcano on Wednesday in what may be the start of explosive eruptions that could spew huge ash plumes and hurl smaller rocks for miles, the U.S. Geological Survey said.
Such eruptions, last seen nearly a century ago, have been a looming threat since Kilauea, one of the world's most active volcanoes, erupted nearly two weeks ago.
Explosions in Kilauea's crater sparked an aviation red alert due to risks the ash plume could blow into aircraft routes and damage jet engines.
More explosions are expected and may be more powerful, the USGS warned. These steam-driven blasts could send a 20,000-foot ash plume out of the crater, hurling 10-12 ton boulders up to half a mile and scatter pebble-sized rocks over 12 miles, the USGS has said.
This type of eruption has the potential to carpet the Big Island in much thicker ash than current dustings and possibly spread the powder and volcanic smog across the Hawaiian islands and farther afield if it enters the stratosphere.
"This morning dense ballistic blocks up to 60 cm across were found in the parking lot a few hundred yards from Halemaumau (Kilauea's crater)," the USGS said in a statement. "These reflect the most energetic explosions yet observed and could reflect the onset of steam-driven explosive activity."
A 4.2 magnitude earthquake at the volcano at 8.36 a.m. (2:36 p.m. EDT) prompted authorities to issue an alert reassuring rattled Big Island residents that there was no risk of a tsunami from the volcanic activity.
'Disarray and Frantic'
In the community of Volcano, just north of Kilauea's crater, business was way down and people were on edge.
In just a few hours residents had been shaken by an earthquake, dusted with ash and for the first time since the start of the eruption smelled the rotten-egg stench of toxic sulfur-dioxide gas.
"They're just in disarray and frantic," Adele Tripp, an employee at the Kilauea General Store, said of other residents. She said she had lived in Volcano for 30 years and was not personally concerned as she trusted scientists to tell her when to get out.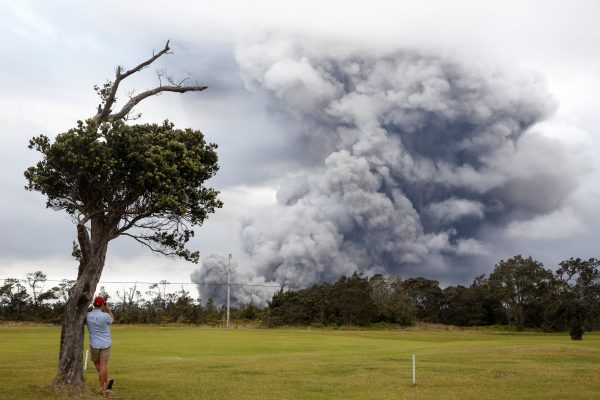 Smog from Kilauea drifted north up the island chain as the districts of Kau, Puna, and North and South Hilo were told by the National Weather Service to expect ashfall. Hawaii County Civil Defense said a dusting of ash was visible on the property and advised residents to avoid exposure to the powdered rock, which can cause irritation to eyes and airways.
There was no effect on air carrier operations to Hawaii on Wednesday, Federal Aviation Administration spokesman Ian Gregor said in an email.
Ash is a new hazard for Hawaii's Big Island, already grappling with volcanic gas and lava that has destroyed 37 homes and other structures and forced the evacuation of about 2,000 residents from a small area in the southeast Puna district.
Lava has burst from 21 giant ground cracks or fissures and torn through housing developments and farmland, threatening two highways that are exit routes for coastal areas.
Several fissures shot lava into the air on Wednesday but one flow advanced only 100 yards toward coastal Highway 137, which remains around a mile distant, County of Hawaii Civil Defense said in a statement.
No serious injuries or deaths have been reported from the eruption.
By Terray Sylvester
Watch Next:
Timelapse Video Captures 'Ocean' of Clouds Over Vancouver, British Columbia