NEWPORT BEACH, Calif.—When 31 Marines arrived by bus last week from Camp Pendleton at the Balboa Yacht Club in Corona del Mar, a quaint seaside community, they were given strict orders for their visit: "Go sailing, eat all you want, have fun!"
Since 2013, members of the Balboa Yacht Club have carved out one Thursday each year during the seasonal "Beer Cans" sailing regattas, to host soldiers from the 1st Battalion, 1st Marines Combat Unit stationed at Camp Pendleton, in a show of appreciation for their military service. The Maines are treated to an afternoon of sailing, an all-expense paid bar tab, and post-race barbeque on the waterfront.
Now a yacht club tradition, the idea was the brainchild of club members Art Mitchell and Bill Frederickson, influenced in part, they say, by Mitchell's service in the National Guard and Frederickson's time as a Marine Reservist.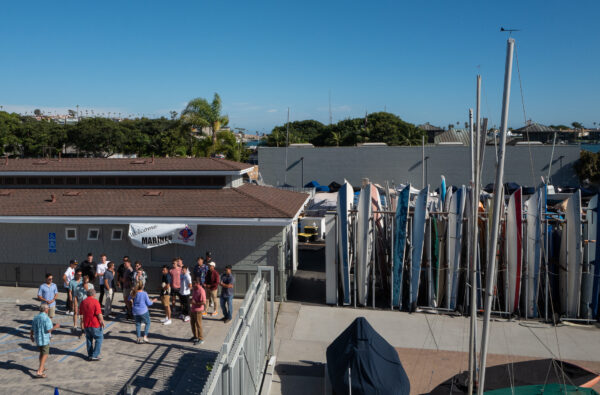 "One day I was sitting on the club deck, looking at all these incredible sailing vessels in our marina thinking how blessed we are and thought, 'wouldn't it be great to share our good fortune with those who protect our freedoms, to thank them for their service to our country?'" Mitchell told The Epoch Times. "Luckily, our commodore agreed with the idea, and it's stuck."
Since then, the expenditure of hosting some Marines for an afternoon of sailing each year is now part of the yacht club's annual budget, which Mitchell says is a line item of gratitude.
Mostly private first class and corporals, the Marines chosen for the afternoon of leave were picked by their commanding officers for showing outstanding performance in training, or during the relentlessly hot and humid desert conditions some experienced while deployed.
As the Marines descended the docks towards the waiting boats on Aug. 11, some said they had never been to California before enlisting and were surprised now to find themselves sailing aboard multi-million-dollar vessels.
"I've been on aircraft carriers, but never anything like these boats," a corporal from Minneapolis commented as he boarded one of the vessels, greeted by a smiling skipper and crew.
"It's an absolute pleasure for us to welcome you," Commodore and Newport Beach Harbormaster Paul Blank told the Marines in a quick pre-race briefing. "Your only duty today is to enjoy yourselves, just have fun."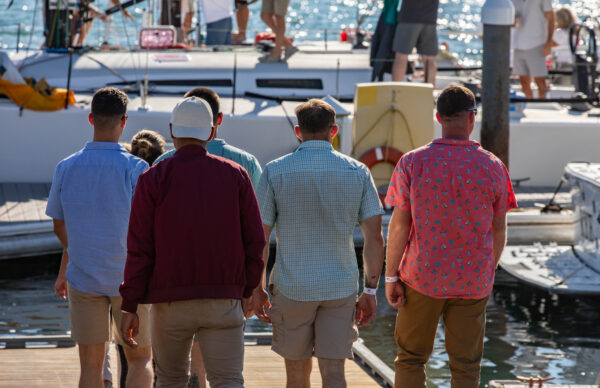 Even the wind cooperated at the last minute as the vessels teed up for the race to start. Practically on cue, American flags all along the harbor began waving as the breeze steadily picked up.
"Last Thursday, there was absolutely no wind for the races, boats were turning around to motor back," Mitchell said. "I was worried we'd have the same conditions, but today, God gave us wind just as the Marines arrived."
As each of the boats departed the dock, the Marines were asked to share their name, rank, and where they were from with their crew. Hoots and hollers could be heard as home states were shared with other sailors.
The boat to beat in the race was "It's OK!", an Andrews 49.9, perhaps the fastest sailboat in its class, owned by some of the best local yachtsmen in the sport including former professional sailor Andy Rose and Balboa Yacht Club Staff Commodore Tom Purcell.
As "It's OK!" arrived victorious back at the docks, the Marines were all smiles. One Marine described the race as "invigorating," another said their time on the water was "magical."
"I don't know who has more fun, us boat owners and crew, or the Marines … but I suspect it's us," Purcell told The Epoch Times.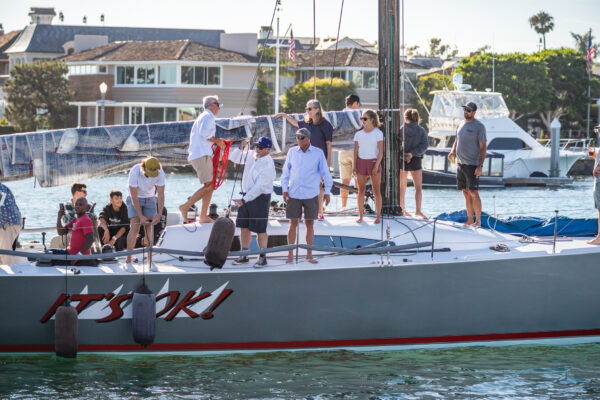 During a post-race barbeque, Marines politely lined up to load their plates with ribs, chicken, burgers, dogs, and all the trimmings. They sat at picnic tables, talking about their day on the water, and sharing stories of their time abroad with BYC members and guests.
One Marine recalled extreme conditions they found themselves in during a deployment abroad. "When we landed in Kuwait, I looked at the helicopter's temperature gauge and it read 148 degrees," the Marine said. "I didn't think it was possible to get that hot, and that was during a windstorm."
They talked about the high-tech warfare for which they must train these days, including the avoidance of weaponized drones. "The enemy doesn't even try to keep them a secret by making them quieter," one Marine said. "We really have to look out for each other when we hear them coming, it's them or us."
As the evening wore down and the Marines gathered to board their bus back to Camp Pendleton, hearty hugs and back slaps were exchanged.
As he thanked Mitchell and Frederickson, First Sergeant Robert Catching smiled and said jokingly, "I've been in the Marine Corps for 20 years and I've never experienced something like this! It's been a special day I know all of us will remember for a long time."
"These are the guys who are protecting our country 24/7, in foreign lands, far from friends and family for extended periods. They're willing to give their lives for our freedoms, the life we live here every day," said one yacht club member as he waved to the group. "Being able to welcome them and share a heartfelt 'thank you for your service'—it's the least we can do."