One family's tragic loss has turned into a warning for other unsuspecting parents. It's always unnerving when the items we trust turn out to be masking hidden dangers. But for young mom Lisa Smith, this is a lesson worth learning; it is dangerous to leave your child sleeping in a car seat when it's not inside your vehicle.
Grieving mum warns of car seat dangers after daughter suffocates to death https://t.co/cPqOYSruqB pic.twitter.com/pE7zwuD39t

— Daily Mirror (@DailyMirror) August 23, 2018
Lisa entered her own personal nightmare on June 10, 2015, when she received a phone call about her 17-month-old daughter Mia. Lisa's daycare provider couldn't wake Mia from her nap. The toddler had been placed in a car seat and was left unsupervised in a dark room for her nap, KCCI reported.
Lisa had always thought that her daughter slept in a crib at home daycare.
Daycare provider Valerie Wackerly called 911 when she couldn't wake the little girl. According to The Mirror, Mia was found unresponsive at Wackerly's home in Pella, Iowa. Wackerly herself was attempting to administer CPR; paramedics continued. But tragically, Mia was pronounced dead in hospital two days later.
"This was our beautiful little girl. Perfectly healthy in every way," a devastated Lisa told Today. The post-mortem determined that Mia died of "positional asphyxia," meaning that the 17-month-old had slouched down in her car seat which cut off her air supply and ultimately suffocated her.
"When a car seat is in the car, it's reclined at 45 degrees," explained NBC News medical contributor Dr. Natalie Azar. However, without the underlying support of the vehicle, the seat is liable to rock forward, causing the infant to slump and compromising the sleeping baby's airway.
According to the De Moines Register, Wackerly, now 35, pleaded guilty to involuntary manslaughter. She received three years probation and a restitution bill of $150,000 payable to the Smith family. The daycare provider was also required to record a public service announcement to be played weekly, for three years, on a Knoxville radio station.
Lisa and her husband, Chad, have since moved to Aledo, Texas, where they are raising their two sons. "Losing a child, it's beyond soul crushing," Smith shared. "The hardest part is that this was so easily prevented, and we lost a daughter needlessly," she shared through her grief. "No family deserves this."
"We can't change what happened to Mia," Lisa concluded, speaking to KCCI, "but we can try to protect others."
As if one heartfelt warning was not enough, a similar cautionary tale emerged almost three years after Mia's tragic death. Mercifully, the child survived. This time, 3-week-old Harper Clark stopped breathing during a 1-hour-45-minute car journey home through rush-hour traffic to Falkirk, Scotland, on April 4, 2018.
Again, the car seat was the culprit.
Kirsti Clark, 30, and her husband, Christopher, 31, had no cause for concern until they got home. Baby Harper spent another 15 minutes in her car seat before her parents took her out and laid her on her play mat. However, according to The Sun, the baby's lips "turned blue, her jaw clenched shut, and white foam started frothing out of her nose and mouth."
"It was so scary," Kirsti shared. "My husband was holding her and patting her back and I was trying to get her mouth open to make sure she didn't swallow her tongue, but her jaw was clenched shut."
"All I could think was, 'We are going to lose her,'" the distressed mom recalled. Harper had suffered a seizure, but doctors were luckily able to resuscitate her. The baby girl spent the night in hospital for blood tests, an ECG, and a forward-thinking car seat examination.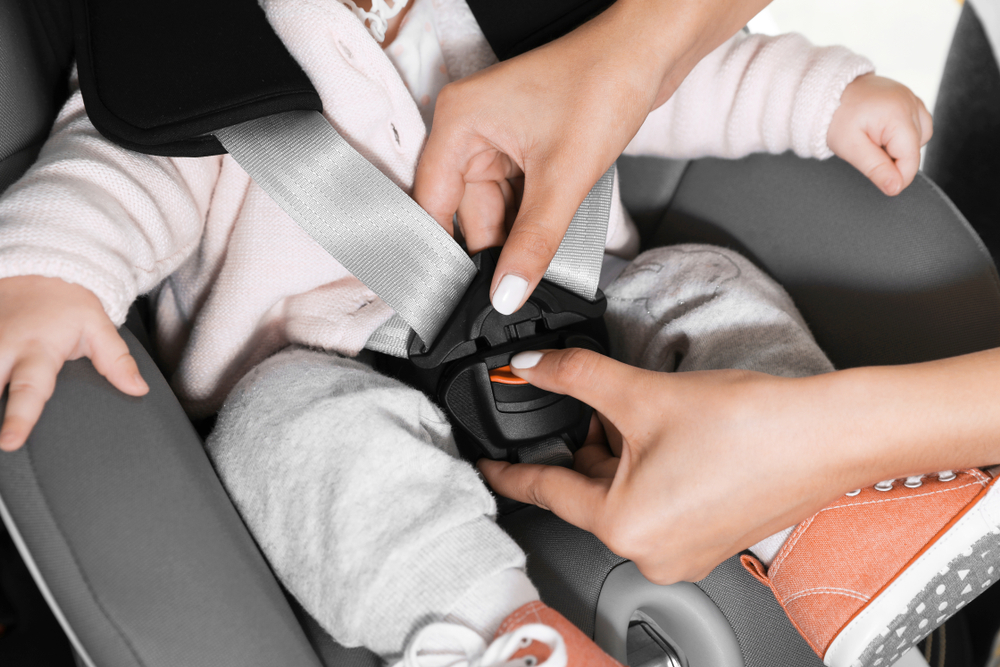 According to Metro, while Harper was healthy and her car seat was found to be completely safe, the hospital's consultants informed Kirsti and Christopher that over one hour in a car seat can still cause oxygen deprivation if the baby is seated improperly.
The sudden rush of oxygen that Harper experienced once she was removed from her car seat was what caused her to seizure. "I couldn't believe it," Kirsti admitted. "I couldn't understand why nobody had ever told us." Kirsti's concern, like Lisa's, was for other parents to become informed. The dangers are just too devastating.
"Watch your baby," Kirsti pleaded. "Know your baby."