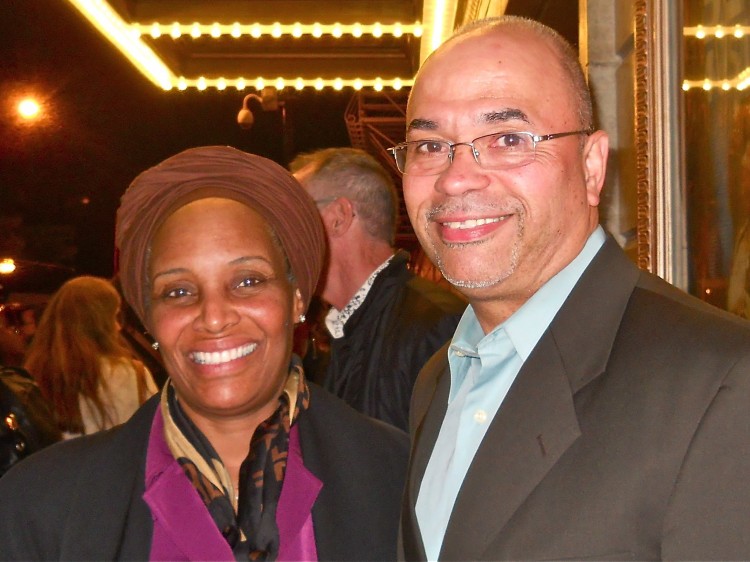 BUFFALO, N.Y.—Two of Buffalo's finest were left thoughtful and moved after seeing Shen Yun Performing Arts at Shea's Performing Arts Center on Friday night, May 11.
Fajri Ansari, an imam at a local mosque, and baskeball coach at Buffalo State, and his wife, Lavonne Ansari, CEO of the Community Health Center of Buffalo, were among the full-house audience that took in the show.
Dr. Lavonne Ansari, who has a Ph.D. in Sociology of Education, said she "loved it."
"It was very natural, peaceful, and while extraordinary at the same time. Made you think of nature and humanity. That's really what came to mind immediately."
She said the music presented by the Shen Yun Performing Arts Orchestra was "phenomenal."
"It was very peaceful, expressive. You can feel it, and it didn't matter what ethnicity you were, you could feel the music. It was very universal."
Shen Yun's one-of-a-kind orchestra, with its all-original compositions, combines classical Western and Chinese instruments like no other, says the Shen Yun website.
Shen Yun left her husband, Mr. Ansari, thinking about the importance of preserving one's culture, and cultural changes in the United States.
Shen Yun tours the world on a mission to revive the essence of traditional Chinese culture, a 5,000-year heritage that has been all but destroyed in mainland China after 60 years of communist rule.
"It's important to preserve culture," said Mr. Ansari.
He said Shen Yun preserved that culture and presented it in a powerful way.
"It's also telling stories: the struggle of good against evil and self expression, freedom," he said.
Several of the dances in the performance include moves reminiscent of Chinese martial arts, an aspect of Chinese culture Mr. Ansari said he has been fascinated with.
"I was watching a lot of the movement," he noted.
Overall, he said he was just quite impressed with the performance.
"It was great, the orchestra was phenomenal, the way women use the fans … The costumes were all beautiful," he said.
There was also an element of beauty present in Shen Yun that is relatively uncommon in most modern performances, a femininity that doesn't try to sell itself through exposed skin.
"The costumes and everything were expressive, melodious, and look at the contrast to [music] videos where parts of the body have to kind of like sell the performance," Mr. Ansari said.
"Well here, all the costumes, you wouldn't even think about it because it's just something that's internal that's being expressed. This is how they are able to show how you can create a human flower, so to speak."
The Buffalo Urban League recently recognized the Ansari's contributions to their community by presenting the couple with the Family Life Award in 2011.
The award is given annually to recognize an outstanding family who serves as role models for others and has raised their children with values that are carried on for generations.
Mr. Ansari was honoured for his 30-year career at Buffalo State, the last eight years as head coach for the Bengals Basketball team. His efforts to build a championship program won the Bengals the State University of New York Athletic Conference (SUNYAC) Championship and advanced to the Sweet 16 in the NCAA Division III Tournament in the 2010-2011 season.
But he also works to make sure his players graduate, and during his years at the university's admissions office, he ensured that less fortunate students had access to higher education through the college's Equal Opportunity Program. At the same time, he coached boys' basketball at Turner Carroll High School and created Camp Achieve, which provides SAT prep work, life skills training and basketball coaching to Buffalo youth.
Mr. Ansari has also served as president and board member of the Network of Religious Communities, the largest interdenominational organization in Western New York.
Dr. LaVonne Ansari now serves as CEO and executive director of the Community Health Center of Buffalo Inc.
She was honoured for her advocacy work in health, education, and human rights.
Dr. Ansari was the first Muslim African American female Vice President of Niagara County Community College and was the Director of Rehabilitation Occupation and Recreation Therapy for Psychiatry at Buffalo General Hospital. She serves as a member of the Mayor's Citizens' Rights and Community Relations Commission and Mosque Cares Board of Education.
Dr. Ansari was awarded the Niagara Falls Black Achiever's Award, International League of Muslim Women and the Interfaith Community Award and the 40 Under Forty Award.
Shen Yun Performing Arts, based in New York, has three touring companies that perform simultaneously around the world, with a mission to revive traditional Chinese culture.
For more information, visit ShenYunPerformingArts.org.
The Epoch Times publishes in 35 countries and in 19 languages. Subscribe to our e-newsletter.