LVIV, Ukraine—In a dimly lit hall for female refugees with small children at Lviv's main train terminal, some women are waiting to leave Ukraine, some are on their way back east to the war zone, and others plan to stay put, helping those on their way.
Matvei, 6, chased after another boy his age around the mattresses and pillows lining the floor throughout the hall. His mother, Katya Kaverina, sat on one of the mattresses, holding 10-month-old Nikita in her lap.
Kaverina had three hours to wait before her train to Poland arrived. She fled from Kryvyi Rih in central Ukraine, which is still far from the front lines of the war to the north, south, and east. She traveled for 23 hours to get to Lviv, leaving behind her husband, mother, and father; she worries about them all.
In Poland, she knows no one and hopes volunteers will help.
"Momma," Matvei said as he ran past her.
Most of the mattresses lay empty as moms opted for benches lining the edges of the hall. A mother lay on one, while cradling an infant distracted by a smartphone. On another, a girl in a pink sweater lay on her back and sipped milk from a bottle, staring at the high ceilings of the hall. At the other end of the hall, a tall teenage boy shushed an infant to sleep. Nearby, a woman changed a toddler's diaper.
Unlike most of the mothers in the hall, Albina Bilohub, 27, is taking her two boys back to Kyiv, Ukraine's capital. While Russian forces are attempting to encircle the city, they have made little progress toward capturing it as Ukrainian forces have concentrated a large contingent of ground forces and anti-air equipment there.
Bilohub thinks the capital and the district she lives in are well-protected.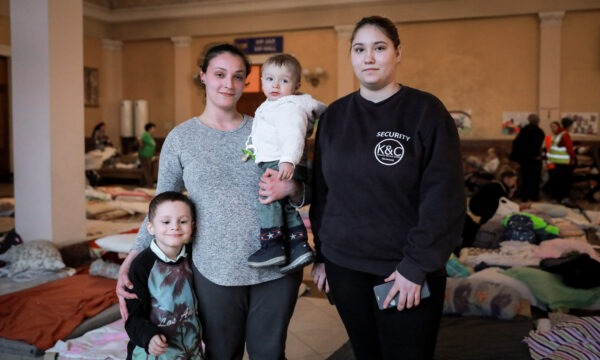 Bilohub and her 19-year-old sister Karina Bilohub fled Kyiv on March 5, fearing for the lives of Yarik, 5, and Kostya, who will turn 1 on March 20. The train out of Kyiv was a hellish experience, as men shoved past women and children to get aboard, Bilohub said.
She said they were lucky to get a seat.
After arriving in Lviv, volunteers helped the two sisters and the boys find a place to stay, first in a school and then in shared housing used by university students. Bilohub decided to not explain to her 5-year-old what was happening, letting him get lost in video games on a smartphone instead.
"He wouldn't be able to comprehend this. Like this, he is at least calm," she said, as Yarik tapped on the screen playing Minecraft, his small face lit up in the hall that was growing dark as the sun set on a foggy March evening.
Bilohub says she regrets ever leaving Kiev and putting her boys through the ordeal. She has been inspired by Volodymyr Zelensky, Ukraine's president, saying that his resolve to stay and defend the nation took her by surprise.
"We ran away due to panic. I feel now it is OK to come back," Bilohub said, before sitting down to give Kostya a bottle of milk. "My soul yearns to come back."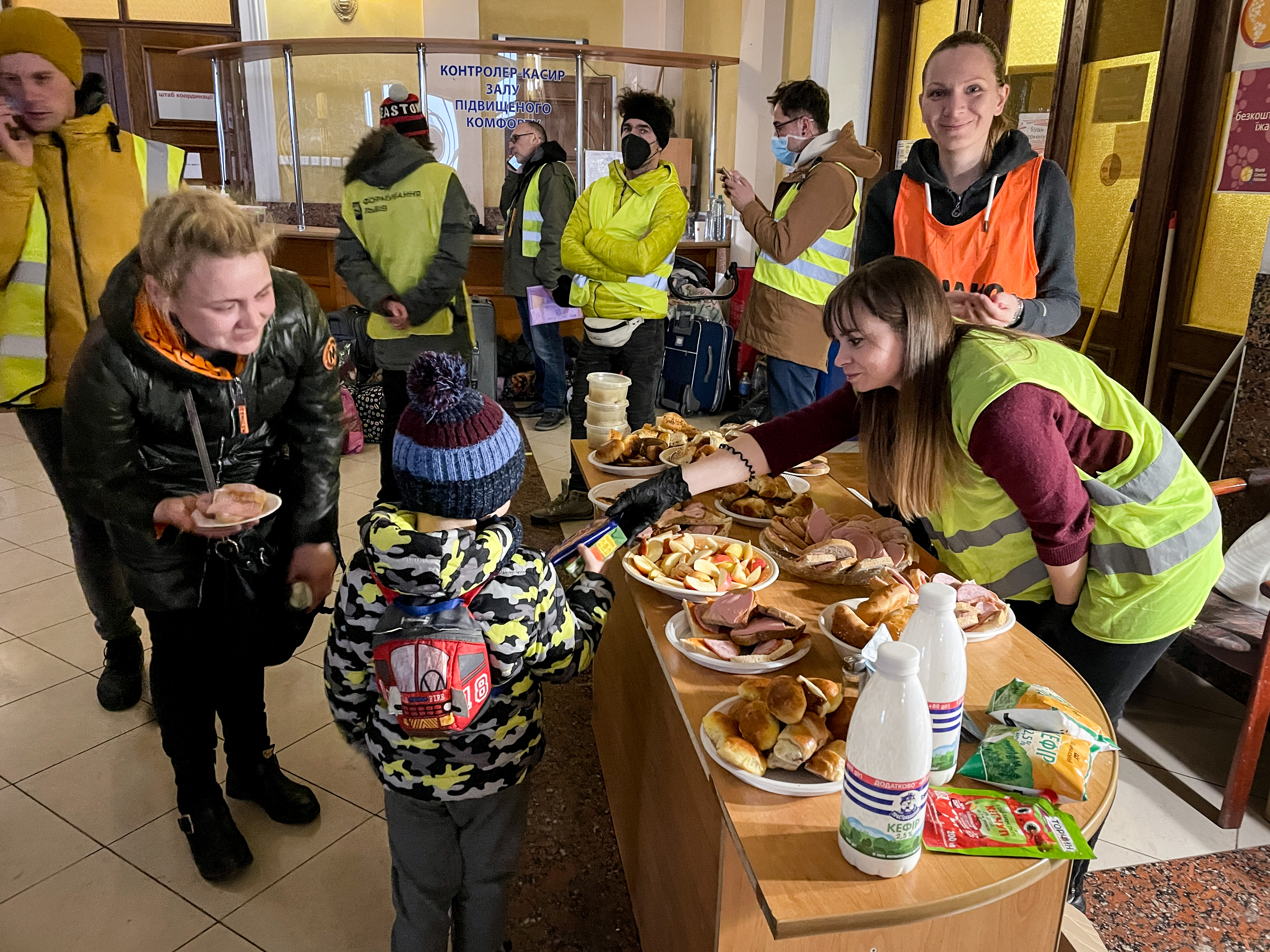 Bilohub isn't the only mother with children traveling east toward the war zone, according to Anya Prumenko, a volunteer who helps people at the train station every other day. She has met women heading back to Kyiv and other cities, and wants to go back herself.
At 11:40 p.m. on March 7, a Russian missile struck an apartment building in Sumy, killing Prumenko's mother, brother, his wife, and their three children.
"I do this to distract myself," she said.