An associate of Rep. Matt Gaetz (R-Fla.) pleaded guilty to child sex trafficking and other charges on May 17, agreeing to cooperate fully with U.S. prosecutors in a larger-scale investigation.
Magistrate Judge Leslie Hoffman accepted the guilty plea from Joel Greenberg, a former tax collector for Seminole County in Florida, at federal court in Orlando.
The court "found the facts sufficient to allow the defendant to plead guilty" after Greenberg acknowledged that he signed an 86-page plea agreement and admitted to the facts set forth in the document.
Greenberg, who was placed in the custody of U.S. Marshals pending sentencing, was associated with Gaetz. In 2017, the congressman promoted Greenberg as a potential congressional nominee. Greenberg, Gaetz said, had "been a disruptor" at the Seminole County Tax Collector's Office.
Gaetz's office didn't respond to a request for comment from The Epoch Times. The congressman has said in response to news reports about the federal probe that he has done nothing wrong. A spokesman told news outlets that Gaetz didn't seem to be named or referenced in the plea agreement.
"Congressman Gaetz has never had sex with a minor and has never paid for sex," the spokesperson said. "Mr. Greenberg was first indicted for falsely accusing someone else of sex with a minor. That person was innocent. So is Congressman Gaetz."
Fritz Schiller, Greenberg's attorney, told reporters in April, after suggesting his client would plead guilty, that Gaetz "is not feeling very comfortable today."
"The emphasis in the last few days is on the Matt Gaetz-Joel Greenberg relationship, right? Wouldn't it be obvious to assume that he would be concerned?" Schiller said.
Greenberg pleaded guilty to six out of the 33 counts filed against him by prosecutors. According to the lengthy plea agreement, Greenberg used at least four accounts—including a Venmo account—to pay for commercial sex acts.
From December 2016 to December 2018, Greenberg conducted more than 150 transactions totaling over $70,000. All of the transactions involved Greenberg paying women for sex.
Greenberg often portrayed the spending from his Venmo as going toward everyday expenses, such as "school" or "food."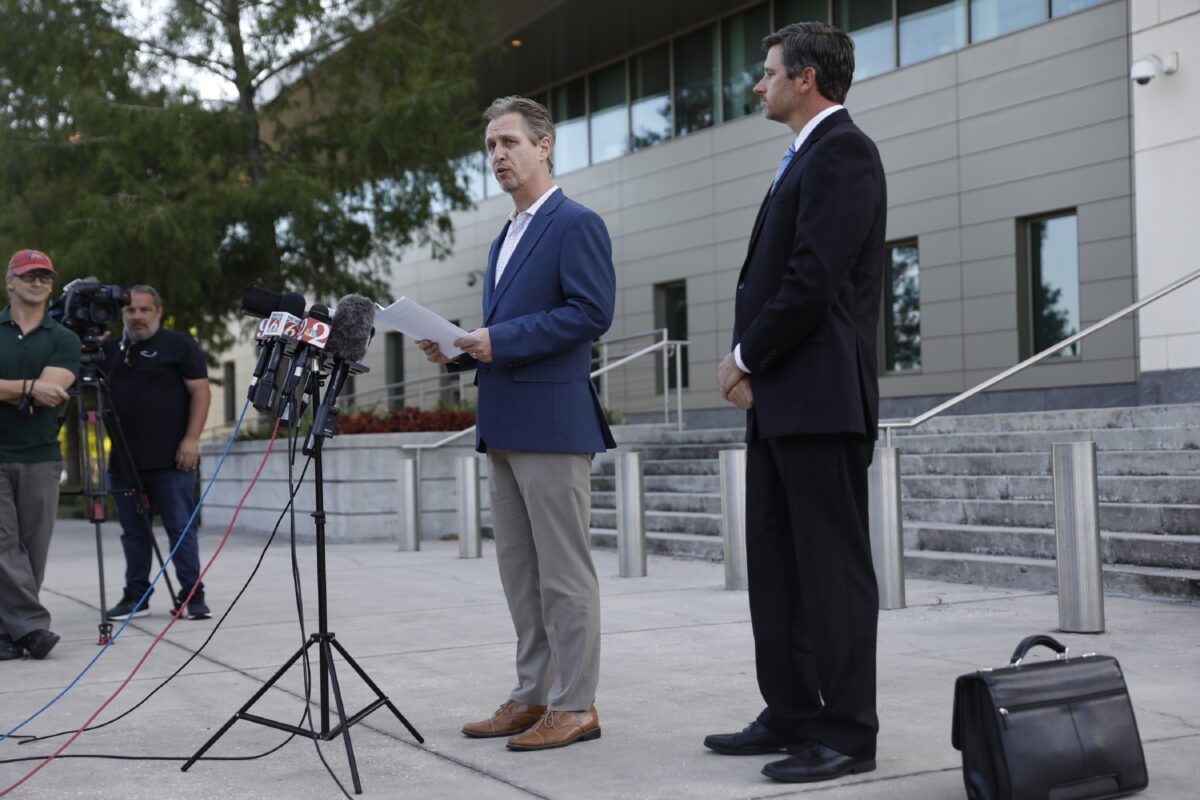 One of the girls whom Greenberg paid was a minor under the age of 18, according to the plea document. The minor, who was not named, had an account on a website representing her as an adult. Greenberg introduced the minor to other adult men who engaged in sex acts with her.
Greenberg abused his office by using a state database to look up and investigate sexual partners, authorities said. On Sept. 4, 2017, he looked up the minor because he suspected she was underage.
When Greenberg learned last year that he was charged with crimes, he contacted the girl and asked her to lie.
Greenberg was initially indicted with stalking and illegally using someone else's identity as part of a scheme to smear a political opponent, Brian Breute, last year. Greenberg allegedly wrote letters to Breute's place of employment, a school, representing himself as an anonymous concerned student who knew of Breute engaging in sexual misconduct with another student. The probe later widened to include other allegations.
Breute told reporters on May 17 outside of the federal courthouse where Greenberg later pleaded guilty that he endured an eight-month long string of attacks on his character just one week after he announced his run for tax collector.
The developments in the Greenberg case, he said, have left him heartened.
"I have personally a renewed hope and satisfaction with our federal system," Breute said. "I'd like to say the same thing about our state system, frankly."
Breute called on Gov. Ron DeSantis to initiate an investigation into all state agencies that are responsible for overseeing the Seminole County Tax Collector's Office.