BERLIN—Husam Idris dreams of returning to his bakery in the Syrian city of Aleppo. But three years after escaping the war, he worries that a new law allowing the Syrian government to seize homes for redevelopment will scupper his plans.
"I grew up in the bakery. I can't imagine losing it," said Idris, a 37-year-old father of three who now lives in Germany.
While Syria's Law 10, or Decree 10, has yet to be applied, rights groups and governments hosting Syrian refugees say they risk becoming permanent exiles if they lose their properties because it would remove a major incentive to return one day.
Idris is at the Syrian embassy in Berlin trying to arrange power of attorney for his mother back home so she can stake a claim to his bakery and apartment in the Kallaseh neighborhood of Aleppo, recaptured from rebels two years ago.
He is not alone. The new law has prompted a rush of visitors to the embassy.
One worker at the mission, who declined to give his name, said that since the law came into effect in April, 10 to 15 Syrians had come each day to request power of attorney for relatives at home, up from a handful beforehand.
According to the U.N.'s refugee agency, 6 million Syrians have been displaced within the country and there are nearly 5.5 million refugees outside Syria.
Germany hosts some 650,000 Syrians, the most of any Western country, and it is particularly worried about the law.
Berlin's fear is that President Bashar al-Assad could use Law 10 to bulldozer former opposition bastions seized by the government and replace them with new property developments populated by government supporters.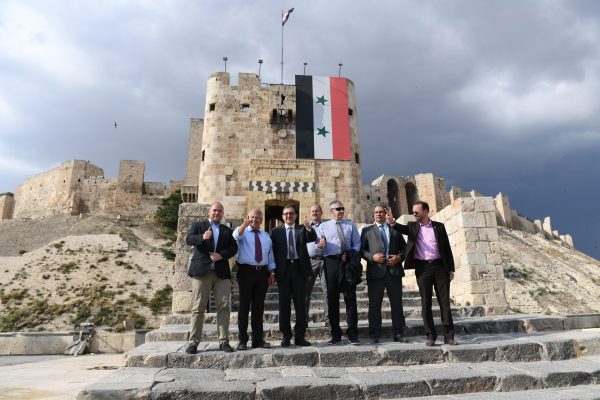 "Decree 10 is designed to expropriate refugees," a senior German government official said.
"It is pretty clear that Assad's goal is to replace the old population with a new one," said the official, who was briefed on talks between German Chancellor Angela Merkel and Russian President Vladimir Putin about the issue.
The Syrian government has dismissed concerns about the law as a "disinformation campaign." It says it needs to rebuild areas destroyed in the war and regulate illegal settlements.
Security Council
Law 10 originally gave proprietors 30 days to prove ownership or lose their rights. The Syrian government extended the period to one year earlier this month to allay fears refugees and the displaced could lose their homes.
Besides Russia, Germany has raised concerns about the Syrian legislation with its European Union partners and has managed to get the issue onto the U.N. Security Council's agenda.
"The fact that the U.N. Security Council has taken note of the decree is a good starting point," said a second German official. "But clearly effective pressure on Assad not to implement the decree has to come from Russia."
While Law 10 says relatives in Syria can stake claims, Syrian lawyers say in practice power of attorney still needs to be given to an individual so the authorities know which relative is the chosen legal agent. Lawyers and rights groups also say anyone making a property claim needs to have security clearance.
They say this could lead to Syrians who fled former opposition strongholds being disenfranchised.
"The regime has a history of arbitrary expropriations to serve its economic and security interests and unfair land expropriations was one of the triggers of the rebellion," Syrian human rights lawyer Anwar al-Bunni said.
"Who is going to dare claim property in an opposition area that the regime turned into rubble because it views its inhabitants as Sunni terrorists? Even if they dared, they will not get clearance if the regime wants the land," he said.
By Joseph Nasr
Watch Next:
A Story of Opportunity for North Korea
President Trump showed North Korean leader Kim Jong Un a video resembling a movie trailer in preparation for their meeting.